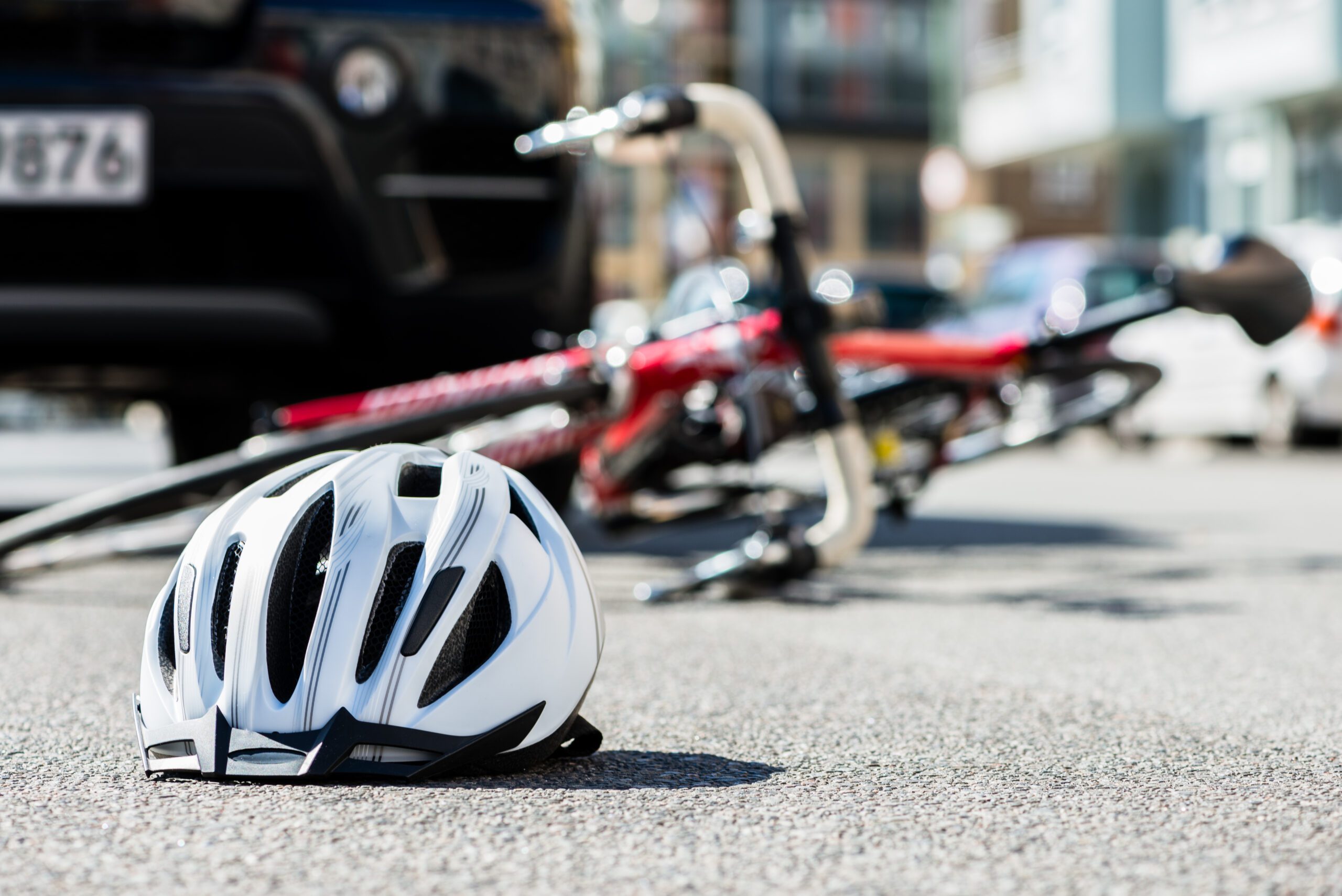 It's every triathlete's and cyclist's worst nightmare—(newbies and experienced riders alike)—and it's happening with increasing frequency. When a vehicle enters the bike lane, runs a red light, or makes a right-hand turn in front of a bike, the outcome usually doesn't favor the cyclist.
Growing Concerns
Over the weekend of September 24, 2022, an accomplished triathlete in Tampa, Florida was killed while on a training ride on her bicycle, and another Ironman World Champion runner-up finisher sustained significant injuries when she was hit by a car while training in Texas.  They are just the latest in the number of fatal accidents from car vs bicycle crashes.
Florida Leads The Nation In Bicycle Crash Fatalities.
According to the National Highway Traffic Safety Administration, bicyclist fatalities in 2020 were highest in Florida (170), California (129), and Texas (79). In 2020, there was a 9% increase in the number of bicyclists killed (938), compared to 859 in 2019.
"Florida Ranks Third
In Total Bicyclists Crashes
And Accidents."
When Do Bicycle Accidents Happen Most?
Bicycle-related deaths peak in the warmer months, starting in May, and they remain high through October. In 2020, the most deaths occurred in August (157) and the fewest in February (53).
Each year, approximately 55,000 cyclists are injured by vehicles, according to the National Highway Traffic Safety Administration (NHTSA); 30 percent of all bicycle accident injuries occur when a bicyclist is struck by a car.
In the stress and pain of the moment, it's hard to know what to do if a car hits you while riding.
What to Do If You Get Hit by a Car While Riding Your Bike
In the unfortunate event that a motorist versus cyclist accident does occur, it should be treated much like any other motor vehicle accident involving attention to the health, safety, and wellness of those involved with the immediate deployment of emergency medical personnel and law enforcement.
Once immediate safety has been secured, someone should obtain (via notation, digital voice memo, or photographs):
Documentation of the scene, including details of the weather, road conditions, and time of day, including identification of all parties and vehicles involved (first and last name, phone number, date of birth, vehicle make/model/color, license plate, or tag numbers). Please identify any witnesses to the event (first and last name, contact information). Documentation of all bodily injuries, including helmet and clothing damage, as well as vehicle and bicycle damage
Bicycle Accident CheckList
1. Call the police and report the accident (even if you don't think you are hurt).
2. Pay attention to and remember what the other party says about how the accident occurred.
3. Preserve the condition of your bike, helmet, clothing, footwear, lighting, and other property.
4. As soon as possible, report the accident to your own car insurance company. Florida is a no-fault state when it comes to accident claims (let your lawyer deal with the at-fault party and their insurance company).
5. Seek medical attention. Under Florida law, your car insurance is "primary" for your medical bills. Allow the ER or hospital to bill you for your car ins.
6. Keep documentation of the accident. Police report, photos of the bike (etc.), the scene, surroundings, other party's vehicle
7. Maintain an injury log.
8. Don't discuss the accident on social media.
9. Consult a personal injury lawyer that specializes in bicycle accidents in Florida.
10. Always remember: you are invisible on a bicycle.
Seeking medical care for a thorough assessment by a qualified medical professional (emergency department, urgent care, primary care provider, medical specialist) should not be overlooked or delayed. The most common injuries, such as skin abrasions (i.e., road rash), may be a harbinger of an underlying injury such as fractures, dislocations, cardiopulmonary or vascular injury, or disrupted tendons/ligaments, while a broken helmet could be an indication that an evaluation for intracranial, neck or cervical spine injury may be warranted.
How Does One Law Firm Have A Staff That Has Collectively Raced And Finished Over 25 Full Ironman Distance Triathlons?
One word: perseverance. Zarzaur Law prides itself on hiring lawyers and staff that will not settle, people that are self-driven and pride themselves on achieving things that seem insurmountable.
Perseverance In Sport And Representing Clients Who Have Been Injured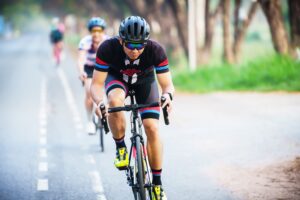 The sport of triathlon is a challenging sport, even with the smaller distance events. The combination of three different sports and the need to train for multiple events requires athletes to be both fit and disciplined. High pain thresholds, mental toughness, time management, and devotion to a goal. All of these characteristics are necessary and valuable traits for the sport of triathlon but are also important in the business of personal injury litigation.
Insurance companies and their lawyers are like distance courses. They are in a war of attrition and their goal is to wear you and your lawyer down until you are willing to either give up or take next to nothing for your case. Our lawyers and staff are the perfect opposition to such a battle tactic. We have proven, even in our hobbies, that distance and discomfort are to be embraced and overcome.
Athlete / Triathlete Accidents and Injuries Are Special Types of Cases
Personal injuries that occur during triathlon activities such as swimming, biking, and/or running bring a special type of case to our firm. Our fellow athletes who become clients can't help but become cases of special interest. We are you, and we understand what drives you and what places you in harm's way. We have been on the road with crowded drivers who have no patience for cyclists; we have been in the races with hundreds of swimmers fighting for position around the first buoys; we have been on the run courses that traverse busy intersections with sketchy traffic control.  We have been there and we have thought about how easy it would be to be injured by such negligence.
Sporting events, including races, walks, and triathlons, can often yield many different types of injuries to participants. Injuries sustained from races may include:
Collision with other runners, swimmers, cyclists, automobiles
Wrecks due to improper racing conditions, like fog or damaged racing surfaces.
Hypothermia
E. coli contraction
Exhaustion or serious injury due to coaching negligence
Serious infection or disease caused by waterborne bacteria.
Respiratory infections
Road rash
Knee injury
Muscle strain
Torn ligaments
Head injury
Heat exhaustion
The Long-Term Effects (Physical And Mental) Of A Sporting Accident
We also know what a toll a serious injury can have on an athlete's life. We have all had injuries if you have competed in any of the three sports that make up triathlon. Fortunately, none of us have suffered life-changing injuries, and most of our clients end up with this fate. This is not something we can speak about via personal experience, but it is something we can relate to given our experience with the sport and being injured and suffering temporary disabling conditions.
We understand the mental and emotional injury that is suffered a day in and day out when you cannot do the thing that you love and that your body craves. This helps us as a personal injury law firm. We have a taste of the disability and loss that you or your family's sports-related injury has and will continue to have in the future.
Hire a Law Firm With Triathlon Experience.
Having a law firm that knows athletics and specifically knows the sports of triathlon not only assures you and your family that we will understand the facts of your case but also provides a guarantee that we will also appreciate how this injury or loss will continue to affect you and your family for years to come.
Pensacola injury lawyer Joe Zarzaur
and Dr. Evan Malone are active cyclists
and participate in triathlons
on a regular basis.
By hiring Zarzaur Law, you will hire a legal team that understands cycling, knows cyclist rights, and will aggressively help you fight for your rights. At Zarzaur Law, we handle bicycle injury cases, defective bicycle components, defective roadway conditions, as well as everything else related to bicycle accident cases.
Joe Zarzaur is a Board Certified Civil Trial Attorney whose firm is dedicated to promoting community safety since 2007. ZARZAUR LAW'S AREAS OF PRACTICE: Serious Personal Injury, Product Defect, Auto Accidents, Cycling Accidents, Motor Vehicle Accidents, Products Liability, Wrongful Death, Community Safety, Boat and Jet Ski Accidents, Slip and Fall Injuries, and more.
Licensed in Alabama and Florida.
If you've been in an accident, it's important that you don't make any rash decisions. Put yourself in the best possible position to receive the justice you deserve. It is also important to consult with a Board-Certified Trial Lawyer who has the knowledge and experience to help you.
We know accidents can be stressful and want to make the process as easy as possible for you. Call Zarzaur Law, P.A. today at (855) Hire-Joe, or by requesting a free case review through our website.
For more information review the links below and research the organizations specific to your locale:
CDC Bicycle Safety
https://www.cdc.gov/transportationsafety/bicycle/index.html
NHTSA Bicycle Crash Stats
https://crashstats.nhtsa.dot.gov/Api/Public/ViewPublication/813197
2021 Florida Statutes – 316.2065:  Bicycle regulations
http://www.leg.state.fl.us/statutes/index.cfm?App_mode=Display_Statute&URL=0300-0399/0316/Sections/0316.2065.html
Florida Bicycle Association
Bike Pensacola
https://www.bikepensacola.org/
West Florida Wheelmen
https://www.westfloridawheelmen.org/advocacy
https://media.acg.aaa.com//content/1205/files/2019%20Q2%20Consumer%20Pulse_Bicycle%20Safety.pdf