Zarzaur Law – Tallahassee
Location:
317 E Park Ave
Tallahassee, FL 32301
Get Directions >
Hours:
Open 24 hours, 7 days a week
Contact: 855-447-3563
---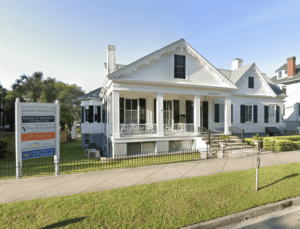 If you have been injured because of the negligent actions of another person, your Tallahassee personal injury lawyer at Zarzaur Law can provide information about your rights and how to go about getting compensation for your losses.
Zarzaur Law is a Florida personal injury law firm ready to passionately advocate on your behalf and get you the full and fair compensation that you deserve after a personal injury.
Our team is led by Joe Zarzaur, a Board Certified Civil Trial Specialist recognized by the Florida Bar and the National Board of Trial Advocacy.
Our practice is completely dedicated to injury and death cases. We are very selective in the cases we take on so that we can focus on quality, not quantity.
If you are looking for a winning team to pursue your case and protect your interests, call Zarzaur Law at (855) 447-3563. We offer free case reviews and you pay no fees unless we win your case.
What is Personal Injury Law?
Personal injury law is an area of law that deals with injury caused to a person's body and emotions. Personal injury cases can be filed on different grounds, most commonly negligence.
Every person in society has to act in a way that does not cause harm to others. When a person's acts or omissions do not meet the expected standard in any particular situation and they cause harm to another person they could be held responsible for their negligence. In order to prove negligence, an injured victim must prove the following:
The defendant owed them a duty of care. Every person owes a duty of care to any person who they could reasonably expect would be harmed by their actions or omissions if they had given it some thought.
The defendant breached their duty of care. The defendant did not act in a way that was expected to avoid causing harm to others.
The defendant's breach of their duty caused the victim's injury and was the proximate or legal cause of the victim's injury. Sometimes, the immediate cause of a victim's injury is not the proximate cause. For example, in a case where a driver has a tire blowout that causes them to lose control of their vehicle and crash into another vehicle and cause injury to another person. While crashing into the injured person's vehicle is the immediate cause of their injury, further investigation may reveal that the tire was defective, raising a possible product liability claim against the tire manufacturer.
The victim suffered actual harm. If the victim is able to dust themselves off and carry on with their lives as normal after an accident, then it is unlikely that they suffered any damages. Damages include financial losses like medical expenses, and nonfinancial losses like mental anguish.
What Does Comparative Fault Mean in Florida?
Comparative fault is a rule in personal injury that apportions damages to parties involved in an accident according to the percentage of fault they contributed to the accident. Comparative fault eliminates the harsh result, which some victims had to deal with in the past under the contributory negligence rule. Under contributory negligence, if a victim was found to be even one percent at fault for the accident that caused their injury, they would receive nothing.
Some defendants will try to avoid or reduce their responsibility by blaming the victim for the accident. They may refer to a victim's preexisting condition as aggravating their injury. They may also refer to the victim's assumption of risk. Assumption of risk is a defense that is often argued when a victim is involved in dangerous activity like sports to say that the victim assumed the risk of injury and therefore the defendant is not responsible. There are exceptions to these defenses and an experienced Tallahassee personal injury lawyer will know how to apply them in your case to ensure that the defendant does not escape their financial responsibility for your injury.
How Much Time Do I Have to File?
When you are injured as a result of another person's negligence, you should speak to a lawyer as soon as possible. The law limits the time within which you can file a lawsuit after the incident that caused your injury. In Florida, the general time limit to file a personal injury claim is four years. For a medical malpractice claim, you have two years from the incident that caused your injury to file a claim.
There are few exceptions that allow you to extend the time limit so if you fail to file a case on time, you may lose your right to recover any damages from the defendant. Investigating and preparing a case requires time to compile the best and most persuasive evidence to support your claim. It is best to speak to a Tallahassee personal injury attorney even when you are not sure that you have a valid claim. At Zarzaur Law, we review your case for free and give you our frank opinion about the merits of your case.
What is My Case Worth?
There is no way to give an exact figure as to how much your personal injury case is worth. The value of your case will depend on the facts surrounding your case, the severity of your injuries, the value of the damages you suffered, and sometimes, the conduct of the defendant. A defendant may be held liable for punitive damages if the victim can prove that the defendant's misconduct was intentional. Generally, the purpose of damages is not to punish the defendant, but to compensate the victim for the losses they suffered because of the injury.
Contact a Tallahassee Personal Injury Lawyer
The personal injury lawyers at Zarzaur Law have years of experience advocating for clients who have been wronged by others. The firm has a history of successfully representing clients, and we have recovered millions in verdicts and settlements for clients in Escambia County and Santa Rosa County.
Be confident you have a legal expert on your side. If you or a loved one has been injured due to someone else's negligence, contact Zarzaur Law today for a free case evaluation at (855) 447-3563.