If you or a loved one was seriously hurt or killed in a motorcycle accident, personal injury lawyer Joe Zarzaur and his team can help.
Our Pensacola motorcycle accident lawyers have significant experience representing accident victims and their families after tragic accidents.
Winning Your Pensacola Motorcycle Accident Case
Serious injuries resulting from a motorcycle accident will likely require long-term care and rehabilitation for injuries, such as:
When the medical bills begin to pile up after an accident you need a Pensacola motorcycle accident attorney to help you so you can focus on your recovery.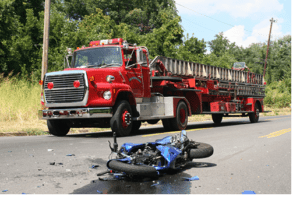 If the other driver was negligent, driving distracted, driving under the influence or driving in a reckless manner, you may have an injury case. We handle your injury case from start to finish. Our lawyers will thoroughly investigate your motorcycle accident, collecting evidence and interviewing key witnesses to the crash.
We will deal with your insurance company from day one to ensure that you receive the compensation to which you are entitled. We prepare every case as though it were going to trial to make sure that we can persuasively present your case at all stages of the process.
What Happens if the Other Party Blames You for the Accident?
Motorcycle riders often face bias when trying to get compensation for injuries suffered from a motorcycle accident. They must overcome the negative perception that people have against motorcycle riders as being reckless. It is not unusual for a victim to be blamed for the accident that caused their injuries. If you have been in a motorcycle accident and are afraid that you may be blamed for the accident, do not let that stop you from seeking legal advice from an experienced motorcycle accident attorney. You may still have a chance of getting some compensation for your damages under Florida's comparative fault law.
What is Comparative Fault?
Comparative fault is a legal rule that allows the victim of an accident to receive some compensation for their injury even when they bear some responsibility for causing the accident. Unlike a handful of states that still operate under the rule of contributory negligence, Florida has adopted the more equitable rule of comparative fault. Under the rule of contributory negligence, a victim would be unable to recover any compensation for their injuries if they were found to be even one percent at fault for the accident. Imagine how unfair such an outcome would be. That means that if the victim was speeding but the other party was also reckless, any percentage of fault attributed to the victim would absolve the other party from any responsibility. Luckily, that is not the case in Florida.
Under Florida's comparative fault law, the victim's recovery is diminished by the percent of fault attributed to them, but the victim's fault, if any, does not completely bar them from recovering compensation for the damages they suffered.
Who is Responsible for Your Injuries?
Another good reason to involve a Pensacola motorcycle accident attorney after you have been injured in an accident is to ensure that all the parties responsible for your accident are identified. In a motorcycle accident, there may be multiple parties responsible for the damages that you suffer. Some of the responsible parties may not even have been present at the scene of the accident. For example, if part of your injury can be attributed to a defective or sub-standard helmet, you may be able to make a product liability claim against the helmet manufacturer.
The US Department of Transportation (DOT) sets the standards for all motorcycle helmets sold and used in the US. DOT regulations provide minimum standards for the design, performance, and labeling of helmets sold in the US. Helmet manufacturers who fail to produce helmets that meet the minimum standards may be held liable if any fault for the victim's injury can be attributed to the helmet.
Investigating a motorcycle accident to identify all the responsible parties for your injuries and preparing a case requires resources and expertise that you can find at Zarzaur Law. We are not afraid of Big Defendants, and are not afraid to take your case to trial to get you the compensation that you deserve.
Be confident you have a legal expert on your side.
No Cost, No Fee, Unless We Win
Zarzaur Law is a pure contingency fee law firm. There is NO FEE unless you win. If you don't collect, we don't either. Results matter, so make sure to check out our case results as well as our client reviews see what are clients have to say about our firm.
---
Additional Resources:
---
Contact our firm today to request a case review or call today at 855hirejoe for your FREE consultation.
---