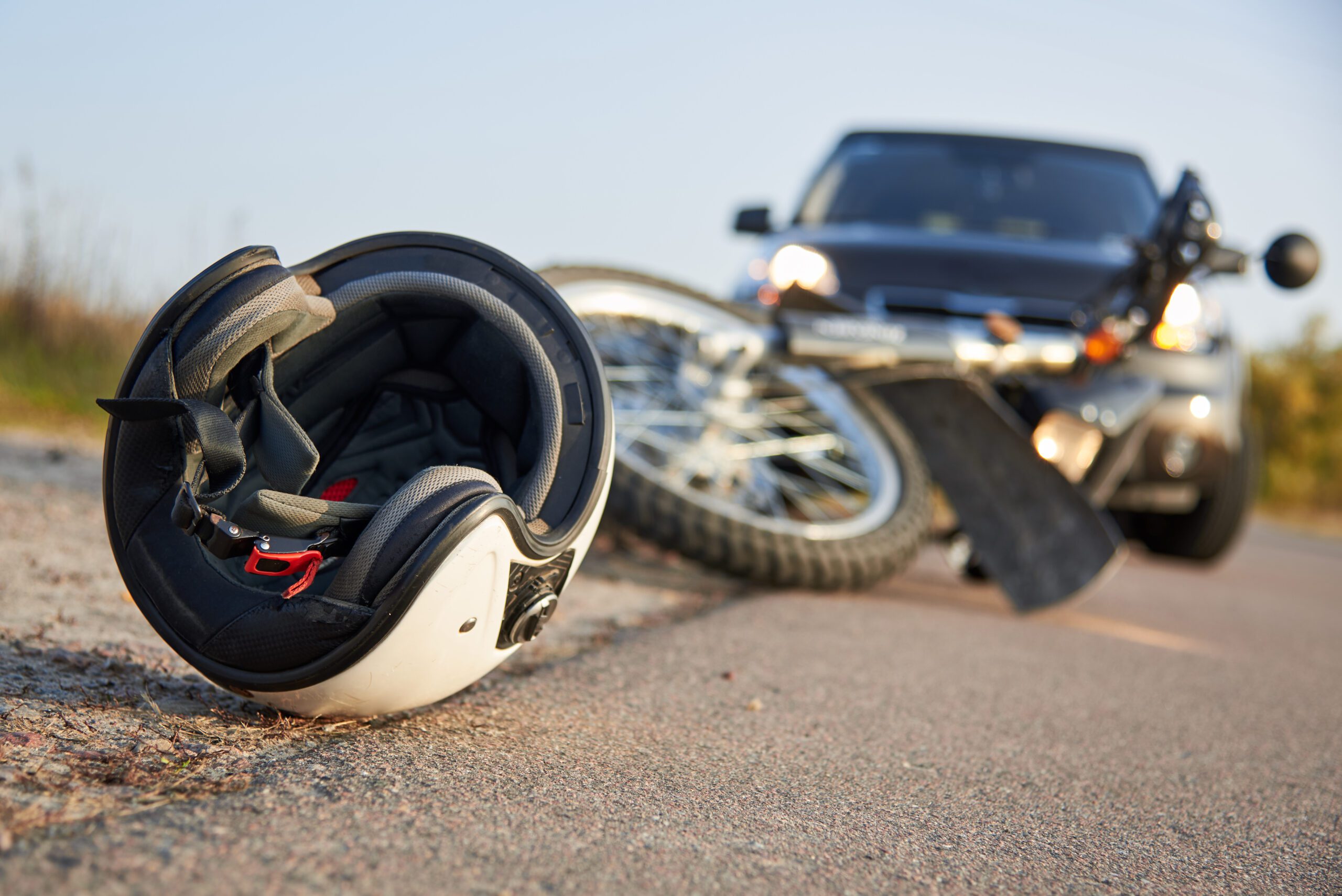 Unlike other states, Florida doesn't require riders to purchase motorcycle insurance. While It's true that you aren't legally required to buy a policy, it still makes sense to be insured. Motorcycle insurance can help cover your damages if you get into an accident and limit your financial liability. Insurance also protects you in other states, should you take your bike on a road trip.
Is It Required To Have Insurance To Register A Motorcycle In Florida?
The registration process does not require a motorcycle operator to carry insurance to register their motorcycle. However, the driver is still financially responsible if charged in a bike accident.
THERE WAS A TOTAL OF 8,638
MOTORCYCLE CRASHES IN FLORIDA IN 2021. THIS MEANS THAT 0.069% OF THE MOTORCYCLE CRASHES IN FLORIDA IN 2021 RESULTED IN A DEATH.
SO WHY WOULD RIDERS NOT HAVE INSURANCE?
Does Florida No-Fault Coverage Apply to Motorcycles?
Florida is a "no-fault" state requiring personal injury protection coverage for your vehicle of four wheels or more. No-fault coverage ensures that all medical bills will be paid regardless of who was at fault in an accident. No-fault laws do not apply to motorcycles.
An Alarming Increase In Motorcycle Fatalities
The number of annual motorcycle fatalities observed in Florida has more than doubled over the past twenty years. Although there has been some decline since 2015, when a high of 584 was reached, motorcycle fatalities remain elevated, with an average of 550 per year from 2016-2021. Of additional concern, overall, traffic fatalities have increased by nearly 17% over the past five years, with motorcycle fatalities increasing by 3%.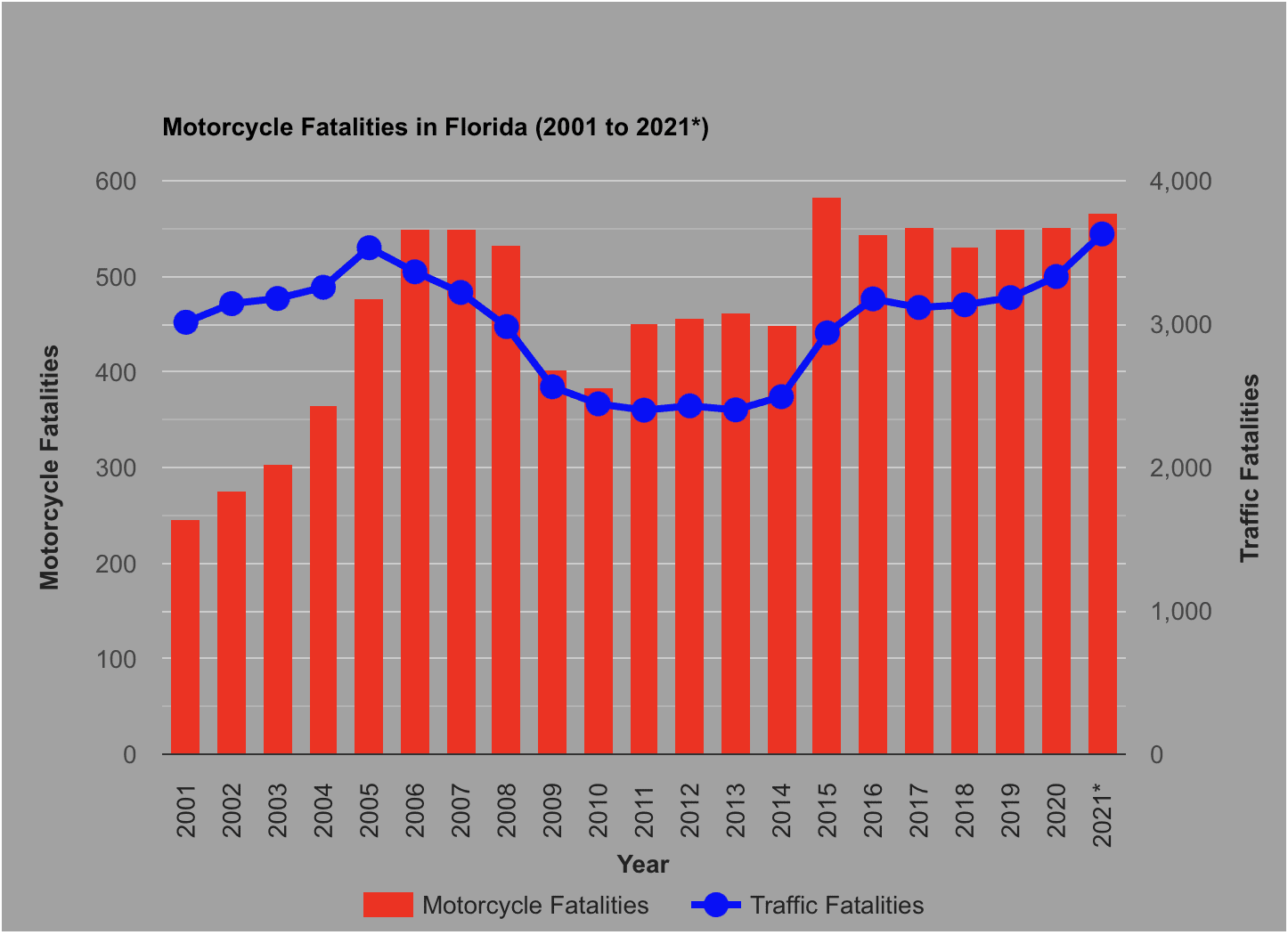 Is Bodily Injury Liability Insurance Required in Florida?
While Florida allows motorcycle riders to drive without insurance, they are not absolved of their financial responsibility should they get into an accident (especially if the motorcycle rider has caused the accident). The state's minimum liability coverage requirements for other passenger vehicles includes:
$10,000 for one person with bodily injury
$20,000 for two or more people with bodily injury
$10,000 per crash in property damage liability
While bodily injury liability insurance is not required it is recommended that you buy as much coverage as you can afford, since motorcycle accidents cause serious injuries and potentially high medical bills.
 YOU ARE 37 TIMES MORE LIKELY TO DIE IN A MOTORCYCLE ACCIDENT THAN A CAR ACCIDENT – NHTSA.GOV
What Happens If You Don't Have Bodily Injury Liability Insurance At The Time Of An Accident?
If no liability coverage was in effect at the time of the accident, you could face significant penalties, including:
Having your driving privileges suspended
Having your registration and tag suspended
Being required to purchase bodily injury and property damage liability coverage for three years
Having civil judgments against you
ACCORDING TO SAFEROADS.ORG, THERE ARE 10 TIMES AS MANY UNHELMETED MOTORCYCLIST FATALITIES IN STATES WITHOUT UNIVERSAL HELMET LAWS (1,777) AS IN STATES WITH UNIVERSAL HELMET LAWS (170).
What Are Florida's Helmet Laws, and Do They Impact Insurance?
While Florida doesn't mandate motorcycle insurance in most cases, riders must purchase coverage if they choose to ride a motorcycle without a helmet. These riders must have insurance with at least 10/20/10 coverage. You can only legally ride without a helmet if you buy insurance beforehand.
MOTORCYCLE HELMETS REDUCE THE RISK OF HEAD INJURY BY 69 PERCENT AND REDUCE THE RISK OF DEATH BY 42 PERCENT.
Uninsured/Underinsured (UM) Coverage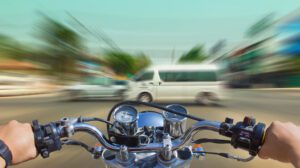 Uninsured/underinsured (UM) coverage is vitally important if you ride a motorcycle. Most crashes result in serious injury and if the at-fault party has no bodily injury coverage or coverage with small limits, you will not be compensated for your injuries and losses. As Florida personal injury lawyers, we stress the importance of UM coverage for all drivers, and it is especially important for motorcycle riders. In Florida, bodily injury coverage is not required to drive, and many drivers in our area have not bodily injury coverage. When you buy insurance for your motorcycle, please request UM coverage, and buy as much coverage as you can afford. This coverage is relatively inexpensive and very important. This coverage will also afford protection to any riders who are injured on your motorcycle.
Since motorcycle crashes may often result in catastrophic injuries, please purchase liability and UM coverage. This is important to protect you and your family. A board-certified civil trial lawyer can advise you on coverage and can help you navigate through the complex laws involving motorcycle crashes.
Joe Zarzaur is a Board Certified Civil Trial Attorney whose firm is dedicated to promoting community safety since 2007. ZARZAUR LAW'S AREAS OF PRACTICE: Serious Personal Injury, Product Defect, Auto Accidents, Cycling Accidents, Motor Vehicle Accidents, Products Liability, Wrongful Death, Community Safety, Boat and Jet Ski Accidents, Slip and Fall Injuries, and more. Licensed in Alabama and Florida.
If you've been the victim of an accident, it's important that you don't make any rash decisions. Put yourself in the best possible position to receive the justice you deserve. It is also important to consult with a Board Certified Trial lawyer who has the knowledge and experience to help you. We know accidents can be stressful and want to make the process as easy as possible for you. Call Zarzaur Law, P.A. today at (855) Hire-Joe for a free legal consultation or visit www.zarzaurlaw.com.
Sources:
https://www.nhtsa.gov/road-safety/motorcycle-safety
https://www.nolo.com/legal-encyclopedia/motorcycle-accidents-common-causes-30330.html
https://www.nolo.com/legal-encyclopedia/motorcycle-accidents-road-hazards-30331.html
https://zarzaurlaw.com/motorcycle-accident/
https://zarzaurlaw.com/what-is-um-coverage-and-why-is-it-important/
https://zarzaurlaw.com/auto-accident/
https://www.moneygeek.com/insurance/motorcycle/do-you-need-motorcycle-insurance-in-florida/