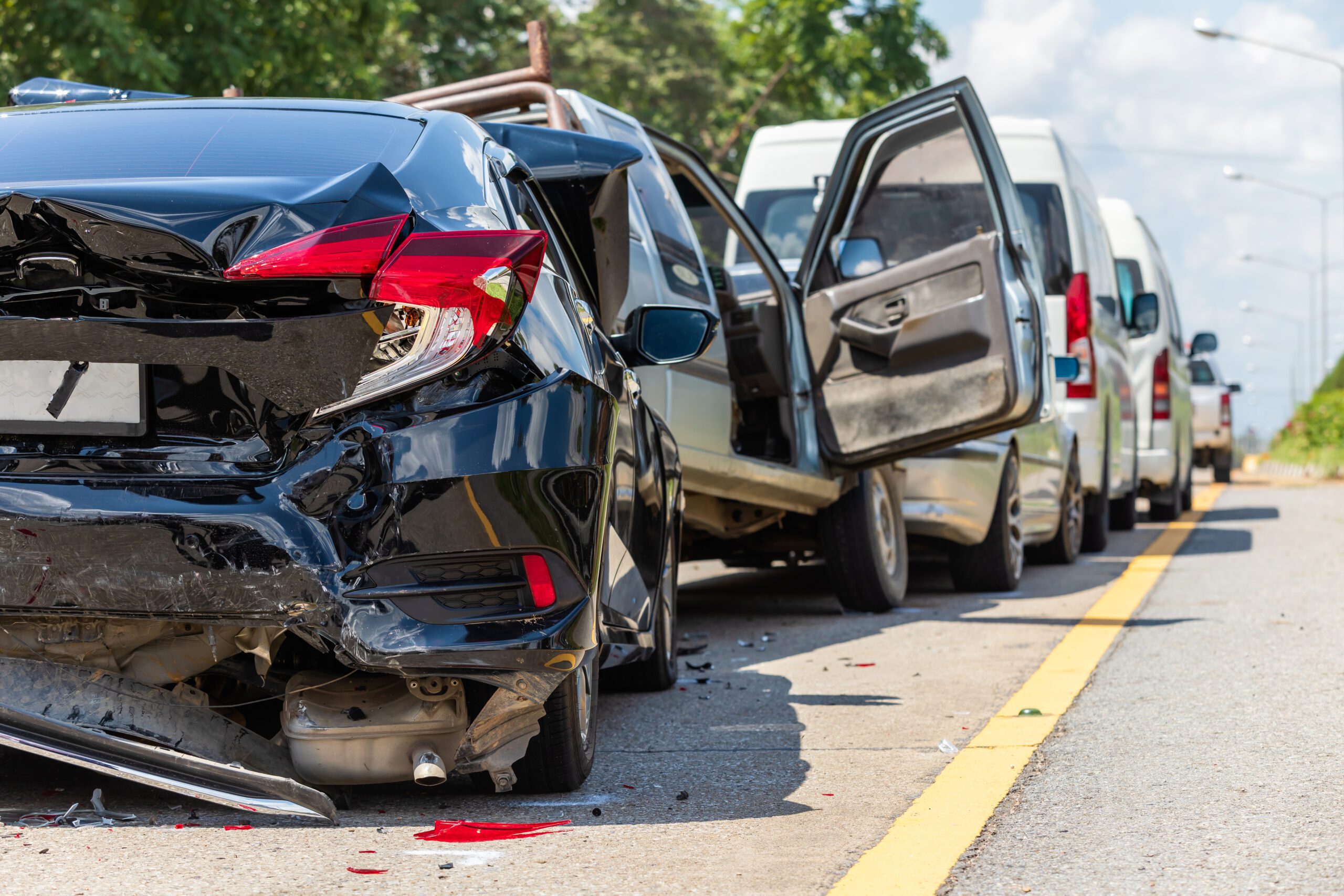 Most Florida Car Accidents or Florida Car Wrecks occur between two vehicles.  One vehicle is considered the "at-fault" vehicle and the other vehicle is considered the "victim" vehicle.
Occasionally, wrecks in Florida involve multiple vehicles.  Usually, one "at-fault" driver who strikes more than one car during the wreck.  These are sometimes "chain reaction" type of collisions that can happen in tightly spaced traffic like backups on bridges or other roads with limited shoulders.
The Florida Crash Report will usually list the "at-fault" driver as Vehicle 1 and will label the other Vehicles as 2- 4 or whatever the number of cars involved.  This will mean that only one Vehicle, Vehicle 1, will be liable for all of the damages and injuries caused.
---
IN A TYPICAL MULTIPLE VEHICLE WRECK THERE IS A LIMITED AMOUNT OF INSURANCE COVERAGE AND USUALLY ONLY ONE RESPONSIBLE INSURANCE POLICY
---
So why is this important?  Well because if there is only one insurance policy that is liable for all of the damages and injuries and if these damages and injuries are spread across multiple vehicles, then most likely, there will be insufficient insurance coverage for the "at fault" driver.
For example: many drivers in Florida have minimal insurance coverage.  Typically, drivers will have the mandatory $10,000.00 per claim/$20,000.00 per accident in property damage coverage and then have the same amount in boiling injury coverage.
Bodily Injury Coverage
Bodily injury coverage is the category of insurance that compensates other drivers for their injuries. The insurance company only has to pay the per accident limit when there are multiple cars involved and it does not have to pay each claim the "per claim" limit.  So, in this example, the limits were $10,000.00 per claim and $20,000.00 per accident for both property damage and injury.  The insurance company only has to pay $20,000.00 towards any and all property damage and $20,000.00 for any and all injuries.  This is the total amount they are responsible to pay even if there are 25 cars involves and multiple serious injuries. 
As you can imagine, a wreck can total a couple of cars and easily be well in excess of $20,000.00.  Further, $20,000.00 in medical expenses split between multiple victims can also be a nominal figure.
So long as the insurance company doesn't act unreasonably in offering these total limits to the lawyers for each client, this is all they will ever have to pay towards the claims.
Global Settlement Mediation
 Global settlements for property damage and injury claims are the most common outcome of Florida Car Wrecks with multiple vehicle involvement.
The process that insurance companies use in Florida Car Wrecks involving multiple vehicles is quite simple.  It is called a "global settlement" process.  Global meaning that all potential parties for both property damages and injuries are all notified that the insurance company is planning on having a meeting where they will divide up the per accident limits among the potential claims.
This global settlement conference will require each lawyer to present information that would explain why their respective client should recover more, percentage-wise, than other claimants.  For instance, the injured party in the car that was hit first may usually have the most property damage and worse injuries.  This claimant will, many times, have the best argument that their injuries and damages are worse than others.
However, other factors are also considered in these global settlement conferences.  These factors can include things like:
Does the party have health insurance?
How much underinsured motorist coverage does each party have?
Will this be the only recovery that this client makes for the entire event?
How bad are the injuries and how expensive will the future treatments be?
What condition was the claimant in prior to the wreck?
Obviously, these global settlement conferences should not be attended without a lawyer who has prepared not only to present your best case but prepared to point out why the other claims should not take priority.
---
UNDERINSURED MOTORIST COVERAGE IS EXTREMELY IMPORTANT AND FLORIDA CAR WRECKS WITH MULTIPLE INVOLVED VEHICLES IS JUST ANOTHER REASON WHY YOU SHOULD HAVE AS MUCH A YOU CAN AFFORD.
---
Purchase as Much UM Coverage as You Can Afford
Every chance we get to advise clients and potential clients to purchase as much uninsured motorist coverage as they can afford, we do so.  Multiple vehicle accidents are just another reason why it is prudent to purchase as much uninsured motorist coverage as possible.  When you have this type of coverage on your policy the effect of the "at fault" driver not having sufficient coverage is much less problematic. 
For example: instead of having to split $20,000.00 four ways as illustrated above, the global settlement amount would just be the initial settlement of your case.  Once that is done, then your lawyer would be able to move on to the underinsured motorist coverage on your own policy for the additional value in your injury case.
Not having underinsured motorist coverage makes you depends entirely on the "at fault" party's judgment in how much coverage to purchase. 
We can assure you that if they are acting reckless and cause a wreck, many times they are not going to be the type of person that is going to exercise diligence in selecting large amount of insurance for the other drivers' injuries.  Instead, they will likely opt for the cheapest form of insurance that gets them legal to drive.  This means that you have to protect yourself and your family by purchasing the underinsured motorist coverage.
This is never more important than in a Florida Multiple Vehicle collision since having multiple claimants all pulling from the same number of limited coverages makes getting "made-whole" near impossible without your own protection.
If you are injured in a multiple vehicle car crash, whether a high speed or low speed crash, you should seek the services of an experienced person injury lawyer. A board-certified civil trial lawyer has much experience in dealing with these cases and can give you the advice you need.
Joe Zarzaur is a Board Certified Civil Trial Attorney whose firm is dedicated to promoting community safety since 2007. ZARZAUR LAW'S AREAS OF PRACTICE: Serious Personal Injury, Product Defect, Auto Accidents, Cycling Accidents, Motor Vehicle Accidents, Products Liability, Wrongful Death, Community Safety, Boat and Jet Ski Accidents, Slip and Fall Injuries, and more. Licensed in Alabama and Florida.
If you've been the victim of an accident, it's important that you don't make any rash decisions. Put yourself in the best possible position to receive the justice you deserve. It is also important to consult with a Board Certified Trial lawyer who has the knowledge and experience to help you. We know accidents can be stressful and want to make the process as easy as possible for you. Call Zarzaur Law, P.A. today at (855) Hire-Joe for a free legal consultation or visit www.zarzaurlaw.com.
Sources:
https://www.flhsmv.gov/traffic-crash-reports/