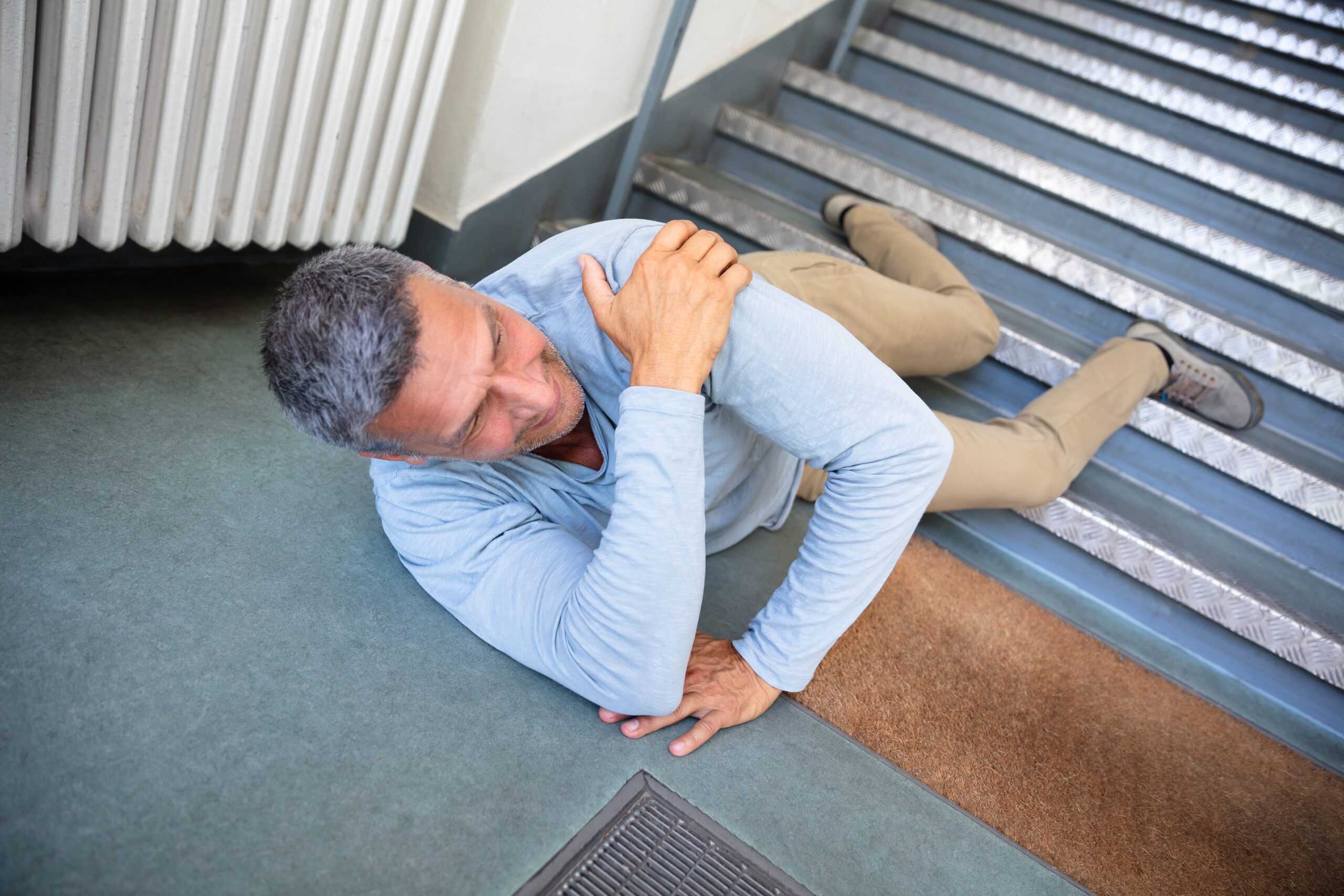 Apart from car wrecks, premises liability cases are the most common cases that come through our door. "Premises Liability" encompasses a wide variety of cases—slip and falls in the grocery stores, construction and design defects, and even negligent security cases. The question all of our premises liability clients ask is this—"Who is going to pay for my medical bills?"
As with many areas of the law, the persons responsible for your injuries vary depending on the theory that fits your case.
---
PREMISES LIABILITY IS THE LEGAL CONCEPT THAT THE OWNER OR OCCUPANT OF A PROPERTY HAS A DUTY TO KEEP THE AREA SAFE FOR VISITORS.
---
Below, we have described the most common types of premises liability cases and an overview of who could be responsible:
Temporary Conditions
Slip and fall cases usually involve "temporary conditions." For instance, spilled vegetable oil in a supermarket aisle is a temporary condition—i.e., it is not a permanent feature of the aisle. In this case, the plaintiff must prove not only that the temporary condition was present and caused an injury, but the plaintiff also must prove that the substance had been there long enough that the property owner should have been aware of the condition and should have cleaned it up. In this case, the primary defendant is going to be the property owner or tenant.
Permanent Defects- Failure to Warn
If your injury was caused by a hidden condition, like a hidden stop or a concealed sewer drain, you may have a claim against the property owner and/or the person who created the defect for failing to warn you about the defect. This duty only applies when the condition is not obvious to the average visitor.
Permanent Defects – Failure to Maintain
If your injury was caused by a dangerous condition—even an obvious one like a pothole—you may have a claim against not only the property owner for failing to maintain their property in a reasonably safe condition but also against whoever constructed or designed the area where the dangerous condition resided. A landowners' duty to maintain his property in a safe condition is separate from the duty to warn. The duty to maintain exists even when the dangerous condition is open and obvious.
Negligent Security
The last large category of premises liability cases involves situations where you are injured by a third party's violent, criminal conduct. If you can show that the property owner knew that criminal attacks were likely to occur on the property and did nothing about it—such as hiring security, providing adequate lighting, closing entrance grates, or even designing the property in a different way, you may have a claim against the property owner for failing to provide reasonable security for their guests' safety.
What to Do If You've Been Hurt on Someone Else's Property
Seek Medical Attention.

Get a thorough medical exam as soon as possible. Keep up with your treatment plan as directed by your doctors, and hold on to all medical documentation, including bills and write down everything you are experiencing from the accident.
Do Not Admit Fault!

Do not apologize for the accident or say that you are fine.
Take Pictures.

Take as many pictures of the hazard that caused your fall as possible. Record a video if you are able.
Get Witness Names And Contact Information.
Contact A Lawyer.
If you are unable to take any of these steps yourself, ask a friend or family member to do so for you. Evidence can disappear quickly, especially if the hazard was something easy to fix like a spill. Contact a lawyer for help as soon as possible if you were unable to gather this evidence in time.
If you've suffered injuries on someone else's property, you should hire an lawyer as soon as possible. The landowner is sure to be aggressive in hiring their own lawyer and trying to get you to agree to small settlements or to make statements that hurt your case. Only an experienced personal injury lawyer can help you navigate these treacherous waters.
We also remind potential clients that they shouldn't just hire any lawyer. The Florida Bar does not typically allow lawyers to hold themselves out as "experts" in a particular field. However, the Bar does allow lawyers who work on personal injury cases to become specialists in civil trial. Only one percent of Florida lawyers have this certification. Two out of three of the lawyers on staff at Zarzaur Law, P.A. are specialists in civil trial.
So, when potential clients ask us about whether or when to hire a lawyer after an accident, we remind them that only a board-certified civil trial lawyer is a specialist in this area of the law. Since all injury lawyers have the same "no fee no cost unless you win" payout structure, there is no reason to hire someone who is not a specialist.
Joe Zarzaur is a Board Certified Civil Trial Attorney whose firm is dedicated to promoting community safety since 2007. ZARZAUR LAW'S AREAS OF PRACTICE: Serious Personal Injury, Product Defect, Auto Accidents, Cycling Accidents, Motor Vehicle Accidents, Products Liability, Wrongful Death, Community Safety, Boat and Jet Ski Accidents, Slip and Fall Injuries, and more. Licensed in Alabama and Florida.
If you've been the victim of an accident, it's important that you don't make any rash decisions. Put yourself in the best possible position to receive the justice you deserve. It is also important to consult with a Board Certified Trial lawyer who has the knowledge and experience to help you. We know accidents can be stressful and want to make the process as easy as possible for you. Call Zarzaur Law, P.A. today at (855) Hire-Joe, or by requesting a free case review through our website.
Sources:
http://www.floridahealth.gov/statistics-and-data/florida-injury-surveillance-system/_documents/data-fact-sheets/falls-2012.pdf
https://www.lawfirms.com/resources/personal-injury/slip-and-fall-accident/slip-and-fall-accidents.htm