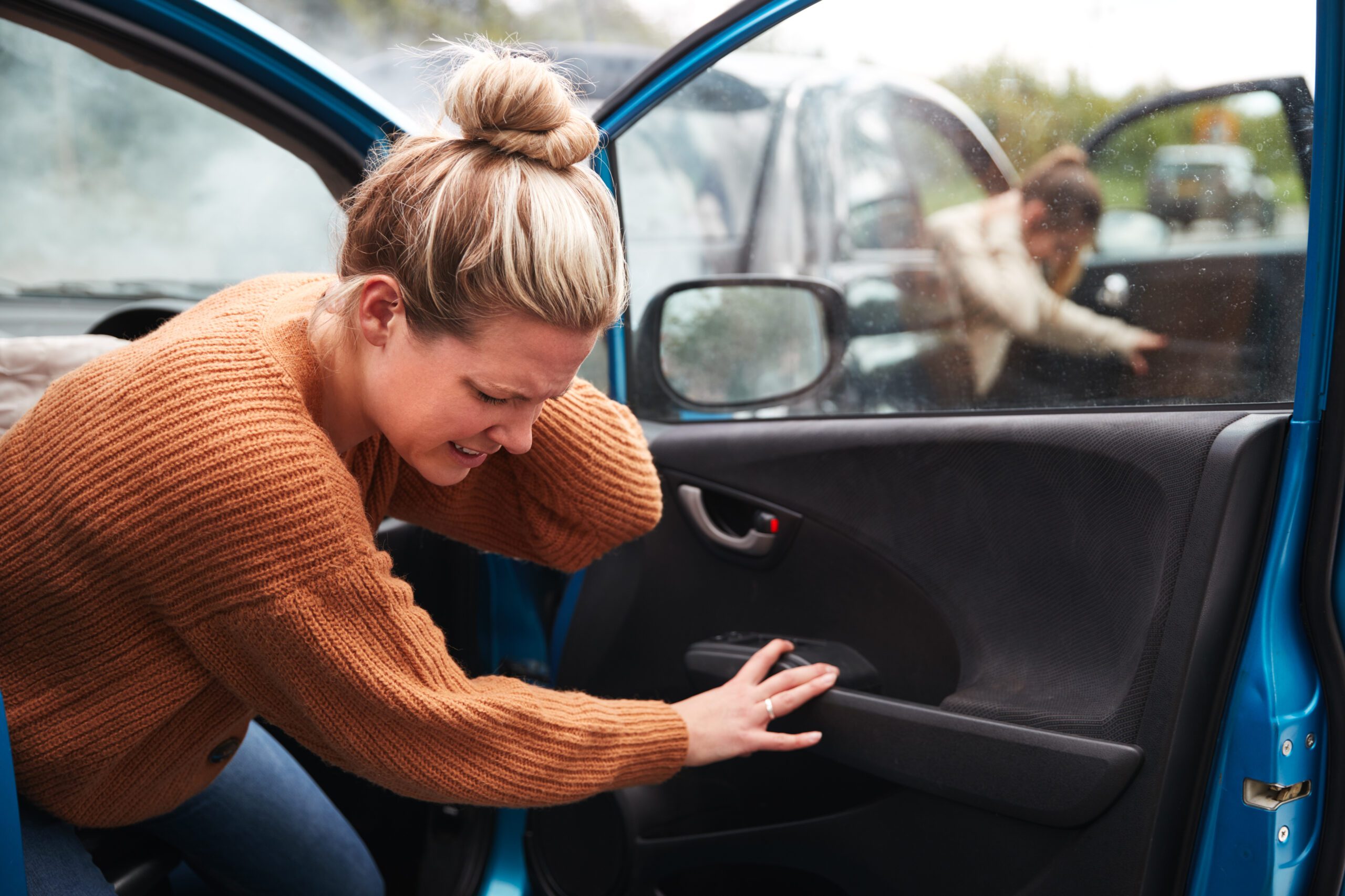 When someone is injured in a car wreck that is not their fault, most people would rather not pay for expensive medical treatment and property damage themselves. In the vast majority of cases, the only collectible funds that are available to pay for these expenses are insurance proceeds. So, most clients' case plan involves trying to reach a "settlement" whereby an insurance company agrees to pay a certain amount for the claimant's injuries and the claimant agrees not to file a lawsuit seeking further funds.
In general, there are three types of insurance available in a car wreck case:
1. Personal injury protection" or "PIP" insurance
2. Liability insurance
3. Uninsured/underinsured motorist insurance
PIP (Personal Injury Protection) Insurance
PIP insurance is also known as "no fault" insurance. In Florida, a driver's insurance carrier must pay 80% of the client's medical bills—up to $10,000 total—regardless of whether the driver was at fault or not. The other 20% are paid for either by the claimant's health insurance or demanded from the at fault driver, if there is one. If the first $10,000 does not cover their medical bills, the claimant then begins the process of recovering from the at fault driver through their "liability insurance."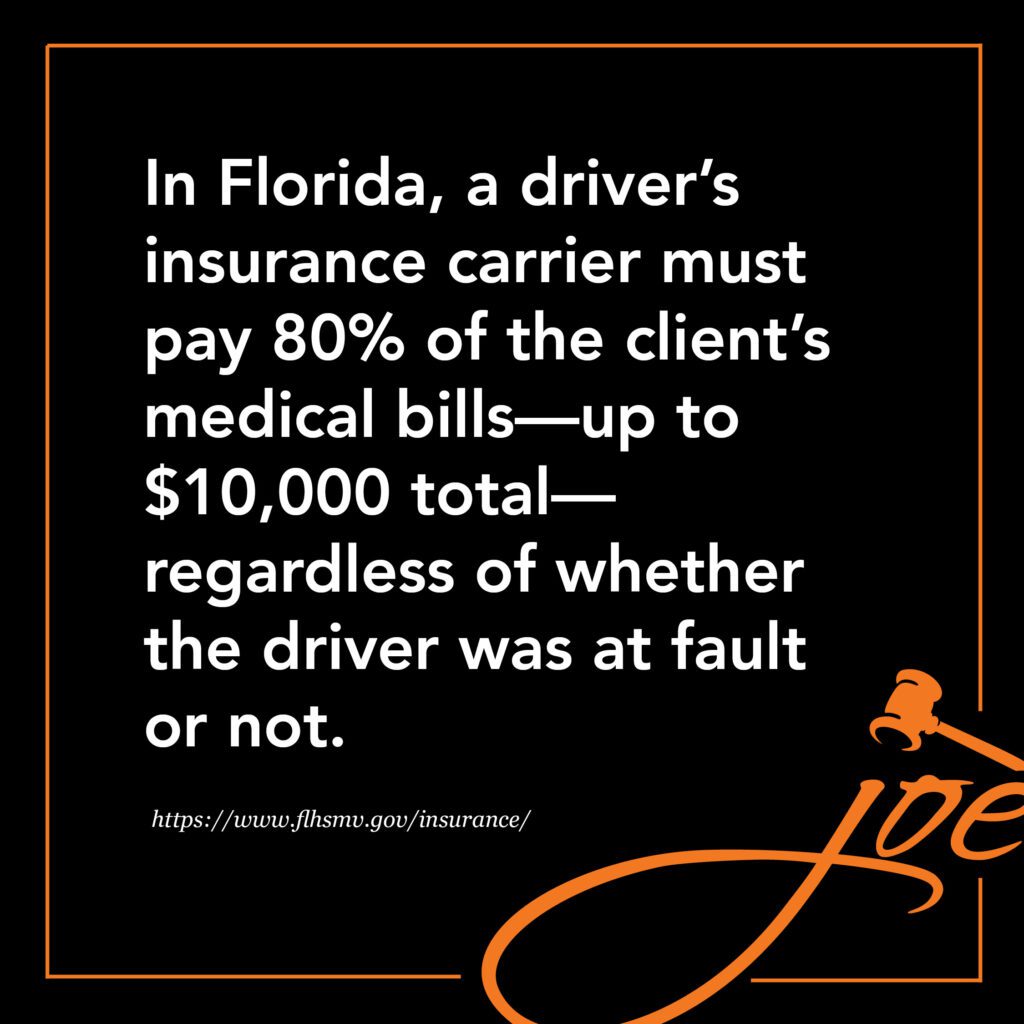 Liability Insurance
Liability insurance refers to the at fault driver's policy that covers damage that they cause by their own negligence. Once your claim is presented to the at fault driver's insurance carrier, the insurance employee assigned to investigate the claim, or "adjuster," will be asking two questions: first, is the at fault driver really at fault or "liable," and second, how much money or "damages" is the claimant entitled to? The liability portion focuses on the unreasonableness of the at fault driver's conduct, which is often obvious. The damages portion depends on the nature of the injuries and the claimant's treatment plan, which sometimes takes time to work out.
The claimant's lawyer has to answer these two questions. Often, liability is an easy question, such as when an at fault driver rear ends the claimant who is sitting stopped at a red light. More often, the liability insurer admits that their driver is at fault but disputes the amount that the claimant is asking for. It is the claimant's lawyer's job to present the claimant's medical records and bills to the adjuster and prove that the injuries are a result of their driver's negligence and that they are serious enough to justify whatever amount of money the claimant has demanded. The adjuster's job is to review the medical records and bills and eventually offer to pay a certain amount to the claimant—which the claimant can either accept or decline.
What if the At Fault Driver Has NO Insurance?
Finally, if the at fault driver has no insurance at all, or if their insurance coverage is not enough to cover the claimant's damages, the claimant can go ask their own insurance company to help pay their bills as long as they have purchased "uninsured/underinsured motorist" (UM/UIM) coverage. The claimant's lawyer has to prove that the at fault party was actually at fault and must prove either that the at fault party's insurance is either non-existent (uninsured) or was not sufficient to cover the costs of the injuries (underinsured). Just like the liability adjuster, the UM/UIM adjuster will review the medical records and bills and come up with an offer to settle the UM/UIM portion of the claim, which the claimant can either accept or reject.
To be eligible for further benefits under their uninsured/underinsured motorist coverage, a claimant who wants to first settle with the at fault party must obtain consent from their UM/UIM (Uninsured / Underinsured) carrier.
The Negotiation for Settlement
Often, these negotiations between the adjuster and the claimant's lawyer go back and forth for several rounds.  If negotiations fall through at any level, a claimant has the right to file a lawsuit, proceed to trial, and prove their injuries and damages to a jury. Sometimes a claimant has to file a lawsuit to force the other side to come to the negotiation table.
Only experienced lawyers are capable of navigating this process. Potential clients shouldn't just hire any lawyer. Not all lawyers are equal in their training and qualifications. The Florida Bar does not typically allow lawyers to hold themselves out as "experts." However, the Bar does allow lawyers who have extensive experience in personal injury and tort cases to become specialists in a civil trials. Only one percent of Florida lawyers have this certification. Two out of three of the lawyers on staff at Zarzaur Law, P.A. are Board Certified in Civil Trial.
So, when potential clients ask us about whether or when to hire a lawyer after an accident, we remind them that only a Board-Certified civil trial lawyer is a specialist in this area of the law. Since all injury lawyers have the same "no fee no cost unless you win" payout structure, there is no reason to hire someone who is not a specialist.
Joe Zarzaur is a Board Certified Civil Trial Attorney whose firm is dedicated to promoting community safety since 2007. ZARZAUR LAW'S AREAS OF PRACTICE: Serious Personal Injury, Product Defect, Auto Accidents, Cycling Accidents, Motor Vehicle Accidents, Products Liability, Wrongful Death, Community Safety, Boat and Jet Ski Accidents, Slip and Fall Injuries, and more. Licensed in Alabama and Florida.
If you've been the victim of an accident, it's important that you don't make any rash decisions. Put yourself in the best possible position to receive the justice you deserve. It is also important to consult with a Board Certified Trial lawyer who has the knowledge and experience to help you. We know accidents can be stressful and want to make the process as easy as possible for you. Call Zarzaur Law, P.A. today at (855) Hire-Joe for a free legal consultation or visit www.zarzaurlaw.com.
Sources:
https://www.flhsmv.gov/insurance/
https://www.youtube.com/watch?v=1uwCo_9H0xM&list=PLnCrJ0tzzzL6mRs3arN7h5wlrAbevkMq0&index=13&t=115s
https://www.investopedia.com/terms/l/liability_insurance.asp
https://zarzaurlaw.com/what-is-um-coverage-and-why-is-it-important/