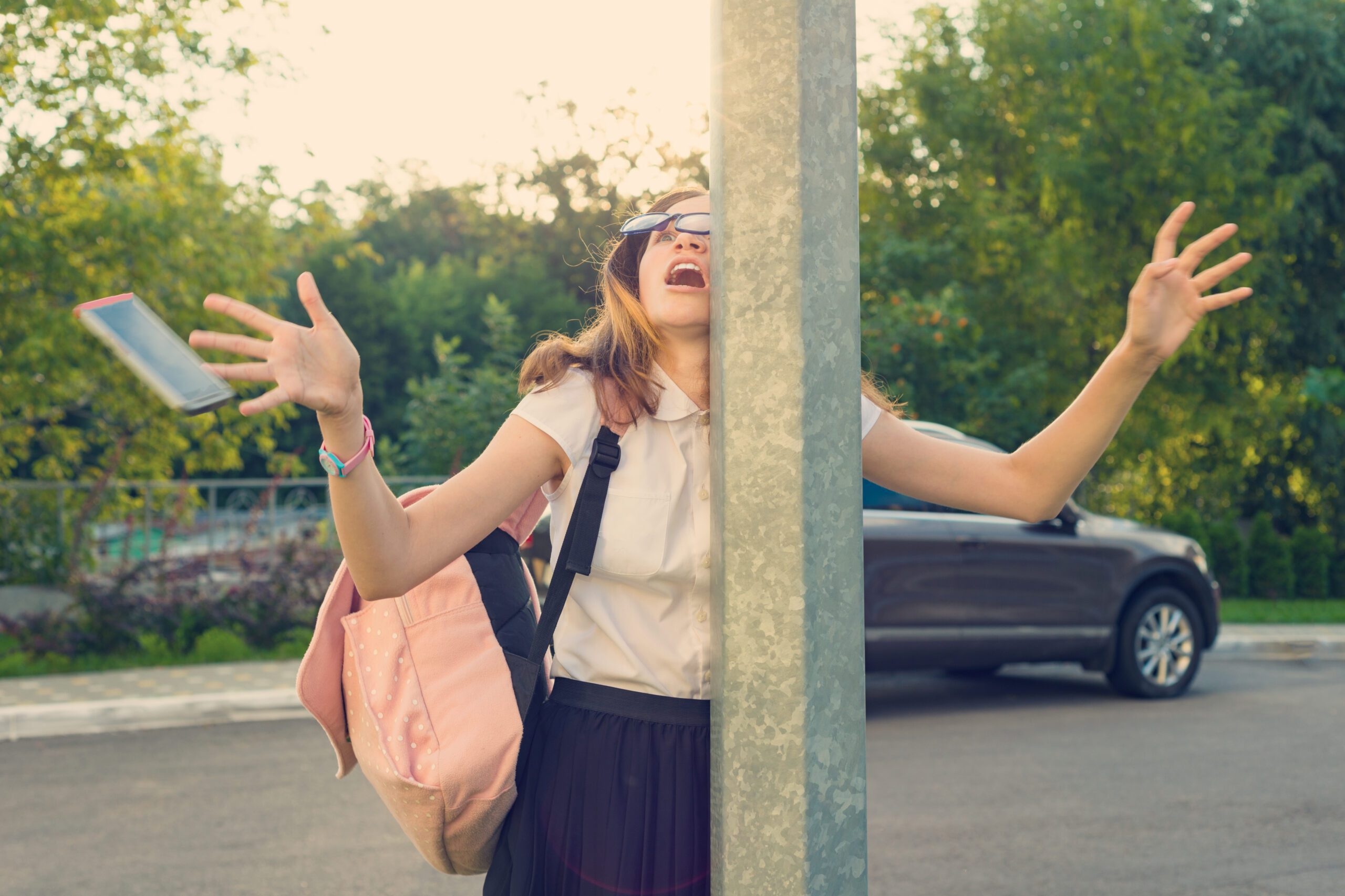 For those born before 1990, remember back to a time when mobile phones required a shoulder strap, large battery, and likely a cord connecting the handset to the charging station.  All this was for the convenience and ability to maintain voice contact outside the home or office.  This convenience typically came with a hefty up-front investment followed by inordinate per-minute charges on the use of the phone.
Over the last 20-30 years the mobile phone experience has become less cumbersome while also trending away from the maintenance of voice in favor of text messaging, interactive applications, video, and photo production, etc.
The inversion from primary voice contact to a fully interactive audiovisual experience and mobile application existence offers seemingly boundless benefits to our daily lives.  But, along with this comes the ever-present notion of the mobile phone serving as a distraction. A distraction that has been studied in regard to injuries that result from such.
Distracted Driving Accidents
Distracted driving (i.e. texting ad driving) has been the focus of many studies and demonstrations.  It is difficult to even peripherally follow the news and not hear about an accident or incident involving a distracted driver.  That distraction is most commonly the mobile phone, either directly or indirectly removing the driver's attention from the task at hand – safely operating the vehicle.
The National Highway Traffic Safety Administration recently released the 2019 data which features these bulleted points:
"Nine percent of fatal crashes, 15 percent of injury crashes, and 15 percent of all police-reported motor vehicle traffic crashes in 2019 were reported as distraction-affected crashes.

In 2019 there were 3,142 people killed and an estimated additional 424,000 people injured in motor vehicle crashes involving distracted drivers.

Six percent of all drivers involved in fatal crashes in 2019 were reported as distracted at the time of the crashes. Nine percent of drivers 15 to 20 years old involved in fatal crashes were reported as distracted. This age group has the largest proportion of drivers who were distracted at the time of the fatal crashes. 
In 2019 there were 566 non-occupants (pedestrians, pedal cyclists, and others) killed in distraction-affected crashes."
Distracted Pedestrian Accidents
So, just save the mobile phone use for when one is not operating a vehicle and all should be safe and well, right?  Not so much.  
Turns out that with the benefit of hindsight mobile phones are also associated with injuries apart from the operation of a vehicle.  Mobile phone distraction elsewhere in daily activities can result in injury as well (i.e. texting and walking).  And, when distraction is not the etiology of an injury this raises the notion of mobile phone implementation into activities not originally intended or designed for concurrent mobile device use (i.e. video/photo capture of physical activities).
While the short compendium of studies listed here offers some outstanding data this only serves to highlight the data after the fact in that these studies summarize a retrospective analysis of injuries, mechanisms of injury, and demographics associated with those involved:
"A marked increase was noted in the incidence of cell phone use-associated injuries over the time (2,900%)."
"The proportion of injuries related to texting on a cell phone was greatest in the 13- to 29-year-old age group and declined as age increased."
"Cell phone–related injuries to the head and neck have increased steeply over the recent 20-year period, with many cases resulting from distraction."
"Many of these injuries occurred among those aged 13 to 29 years and were associated with common activities, such as texting while walking."
"The incidence of cell phone-related injuries among patients 21 years of age and under increased over 8-fold between the years 2002 to 2015."
"The most commonly reported injury types across all age groups were: contusions/abrasions (34.6%), lacerations (29.5%), strains/sprains (19.7%), internal organ injuries (10.2%), and fracture (6.0%)."
---
A limitation of the various quips and conclusions above is that these numbers only capture what has been reported or what has been reported in such a manner so as to be mined from datasets across many facilities, institutions, regions, and jurisdictions.  It has been speculated that any of these percentages or gross amounts have been undercounted due to lack of consistent data reporting.
The take-home point is that while there should be a concentrated effort on keeping the roads safe for all of us by taking steps to prevent mobile phone distractions while operating a vehicle, a similar mindset would also likely prevent injuries from occurring with the otherwise routine aspects of daily life.  Aiming to keep oneself safe while using a mobile device transitively safeguards others, thus widening the path for an injury-free mobile device co-existence.
Watch the YouTube Video with Joe Zarzaur and Dr. Evan Malone >
---
Joe Zarzaur is a Board Certified Civil Trial Attorney whose firm is dedicated to promoting community safety since 2007. ZARZAUR LAW'S AREAS OF PRACTICE: Serious Personal Injury, Product Defect, Auto Accidents, Cycling Accidents, Motor Vehicle Accidents, Products Liability, Wrongful Death, Community Safety, Boat and Jet Ski Accidents, Slip and Fall Injuries, and more. Licensed in Alabama and Florida.
If you've been the victim of an accident, it's important that you don't make any rash decisions. Put yourself in the best possible position to receive the justice you deserve. It is also important to consult with a Board Certified Trial lawyer who has the knowledge and experience to help you. We know accidents can be stressful and want to make the process as easy as possible for you. Call Zarzaur Law, P.A. today at (855) Hire-Joe, or by requesting a free case review through our website.
Sources:
NATIONAL HIGHWAY TRAFFIC SAFETY ADMINISTRATION:  DISTRACTED DRIVING 2019
https://crashstats.nhtsa.dot.gov/Api/Public/ViewPublication/813111
ORTHOPAEDIC INJURIES ASSOCIATED WITH CELL PHONE USE RESULTING IN EMERGENCY DEPARTMENT VISITS: A 20-YEAR ANALYSIS
https://journals.lww.com/jaaos/Documents/JAAOS_37_2_Infographic_July_8_2021.pdf
https://journals.lww.com/jaaos/pages/articleviewer.aspx?year=2021&issue=07010&article=00008&type=Abstract
HEAD AND NECK INJURIES ASSOCIATED WITH CELL PHONE USE
https://jamanetwork.com/journals/jama/fullarticle/10.1001/jamaoto.2019.3678?utm_campaign=articlePDF%26utm_medium=articlePDFlink%26utm_source=articlePDF%26utm_content=jamaoto.2019.3678
HOLD THE PHONE!  CELL PHONE-RELATED INJURIES IN CHILDREN, TEENS, AND YOUNG ADULTS ARE ON THE RISE
https://doi.org/10.1177%2F2333794X20968459