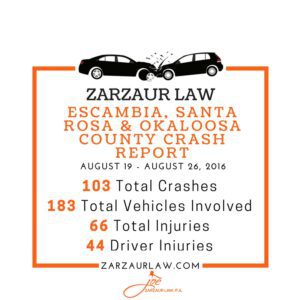 Whether its school bus drivers making their stops, bike riders whizzing by in traffic or parents dropping their kids off, it is everyone's responsibility to use caution and stay alert to ensure children travel to and from school safely.
According to the American Academy of Pediatrics, approximately 100 children in the United States are killed while walking to or from school and the National Center for Safe Routes to School reports nearly 17,000 children sustain injuries in school zone accidents every year.
To ensure safe transportation, everyone should make sure they properly protect themselves and others. Sharing the road during the school day can be stressful, but reducing the risk of school-zone traffic accidents is a combined effort between drivers, bus riders, bicyclists and walkers.
Although the National Highway Traffic Safety Administration advises that children under the age of 10 to be escorted by a parent or legal guardian, not everyone has the privilege to have adult supervision at the bus stop.
To accommodate for those who don't have this guidance, kids can form walking groups in the morning and afternoon. From experience, strength in numbers alleviates the feeling of being scared and also helps protect kids from being approached by strangers. However, whether being supervised by an adult or with a group of peers, I knew to trust the bus driver and abide the rules.
School-day traffic can be wearying but by planning ahead and allowing extra time to reach the destination, drivers can help alleviate their stress. This reduces the feeling of being rushed which allows people to focus on driving correctly, following the speed limits, and keeping an eye for pedestrians at crosswalks, children leaving school buses and bicyclists in traffic.
Using these traffic safety rules and exercising a little extra care and caution, drivers and pedestrians can co-exist safely in school-zones. No matter how experienced we may be in our means of transportation, it's always important to be cognizant of traffic laws and our surroundings to reduce the risk of traffic accidents.
Safety should be the highest priority when traveling regardless of the person or destination. One accident can alter the rest of someone's life. However, don't let one wrong turn, mistake, or ignorance of the law result in obstructing a child's pursuit in education.
Zarzaur Law Firm and Personal Injury Lawyer Joe Zarzaur, can investigate the Pensacola auto accident that caused your child's injury. If it was a preventable accident, we can help you see to it that the responsible party is held liable under Florida personal injury or wrongful death laws. We can help you deal with the financial consequences of your child's accident and provide further compassion and support as you deal with the emotional aspects of your child's case.