The worst situation for any family is a sudden death of a loved one especially when it is due to the carelessness or negligent behavior of another.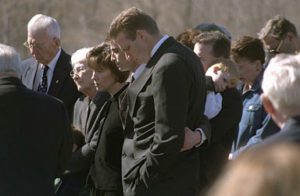 A wrongful death claim is a personal injury lawsuit made when someone is killed due to another party's negligence or intentional act of harm. Wrongful death claims allow the estate of the deceased person to make a claim against the party liable for the death.
Although a criminal case related to the death might also be filed in court, it addresses different concerns, and it typically does not result in damages being paid to the estate or the surviving family members.
Who can bring forth a wrongful death action in Florida?
Survivors of the decedent are those that can make a wrongful death claim:
Spouse, children and parents of the deceased
Dependent blood relatives and adoptive brothers and/or sisters
What damages can be sought through a wrongful death claim?
 Survivors making a wrongful death claim in Florida can obtain compensation for damages including:
pain and suffering to the deceased occurring before death (degenerative diseases/debilitating injuries)
losses incurred by the deceased's family: lost support and services to survivors-loss wages; mental anguish; financial support; lost companionship and pain and suffering; parental guidance (in case where deceased has children)
funeral, burial, medical, and/or hospital expenses
How long do you have to file a wrongful death claim?
In Florida, the statutory deadline for bringing forth a wrongful death claim is two years from the date of death.
If you have lost a loved one, it is important to consult an expert board-certified lawyer with the experience and knowledge to represent you through such a difficult process. Here at Zarzaur Law, P.A. we want to help you get the justice and compensation you deserve. We understand the sudden death of a loved one can impact family members for a lifetime and that is why we, at Zarzaur Law, P.A., make it a goal to fight for your rights. Call us any time at (855) Hire-Joe for a free legal consultation with a lawyer.
Joe Zarzaur, founder of Zarzaur Law, P.A., a Pensacola Personal Injury law firm, has created this blog in an effort to educate the many citizens and visitors of Pensacola, Florida about their legal rights. Joe Zarzaur knows the ins and outs of Florida law, and offers friendly-quality legal help whether you have experienced an auto accident/car wreck, have been a victim of medical malpractice or are in need of a personal injury lawyer. For more information, visit: https://www.zarzaurlaw.com
11 E Romana Street
Pensacola, FL 32502
Telephone: 850-444-9299
Email: info@zarzaurlaw.com
Sources:
https://www.nolo.com/legal-encyclopedia/wrongful-death-lawsuits-florida.html