Dash cam footage has become more prevalent over the past few years when it comes to giving actual proof of what happened in any given car incident. Police departments have utilized dash cams to document traffic stops for years. Recently, average citizens have installed these devices for their own use, as well.
What Is a Dash Cam?
So, what is a dash cam? In a nutshell, it's a camera that attaches to your vehicle's dash or windshield and constantly records your journey. Usually it records traffic ahead of you, but some models can be turned to the interior of the car, while others can record front- and rear-facing traffic simultaneously. A dash cam is usually quite small, around the size of a radar detector, so it won't interfere with your windshield's field of vision.
Many dash cams have built-in GPS navigation systems that link your route to the video. Dash cams can usually be powered using your car's DC power, a USB port, and/or an internal battery. While on-board storage varies and can be augmented with SIM cards, most have a flash memory that is regularly overwritten as it gets full.
Do Dash Cams Record All Of The Time?
Dash cameras are designed to record all the time when your car is powered on. Many cameras allow you to turn the power on or off manually, but most power up immediately and begin working as soon as they are plugged into a 12V power source or hardwired into the car's fuse box.
Are Dash Cams Worth It?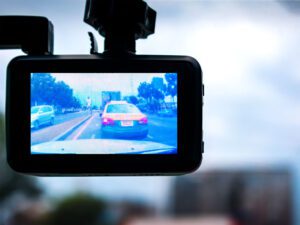 Your dash cam footage can help show how you were behaving, how you were driving, and how you reacted to any dangers. When there is an accident, the other driver might claim you were driving recklessly, speeding, or distracted. The dash cam footage can help you refute those claims.
Dash cams can show that you were in the proper lane of traffic, how fast you were traveling, and that you were attentive. It can help you prove that you aren't to blame for the accident that you were involved in. It can help show how the other driver reacted and what caused the accident.
The dash cam footage could be your main source of proof that you are not at fault, and it is stronger evidence than any other details that you could provide, such as photos and witness statements.
Dashcam Video is admissible in Florida courts
Dashcam video can support your personal injury claim

 

Dashcam footage can aid in the police investigation.
Are Dashcams Legal in Florida?
Yes, dashcams are legal in the state of Florida, but it is important to understand that Florida Statute 316.2004 indicates that drivers cannot operate with anything obstructing their vision on the windshield.
Do I Need To Tell My Personal Injury Lawyer About Dash Cam?
If you're involved in an accident and you have a dash cam installed, you should submit the footage to your personal injury lawyer. This evidence will be beneficial to your attorney working on your case.
Why You Should Consider Buying A Dash Cam
If you want to document anything that happens while you're driving, invest in a dash cam. When you are the driver, it's unsafe (and illegal in many states) to grab your smartphone to record an accident or incident you encounter on the road, including road rage, a reckless or distracted driver, or an animal sighting. A dash cam documents this for you automatically.
What Should You Do If You Are In A Florida Car Accident?
1. Call the police and file a report.
2. Swap information (including any insurance information they may have).
3. Gather details.
4. Take pictures/video
5. Gather the contact information of any witnesses.
6. Seek medical care immediately for any injuries, no matter how minor you think they might be.
GET MORE HELPFUL INFORMATION ON WHAT TO DO AFTER AN ACCIDENT HERE AT OUR "CAR WRECK CHECKLIST" >
Joe Zarzaur is a Board Certified Civil Trial Attorney whose firm has been dedicated to promoting community safety since 2007. ZARZAUR LAW'S AREAS OF PRACTICE: Serious Personal Injury, Product Defect, Auto Accidents, Cycling Accidents, Motor Vehicle Accidents, Products Liability, Wrongful Death, Community Safety, Boat and Jet Ski Accidents, Slip and Fall Injuries, and more. Licensed in Alabama and Florida.
If you've been injured in a car accident, it's important that you don't make any rash decisions. Put yourself in the best possible position to receive the justice you deserve. It is also important to consult with a Board-Certified Trial Lawyer who has the knowledge and experience to help you. We know accidents can be stressful, and we want to make the process as easy as possible for you.
Call Zarzaur Law, P.A. today at (855) Hire-Joe for a free legal consultation or visit www.zarzaurlaw.com.
Sources:
https://www.confused.com/car-insurance/guides/dashcams-and-insurance-discounts#:~:text=If%20you%27re%20involved%20in,dash%20cam%20footage%20to%20submit.
https://securitybros.com/8-strong-reasons-why-should-you-consider-buying-a-dash-cam/
https://www.caranddriver.com/shopping-advice/g25380817/best-vehicle-dash-cams/
https://www.enjuris.com/car-accident/dash-cam-footage-evidence/