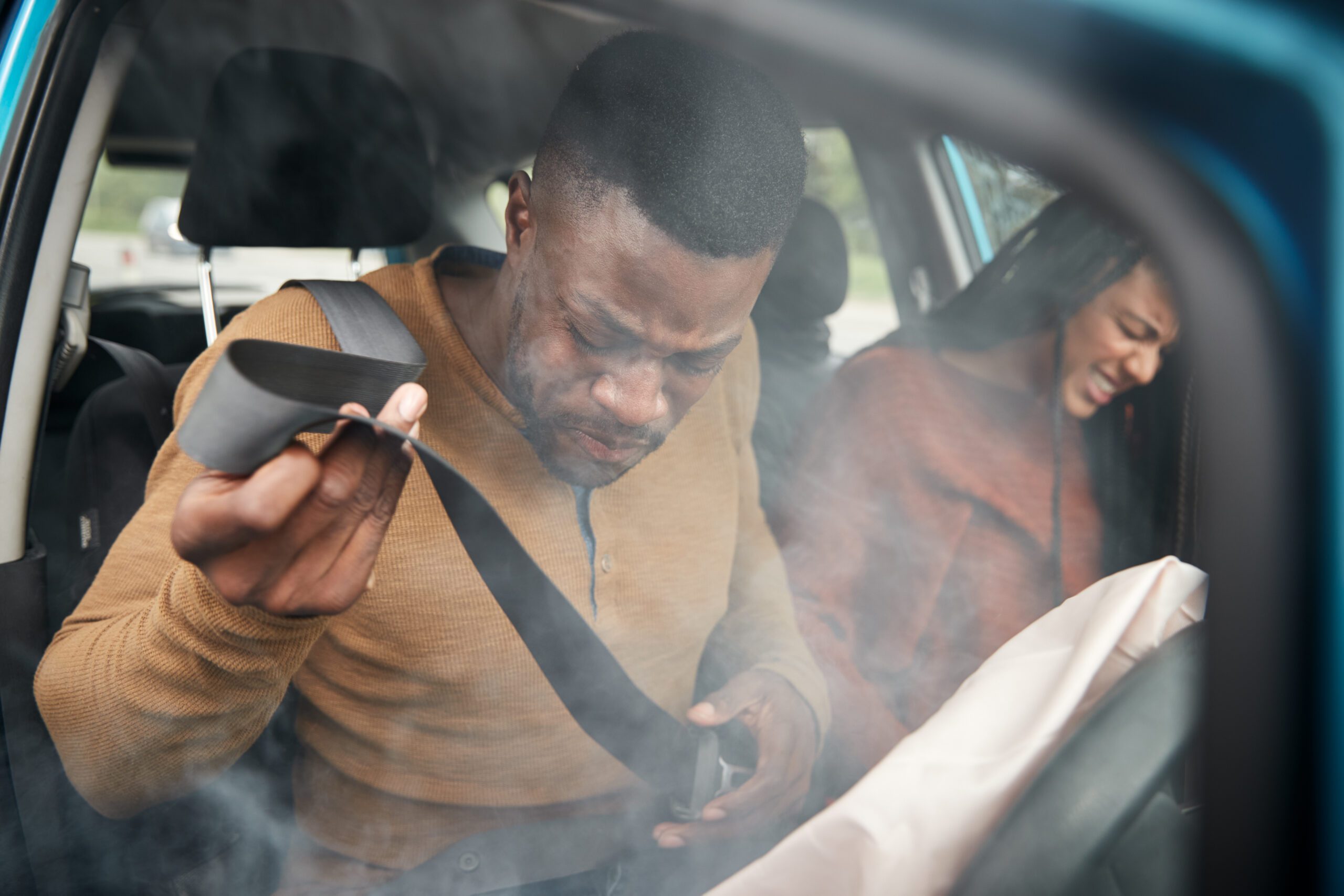 In many car wreck cases, a defective vehicle or vehicle component may be responsible for the crash and injuries sustained from the crash. Since the establishment of the National Traffic and Motor Vehicle Safety Act, the National Highway Traffic Safety Administration (NHTSA) has recalled tens of millions of vehicles, motor vehicle equipment, and tires. Despite these recalls many car crashes are caused by these defects.
While there may be a negligent driver who caused the crash, an injured consumer can not only recover from the other driver but can also recover from manufacturers if defective equipment causes the crash or the injury.
In many cases, a defective seatbelt or airbag can lead to enhanced injuries.
Similarly, defective tires can cause a crash. In such situations, you need to have an experienced trial lawyer review the case for sources of recovery.
What Is a Product Recall?
Federal Motor Vehicle Safety Standards are minimum performance requirements that apply to all vehicles and vehicle-related equipment. When a vehicle or one of its parts creates a safety risk or does not meet minimum standards it may be recalled. Not all defects are safety-related, some may be caused by ordinary wear and tear, and are not considered the basis of a recall. Car owners or their lawyers are encouraged to report safety defects to NHTSA, and it maintains a website that lists all investigations and recalls.\
Examples of Common Vehicle Defects
Most consumers assume that the vehicle they are driving is safe, particularly when they are driving a new car off the lot for the first time. Unfortunately, even new cars have defective products that can cause serious accidents and life-threatening injuries. For example, the defective ignition switches in General Motors cars caused over 50 fatalities, and the faulty Takata airbags that were installed in several car models were responsible for at least five deaths and 64 serious injuries. Takata recalled 1.4 million older driver's-side airbag inflators on certain vehicles that were designed between 1995 and 2000 after it was discovered that some deflators deployed too slowly or ruptured if there was an improper amount of moisture in the inflator.
The following are other examples of product defects that can lead to product recalls:
Brake systems that malfunction
Defects in the vehicle's electrical system
Faulty accelerators that either prevent the car from moving or cause it to accelerate too quickly
Fuel leaks that can cause a fire
Steering issues that can cause the driver to lose control of the vehicle
Unsafe tires

Who is Responsible for Issuing Product Recalls?
The Federal Motor Vehicle Safety Standards established a set a minimum performance requirement for the parts of a vehicle that have the biggest impact on safe operation, including the brakes, tires, and lighting; as well as the features of the vehicles that protect motorists from serious injuries or fatalities, including airbags, safety belts, child restraint, energy-absorbing steering columns, and motorcycle helmets.
If a vehicle or a specific product related to the vehicle does not comply with the Federal Motor Vehicle Safety Standard, or if there is a safety-related defect in the vehicle or the equipment, and auto recall may be necessary.
Who is Liable if There is a Crash Involving a Recall?
An injured party may often sue the manufacturer, distributor, or seller of a defective auto or auto component under strict product liability theories of recovery. In such cases, the victim must show the product was defective, that the defect made the product unreasonably dangerous and that the injuries were caused by the defective product. The manufacturer can also be sued for negligence, negligent design and marketing, and for manufacturing defects. These theories are often joined in the same lawsuit.
If you think a product defect caused or contributed to your injury, it is imperative that you contact an lawyer and preserve the vehicle of the part to the best of your ability. These manufacturers aggressively defend their products, so it is most important to seek experienced legal counsel immediately. It is usually necessary to have experts retain and test these products so preservation if most important.
A Product Recall Does Not Automatically Get a Manufacturer Off the Hook
A manufacturer cannot use a recall to defeat any claim brought against it. The manufacturer must usually prove that the particular plaintiff directly received notice of the recall and that the recall adequately warned the plaintiff of the dangers posed by the defective product.
A broadly issued recall, unaccompanied by successful efforts to direct the recall notice to the plaintiff, is not enough. Also, the manufacturer cannot defeat the plaintiff's suit by blaming a distributor or seller for not providing the notice directly to the customer—although the manufacturer may be able to sue the distributor or seller afterward, depending on the facts of the case.
Learn more about a manufacturer's defenses in a product liability case.
What Should I Do if I Get a Product Recall Notice?
If you receive a notice, you should read it carefully. If it tells you not to use the vehicle until its repaired, you should immediately call the manufacture or dealer for instructions. There is always a recall hotline to call. You should then schedule a repair with an authorized dealer as soon as possible. There is generally no charge for such repairs. Failure to follow such instructions can adversely affect your case if there is a wreck.
Defective car products can cause death or catastrophic injuries. Bringing a claim for damages is difficult, expensive, and requires special expertise. If you have a claim like this, you need to seek counsel of an experienced board-certified civil trial lawyer.
Joe Zarzaur is a Board Certified Civil Trial Attorney whose firm is dedicated to promoting community safety since 2007. ZARZAUR LAW'S AREAS OF PRACTICE: Serious Personal Injury, Product Defect, Auto Accidents, Cycling Accidents, Motor Vehicle Accidents, Products Liability, Wrongful Death, Community Safety, Boat and Jet Ski Accidents, Slip and Fall Injuries, and more. Licensed in Alabama and Florida.
If you've been the victim of an auto accident, it's important that you don't make any rash decisions. Put yourself in the best possible position to receive the justice you deserve. It is also important to consult with a Board Certified Trial lawyer who has the knowledge and experience to help you. We know accidents can be stressful and want to make the process as easy as possible for you. Call Zarzaur Law, P.A. today at (855) Hire-Joe for a free legal consultation or visit www.zarzaurlaw.com.
Sources:
https://blogs.lawyers.com/lawyer/automobile-accidents/how-does-a-product-recall-impact-my-car-wreck-case-66414/
https://www.findlaw.com/injury/product-liability/vehicle-recalls-and-defects.html
https://www.alllaw.com/personal-injury/how-a-recall-affects-a-product-liability-claim.html
https://zarzaurlaw.com/product-liability/