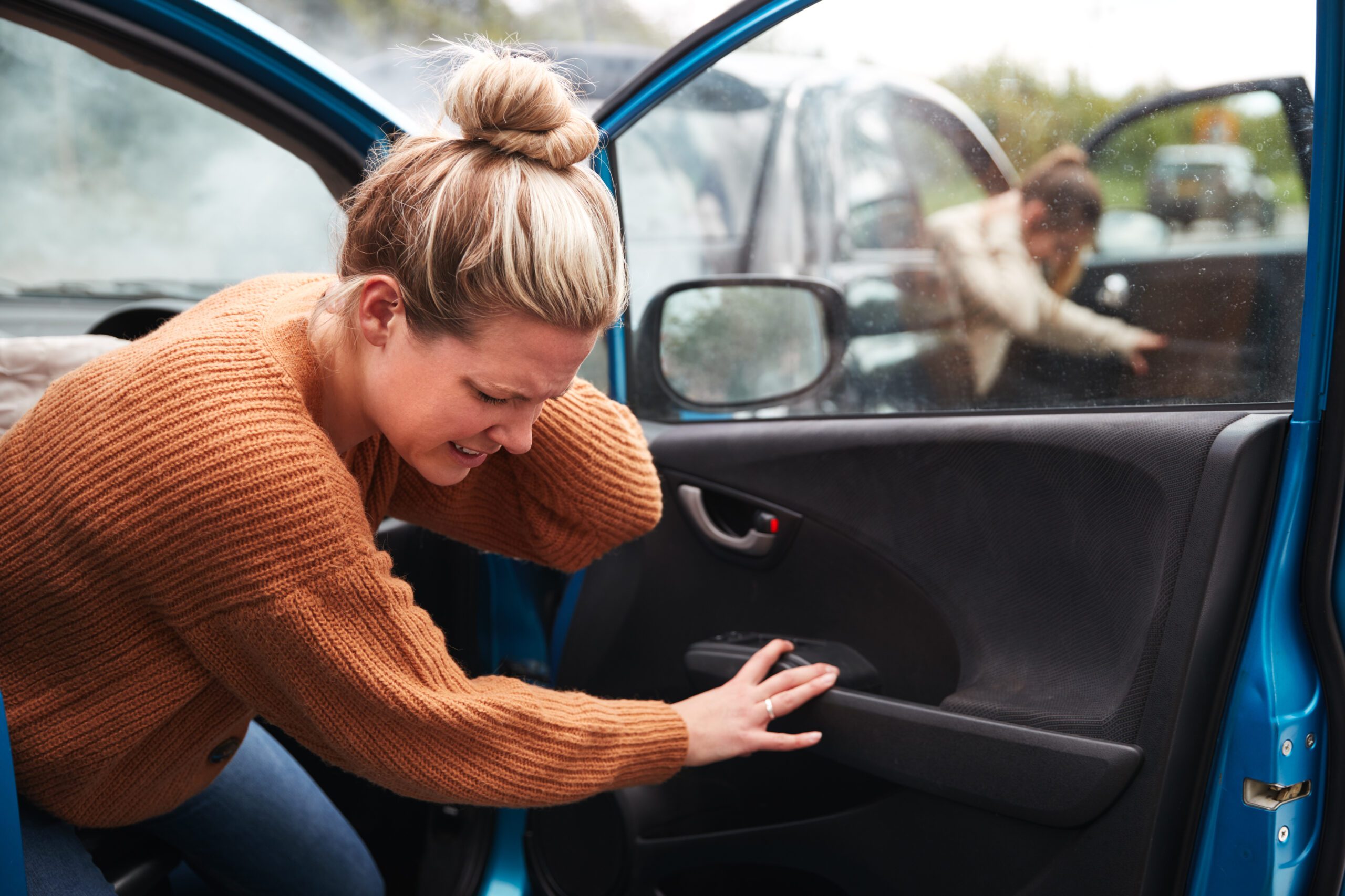 ---
ACCORDING TO THE MAYO CLINIC, AUTOMOBILE ACCIDENTS ARE ONE OF THE LEADING CAUSES OF SPINE INJURIES AND ARE RESPONSIBLE FOR MORE THAN 40 PERCENT OF SPINAL INJURIES EVERY YEAR.
---
Impact On The Spine During A Car Wreck
Disc herniation due to degenerative changes most commonly occurs at the lumbar levels of the spine (L4-L5, L5-S1) though herniation at the lumbar level can also be the result of acute trauma.  The cervical levels of the spine (C5-C6, C6-C7) are the levels most commonly impacted by acute trauma resulting in disc herniation.
What Is A Disc Herniation?
During a car crash, for example, your spine is subjected to a series of forces. These forces can put pressure on the disc, causing the nucleus to push out through the disc's fibrous exterior—especially if your spine already has some age-related degeneration. The protrusion is called a herniated disc or slipped disc.
What Types Of Impact Cause Disc Herniation?
The mechanism of traumatic disc herniation at the lumbar level is generally related to linear forces (head-on impact or rear-end impact collision) in a motor vehicle accident.
The mechanism of traumatic disc herniation at the cervical level is generally torsional or tangential forces (sideswipe or T-bone impact collision) in a motor vehicle accident.
Both cervical and lumbar herniations can be associated with the deployment of life-saving passenger restraint systems:
Lap belt at the lumbar level and the shoulder belt
Airbags at the cervical level
Signs And Symptoms Of Disc Herniation
Signs and symptoms of intervertebral disc herniation include but are not limited to the following:
Pain radiating along an extremity, numbness or sensory deficit

Muscle or motor weakness. These are generally unilateral, or one-sided and reflect the impingement or irritation of the involved nerve root at the respective disc level

Persistent aching or stiffness along the spine

Sharp, localized pain in the neck, upper back or lower back

Chronic ache in the middle or lower back, especially after sitting or standing for extended periods

Back pain that radiates from the low back to the buttock, down the back of the thigh, and into the calf and toes

Inability to stand straight without having severe muscle spasms in the lower back
Diagnosing A Disc Herniation
Workup and investigation when disc herniation involves variations of the following and always should include a history and physical examination of the patient by a qualified clinician:
Diagnostic imaging (plain radiograph, CT imaging, CT myelogram, MRI)
Functional testing (electromyography, nerve conduction testing).
Treatment For A Disc Herniation
Treatment of disc herniation can range from conservative measures to operative intervention, with less-invasive options existing between the two extremes.
Conservative measures might include: 
Anti-inflammatory agents
Physical Therapy
Strengthening and range of motion exercises
Operative measures might include:
Discectomy (resection or removal of the herniated disc)
Laminectomy (removal of vertebral bone to allow for a larger passage for the spinal cord and nerve roots
Hardware implantation
Operative measures are indicated when a conservative approach has failed to yield symptom control, worsening of a herniation in regard to symptom profile or diagnostic testing (progression by MRI), or when overt motor weakness is demonstrated by a clinician's physical examination.
Less-invasive measures are aimed at targeting the symptoms of disc herniation with features short of overt motor weakness – pain and numbness primarily.
Epidural injection of a steroid agent at the involved disc level
If you are experiencing any of the symptoms after a crash, then you should seek medical attention to determine whether you are suffering from this type of injury
DON'T IGNORE BACK AND NECK PAIN AFTER A CAR WRECK
Car insurance companies have conditioned many people to think that all back and neck-related complaints from car accidents are minor and not worthy of compensation. In fact, car accidents represent a large percentage of serious back injury cases in the United States. A serious back problem may lead to a chronic pain, inability to work and lost productivity. A herniated disk claim should be handled by an lawyer who concentrates on personal injury cases.
Joe Zarzaur is a Board Certified Civil Trial Attorney whose firm is dedicated to promoting community safety since 2007. ZARZAUR LAW'S AREAS OF PRACTICE: Serious Personal Injury, Product Defect, Auto Accidents, Cycling Accidents, Motor Vehicle Accidents, Products Liability, Wrongful Death, Community Safety, Boat and Jet Ski Accidents, Slip and Fall Injuries, and more. Licensed in Alabama and Florida.
If you've been the victim of an accident, it's important that you don't make any rash decisions. Put yourself in the best possible position to receive the justice you deserve. It is also important to consult with a Board Certified Trial lawyer who has the knowledge and experience to help you. We know accidents can be stressful and want to make the process as easy as possible for you. Call Zarzaur Law, P.A. today at (855) Hire-Joe for a free legal consultation or visit www.zarzaurlaw.com.
Sources:
https://www.aans.org/en/Patients/Neurosurgical-Conditions-and-Treatments/Herniated-Disc
https://orthoinfo.aaos.org/en/diseases–conditions/herniated-disk-in-the-lower-back/
https://orthoinfo.aaos.org/en/diseases–conditions/cervical-radiculopathy-pinched-nerve/
Dydyk AM, Ngnitewe Massa R, Mesfin FB. Disc Herniation. [Updated 2020 Nov 20]. In: StatPearls [Internet]. Treasure Island (FL): StatPearls Publishing; 2021 Jan-. Available from: https://www.ncbi.nlm.nih.gov/books/NBK441822/