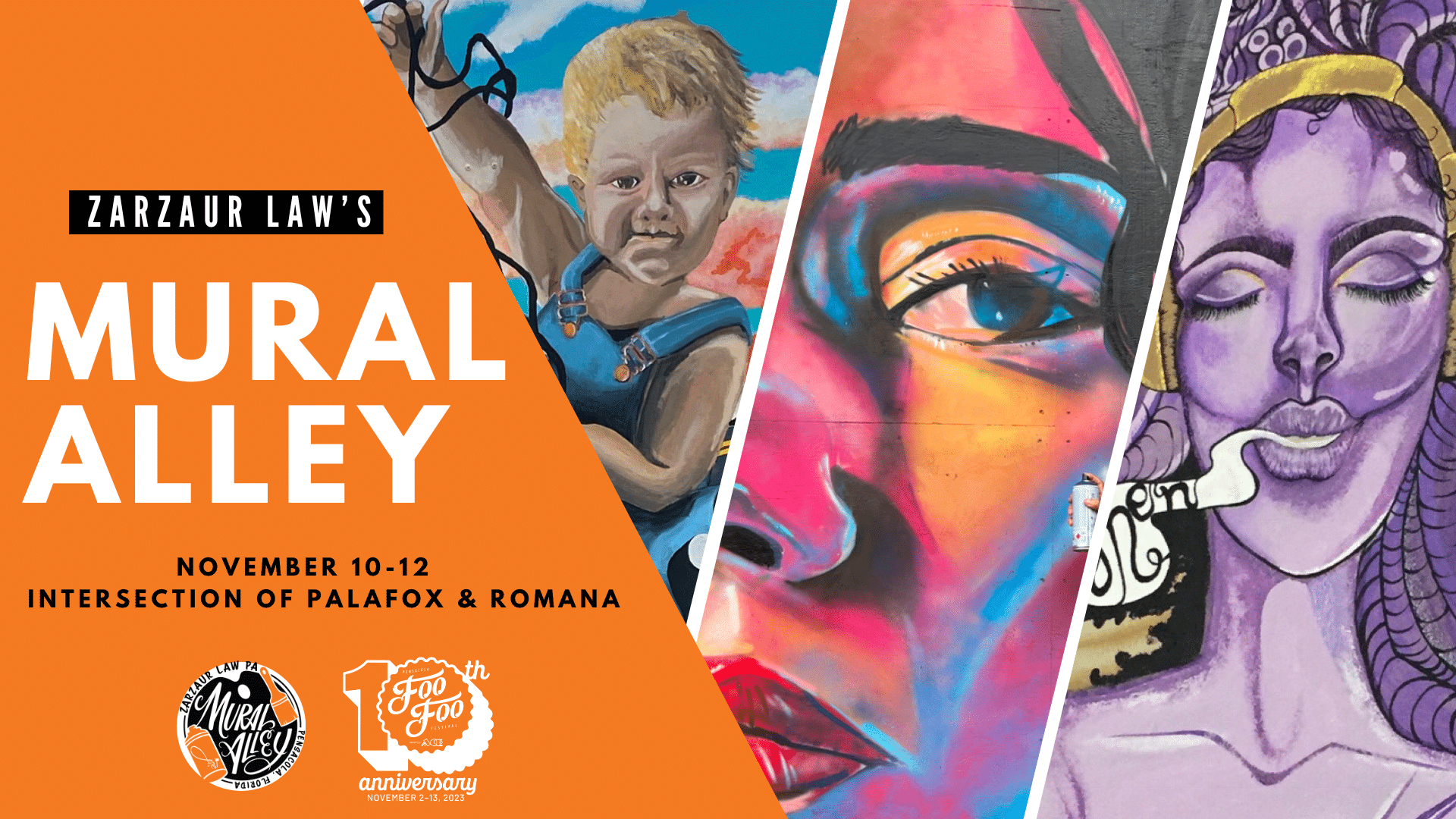 ZARZAUR LAW'S "MURAL ALLEY"
FRIEND OF FOO EVENT
FRI. NOV 10 – SUN. NOV. 12, 2023
DOWNTOWN PENSACOLA
(INTERSECTION OF ROMANA ST BETWEEN PALAFOX AND JEFFERSON ST)
Zarzaur Law, P.A., an award-winning personal injury law firm based out of Pensacola, Florida, will host "Mural Alley", a three-day live painting event that will attract locals and visitors that are in the heart of Downtown Pensacola in conjunction with the Foo Foo Festival activities happening during the first two weeks in November. Visitors can watch 10 local mural artists, along with the Pensacola High School Art Department, work on large 5'x5' canvases, 10'x10' canvases, a four-sided 10'x10' cube, and a 10'x20' canvas wall similar to the wall for Zarzaur Law's monthly "Legal Graffiti" fundraiser event held each month during Gallery Night.
Zarzaur Law's "Mural Alley" is a FREE event that will take place at the intersection of Palafox and Romana Streets beginning Friday, Nov. 10 and concluding on Sunday, Nov. 12 in Downtown Pensacola on the closing weekend of Foo Foo Fest. The project allows the artists a 3-day timeframe to paint their artwork designs to completion, providing the public with ample time to explore and meet the artists while they work. The final pieces will be on display in conjunction with a silent auction.
In 2019, Zarzaur Law hosted a live painting event in front of our office and featured 3 local painters. Each canvas was 5'x5' and we built oversize easels for them. The artists painted live all weekend and it drew a great crowd and the artists also got to network. It was great experience. Zarzaur law provided the easels, canvases, and stipend for the artists materials.
This year's "Mural Alley" expands upon the original event!
FOLLOW "MURAL ALLEY" ON SOCIAL MEDIA FOR UPDATES!
FACEBOOK >
INSTAGRAM >
LEARN MORE ABOUT FOOFOO FESTIVAL >
MURAL ALLEY ARTISTS
Bethany Davis
Ronson Stewart
Tiffany Richardson
Pensacola High School Art Department
MEDIA/ QUESTIONS
850-444-9299