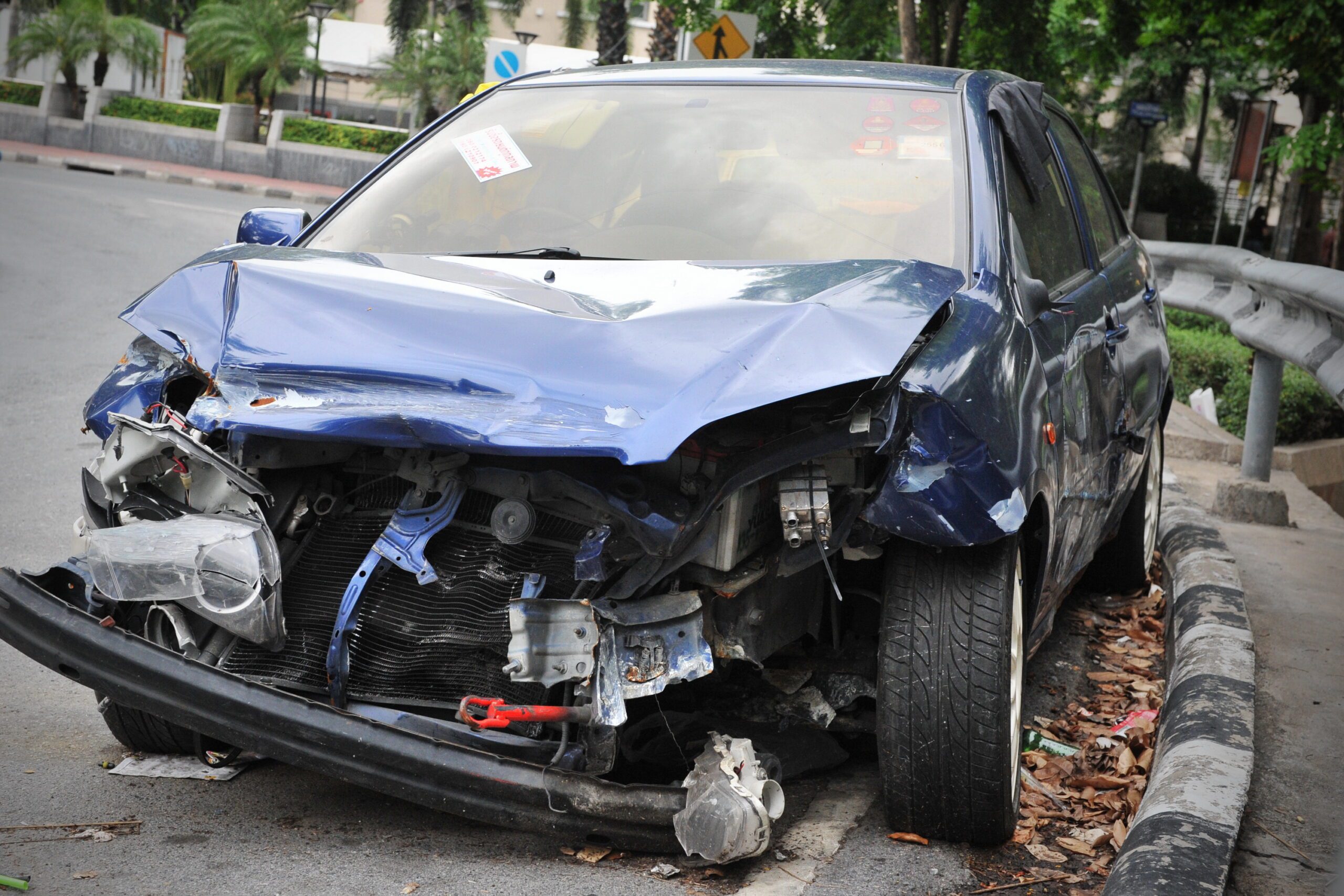 Article from IIHSHDLI
American muscle cars with high horsepower and a hot rod image rank among the deadliest vehicles on the road, both for their own drivers and for people in other vehicles, recent calculations by the Insurance Institute for Highway Safety show.
Six of the 21 vehicles with the highest driver death rates for model year 2020 are variants of the Chevrolet Camaro, Dodge Challenger, Dodge Charger and Ford Mustang, while eight others are small cars or minicars. Eighteen of the 23 vehicles with the lowest driver death rates are minivans or SUVs, and 12 are luxury vehicles.
"We typically find that smaller vehicles have high driver death rates because they don't provide as much protection, especially in crashes with larger, heavier SUVs and pickups," said IIHS President David Harkey. "The muscle cars on this list highlight that a vehicle's image and how it is marketed can also contribute to crash risk."
IIHS has been calculating driver death rates approximately every three years since 1989. This year for the first time IIHS also calculated the best and worst models according to the number of drivers in other vehicles killed in crashes with them.
Using that lens, the story of big and small is partially reversed, illustrating the danger that large vehicles pose to other road users. But three Dodge muscle cars with excessively high driver death rates also rank among the worst performers when it comes to other-driver deaths, suggesting these vehicles are driven in an aggressive manner.
Seven of the 20 vehicles with the highest other-driver death rates are large or very large pickups, and four more are midsize SUVs — categories that aren't represented among the models with the worst track record for protecting their own drivers. Seven of the vehicles with the highest other-driver death rates also rank among the worst for driver death rates: the Dodge Challenger two-wheel-drive, Dodge Charger two-wheel-drive, Dodge Charger HEMI two-wheel-drive, Kia Forte, Kia Optima, Kia Rio sedan and Nissan Altima.
The list of vehicles with the lowest other-driver death rates include two small, two midsize and one large car, as well as six small and 10 midsize SUVs. Ten models are luxury vehicles.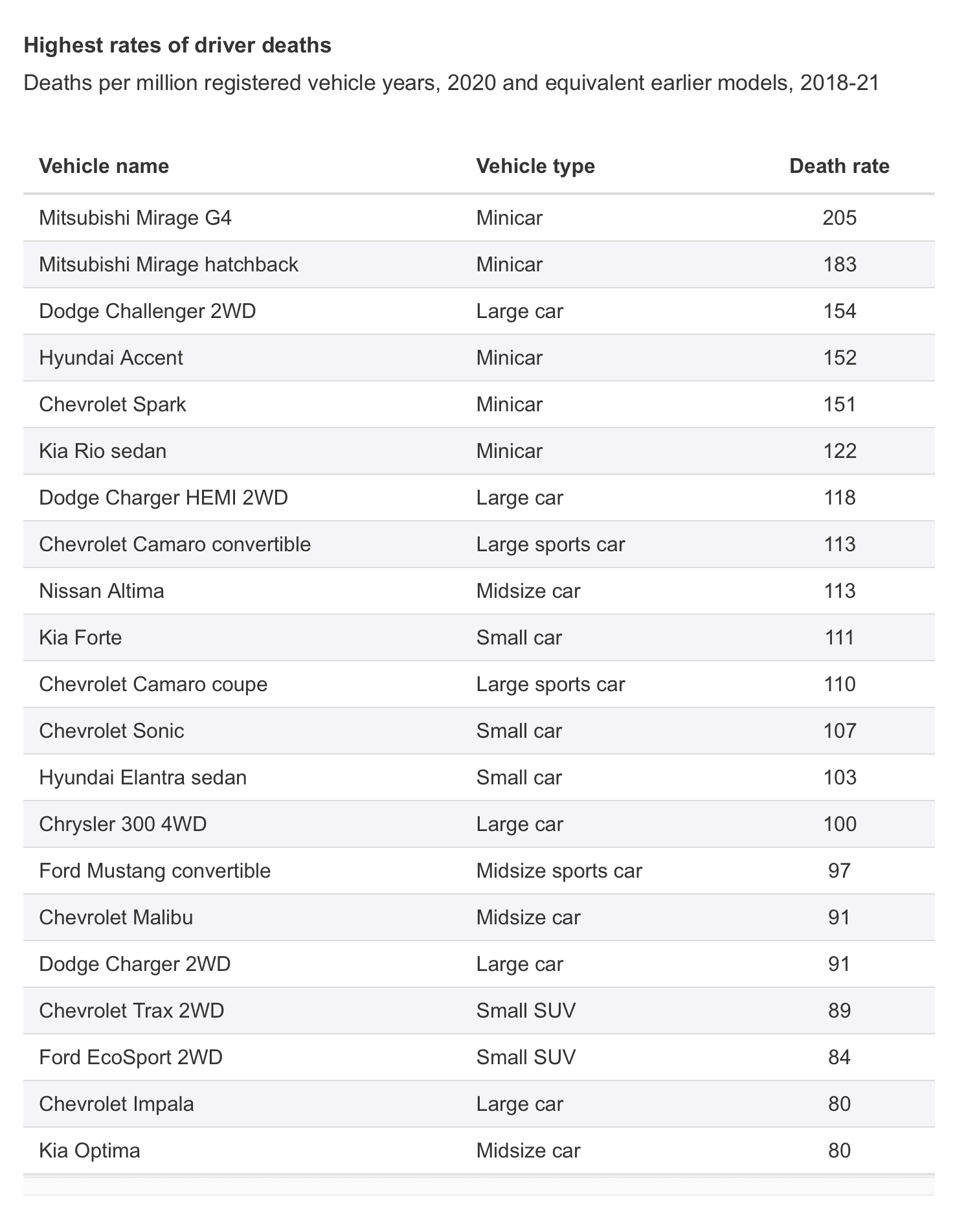 The rates include only driver deaths because all vehicles on the road have drivers, but not all of them have passengers or the same number of passengers. The number of deaths is derived from the federal Fatality Analysis Reporting System. Registration data come from IHS Markit.
The latest rates are based on fatalities that occurred from 2018 to 2021 for vehicles from the 2020 model year, as well as earlier models with the same designs and features. The numbers represent the estimated risks for 2020 models, but the data include models from as far back as 2017 if the vehicles have not been substantially redesigned over the intervening period. Including these older, equivalent vehicles makes the sample size larger and therefore increases the reliability of the results. To be included, a vehicle must have had at least 100,000 registered vehicle years of exposure from 2018 to 2021 or at least 20 deaths.
Death rates vs. Safety Ratings
Driver death rates are a useful companion to the Institute's safety ratings, as they capture different aspects of risk. In the Institute's front crash tests, vehicles are propelled into a stationary barrier at 40 mph, so the kinetic energy involved in the crash is determined by the vehicle's own weight. That makes IIHS safety ratings useful for comparing vehicles in the same size category but not for comparing small and large cars or cars and SUVs.
In contrast, driver death rates can be compared across vehicle classes. 
However, they don't only reflect the properties of the vehicles themselves. The crash database includes driver age and gender, allowing analysts to adjust the rates to account for the fact that men are involved in more crashes than women and older drivers are more likely to be killed in a given crash than young ones, for example. They are not adjusted for other factors that might influence fatality rates, such as the speeds people drive and the number of miles they travel per day.
A comparison of the best and worst performers suggests some of those factors are at work.
The lists of vehicles with the lowest driver and other-driver death rates have nine models in common. These include the Acura MDX four-wheel-drive, Audi Q5 four-wheel-drive, Chevrolet Traverse four-wheel-drive, Lexus RX 350 four-wheel-drive, Mercedes-Benz E-Class sedan four-wheel-drive, Porsche Macan, Subaru Ascent, Toyota C-HR and Volvo XC60 four-wheel-drive. Notably, six of those are luxury vehicles.
"The models that rank among the best and worst performers on both lists point to the unfortunate fact that vehicle cost remains a factor in road safety," Harkey said.
Crash avoidance systems and other advanced safety features are most often standard equipment on luxury vehicles — as well as the Subarus that rank among the top performers on both lists. In contrast, crash avoidance is optional on nearly all of the worst performers, many of which also fall short of a good rating in at least one IIHS crashworthiness evaluation. The Challenger, for example, earns a marginal rating in the driver-side small overlap front crash test and acceptable ratings for roof strength and head restraints.
It's Not All About Vehicle Features And Capabilities.
Several of the luxury vehicles with the lowest driver and other-driver death rates pack nearly as much horsepower as some of the muscle cars that rank among the worst performers. For example, relative to their weights, there isn't a huge difference between the 275-305 horsepower provided by the entry-level Camaro, Challenger, Charger and Mustang and the 241-252 horsepower provided by the Audi A4 and Mercedes-Benz E-Class. So why are the muscle cars among the worst performers and the luxury cars among the best?
The explanation may lie in the image of the vehicles. Luxury cars are associated with ease and comfort. In contrast, the muscle cars on this list are associated with the early days of the drag strip, as illustrated by features like racing stripes, hood scoops and spoilers, and that seems to influence how they're driven.
Marketing for the Dodge Charger HEMI, for example, focuses on its "ground-shaking" power, its acceleration "bolting off the line" and its "racing-inspired" high-performance brakes, while the Chevrolet Camaro promises buyers the ability to "dominate on the daily" with an "extreme track performance package" and the Ford Mustang offers "adrenaline chasers" the power to "keep ahead of the pack."
"We can measure horsepower and weight and test for crashworthiness. However, the deadly record of these muscle cars suggests that their history and marketing may be encouraging more aggressive driving."
Learn More About What To Do If You Are In An Accident From Our Car Wreck Checklist >
Joe Zarzaur is a Board Certified Civil Trial Attorney whose firm is dedicated to promoting community safety since 2007. ZARZAUR LAW'S AREAS OF PRACTICE: Serious Personal Injury, Product Defect, Auto Accidents, Cycling Accidents, Motor Vehicle Accidents, Products Liability, Wrongful Death, Community Safety, Boat and Jet Ski Accidents, Slip and Fall Injuries, and more. Licensed in Alabama and Florida.
It is also important to consult with a Board Certified Trial lawyer who has the knowledge and experience to help you. We know accidents can be stressful and want to make the process as easy as possible for you. Call Zarzaur Law, P.A. today at (855) Hire-Joe for a free legal consultation or visit www.zarzaurlaw.com.
If you or a loved one is injured in a car wreck feel free to reach out to our firm for a free consultation at zarzaurlaw.com or 855HireJoe.