In both 2018 and 2019, 53 children died in hot cars. These are the deadliest years on record in the past 20 years. Since 1998, almost 900 children have died from vehicular heatstroke; 24% of incidents occurred while a parent or caregiver was at a place of work.
Parents and caregivers can act immediately to end these preventable deaths.
Causes Of Vehicular Heat Stroke
from NHTSA –
Most heatstroke cases stem from a caregiver forgetting about a child in the back seat.
Child gaining access to vehicle independently
Child is left intentionally in the car by a caregiver
Most cases stem from a caregiver forgetting about a child, and most occur on Thursdays and Fridays, then end of the workweek.
Rapid Increase Of Heat In A Car
On a day when is it is 75 outside, it only takes 25 minutes for temperatures in a vehicle to exceed 100 degrees.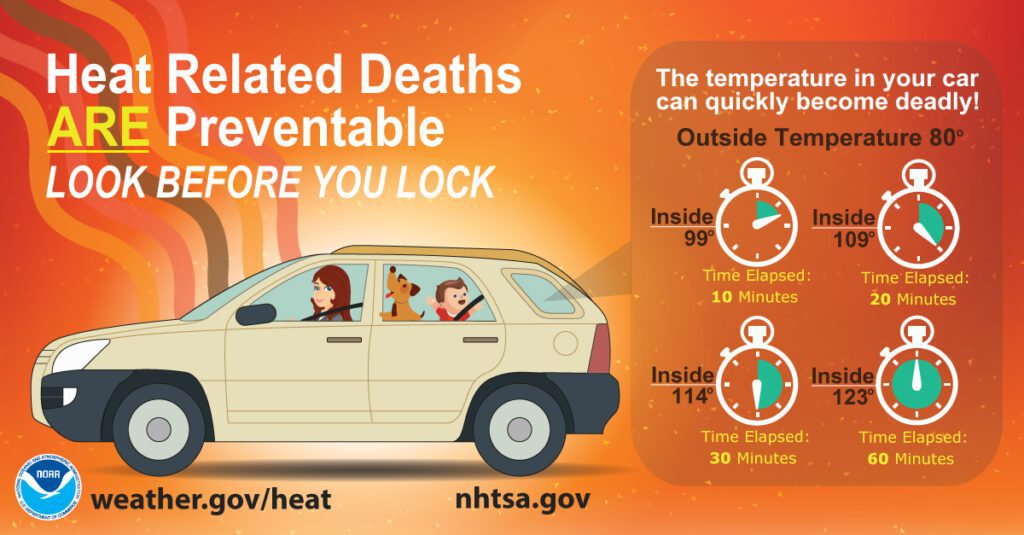 Opening Window Or Parking In The Shade Will Not Prevent Heat Stroke
Studies done show that even cars parked in a shady area can generate dangerous interior heat.
How To Prevent Hot Car Deaths
Several car manufacturers are stepping up in response to these deaths.
GM now has a "rear seat reminder" that lets a driver know when a rear door is opened.
Nissan has a rear door alert that detects when a rear door is opened before a trip and not opened again when the trip is completed. This gives the driver an alert to check the back seat.
Other manufacturers have integrated motion sensors to ensure all passengers make it safely out of the car. If a motion is detected after a car is locked, the car will honk its horn to attract attention and notify the owner via email or text.
Hot Car Act
Consumer Reports and other safety organizations are lobbying Congress to pass a "Hot Car Act" which will require manufacturers to incorporate safety technology in newer models.
What You Can Do
Simply affixing a note on the front dash can help.
Also, never leave a child alone in the car, even for an instant as their core body heat can rise so quickly.
Always lock your doors when not using the car.
What To Do If You See A Child Alone In A Vehicle
Make sure the child is responsive. If not, call 911 immediately.
If the child appears to be okay, attempt to locate the parents.
If the child appears to be in distress attempt to get in the car, even if it means breaking a window.
Most states have "Good Samaritan" laws that protect people from lawsuits in such attempted rescues.
Joe Zarzaur is a Board Certified Civil Trial Attorney whose firm is dedicated to promoting community safety since 2007. ZARZAUR LAW'S AREAS OF PRACTICE: Serious Personal Injury, Product Defect, Auto Accidents, Cycling Accidents, Motor Vehicle Accidents, Products Liability, Wrongful Death, Community Safety, Boat and Jet Ski Accidents, Slip and Fall Injuries, and more. Licensed in Alabama and Florida.
If you've been the victim of an accident, it's important that you don't make any rash decisions. Put yourself in the best possible position to receive the justice you deserve. It is also important to consult with a Board Certified Trial lawyer who has the knowledge and experience to help you. We know accidents can be stressful and want to make the process as easy as possible for you. Call Zarzaur Law, P.A. today at (855) Hire-Joe for a free legal consultation or visit www.zarzaurlaw.com.
Sources:
https://www.bankrate.com/insurance/car/hot-car-safety/
https://www.actionnewsjax.com/news/florida-ranks-no-2-nation-child-hot-car-deaths/RITX4ACZJBD3PDV2QLCROTTSWI/
https://www.nhtsa.gov/child-safety/you-can-help-prevent-hot-car-deaths
https://zarzaurlaw.com/personal-injury/