An 18-month-old Lakeland girl was the 10th hot car death in the U.S. this year, according to Kids and Car Safety. Data compiled by the nonprofit shows Florida has the most hot car deaths of any state, with five children losing their lives. Alabama, New York, Washington, Texas, and Mississippi have each had one child die in a hot car so far in 2023.
The U.S. Child Hot Car Death Data Analysis from the Kids and Car Safety National Database shows Florida was second only to Texas in hot car deaths, with 107 lives lost from 1990 to 2021.
In 2021, Congress passed the Infrastructure Investment and Jobs Act. Part of the act calls for cars to come standard with technology that allows for an audio and visual reminder alert to check the backseat. Rollins said it's a step in the right direction, but it's not enough.
Kids and Car Safety has already tracked four child deaths in vehicles with that technology since it started appearing in cars in 2017. The alert is triggered when a back door is opened before driving.
The National Highway Traffic Safety Administration stated it has started the rule-making process to create a requirement that would lead to all cars having an audio and visual alert that could also be combined with a touch alert. A spokesperson said the agency also plans to conduct studies on retrofitting older cars with rear seat alerts and that they're testing new systems as they become available.
About 38 children die each year from vehicular heatstroke, according to KidsAndCars.org and NoHeatStroke.org
Causes Of Vehicular Heat Stroke
from NHTSA –
Most heatstroke cases stem from a caregiver forgetting about a child in the back seat.
Independent access by a child to a vehicle
A child is intentionally left in the car by a caregiver.
A child's body temperature rises three to five times faster than an adult's. A child can die when their body temperature reaches 107 degrees.
What Is Heatstroke?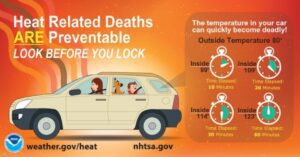 The most severe form of heat illness is heatstroke. Heatstroke is a life-threatening medical emergency.
In heatstroke, the body cannot regulate its own temperature. Body temperature can rise to 106 °F (41.1 °C) or higher, causing brain damage or even death if not treated promptly. Quick medical care is needed to bring the body temperature under control.
Kids are at risk for heatstroke if they overdress or do intense physical activity in hot weather without drinking enough liquids.
Heatstroke can also happen when a child is left in, or gets trapped in, a car on a hot day. When the outside temperature is 93°F (33.9°C), the temperature inside a car can reach 125°F (51.7°C) in just 20 minutes, quickly raising body temperature to dangerous levels.
What Are The Symptoms Of Heatstroke?
Call for emergency medical help if your child has been out in extreme temperatures or another hot environment and shows one or more of these symptoms of heatstroke:
rapid breathing and heartbeat
temperature of 104°F (40°C) or higher
While waiting for help:
Get your child indoors or into the shade.
Undress your child and sponge or douse him or her with cool water.
Do not give fluids unless your child is awake, alert, and acting normally.
What Should You Do If You See A Child Alone In A Car?
Make sure the child is responsive. If not, call 911 immediately.
If the child appears to be okay, attempt to locate the parents.
If the child appears to be in distress, attempt to get in the car, even if it means breaking a window.
Most states have "Good Samaritan" laws that protect people from lawsuits in attempts to rescue people.
Preventing Hot Car Deaths
1. Never leave a child unattended in a vehicle, even if the windows are partially open, the engine is running, and the air conditioning is turned on.
2. Make it a habit to check the inside and outside of your vehicle before locking the door and walking away. Train yourself to Park, Look, Lock, or always ask yourself, "Where's Baby?"
3. Ask your childcare provider to call you if your child doesn't show up for care as expected.
4. Place a personal item like a purse or briefcase in the back seat, as another reminder to look before you lock it. Write a note or place a stuffed animal in the passenger's seat to remind you that a child is in the back seat.
5. Store car keys out of a child's reach and teach children that a vehicle is not a play area.
Kids and Car Safety stated it's also important to make sure children can't get into a parked car since 26% of deaths are related to a child getting into a vehicle on their own. 
6. Keep vehicles always locked, especially in the garage or driveway. Ask neighbors and visitors to do the same.
7. Use childproofing knob covers and door alarms to prevent children from exiting your home unnoticed.
8. Teach children to honk the horn or turn on hazard lights if they become stuck inside a car.
9. If a child is missing, immediately check the inside, floorboards, and trunk of all vehicles in the area carefully, even if they're locked.
Links To Apps That Remind You Not To Leave A Child In The Back Of A Car.
https://nj1015.com/these-apps-remind-you-not-to-leave-your-kid-in-the-car/
https://www.safewise.com/car-seat-alarm/
https://www.kars4kids.org/safety-app/
WATCH OUR YOUTUBE VIDEO ON THIS TOPIC >
Joe Zarzaur is a Board Certified Civil Trial Attorney whose firm is dedicated to promoting community safety since 2007. ZARZAUR LAW'S AREAS OF PRACTICE: Serious Personal Injury, Product Defect, Auto Accidents, Cycling Accidents, Motor Vehicle Accidents, Products Liability, Wrongful Death, Community Safety, Boat and Jet Ski Accidents, Slip and Fall Injuries, and more. Licensed in Alabama and Florida.
If you or your family have been the victim of an accident it's important that you don't make any rash decisions. Put yourself in the best possible position to receive the justice you deserve. It is also important to consult with a Board Certified Trial lawyer who has the knowledge and experience to help you. We know accidents can be stressful and want to make the process as easy as possible for you. Call Zarzaur Law, P.A. today at (855) Hire-Joe, or by requesting a free case review through our website.
Offices in Pensacola, Destin, Miami, and Tallahassee.