As Summer heats up experienced, and novice boaters, hit the water for fun with friends and family. No one ever leaves the dock expecting not to return. And yet, on Florida waters in 2018, 59 did just that. Another 307 were injured, according to the Florida Fish and Wildlife Conservation Commission 2018 Boating Accident Statistical Report.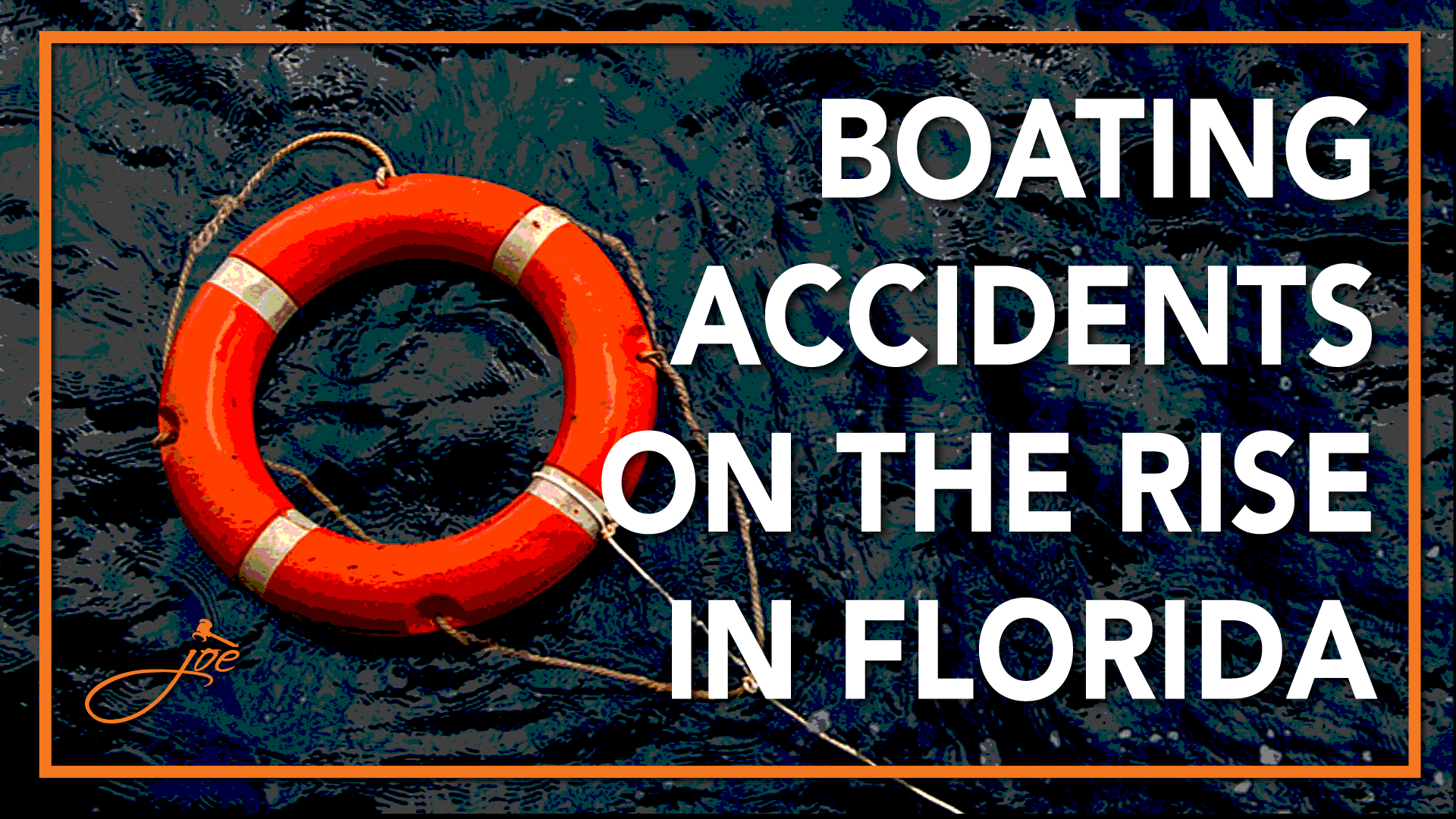 The number of fatalities dipped from 2016 and 2017 when 67 were killed each year. There were over 950,000 registered vessels in Florida in 2018, which leads the nation.
Officials Say the Number of Boating Accidents in Florida is Rising.
In 2017, 261 boating accidents involved collisions, and 38 percent of all collisions were due to inattention or the operator failing to maintain a proper lookout.
The commission also said that falls overboard have been the leading type of fatal accident since 2003, with drowning as the leading cause of death.
Top Contributing Factors of Boating Accidents (from the United States Coast Guard annual report)
1. Operator inattention
2. Operator inexperience
3. Improper lookout
4. Excessive speed
5. Machinery failure
6. Alcohol use
7. Weather
8. Navigation rules violation
9. Hazardous waters
10. Force of wave / wake
Top Common Injuries Sustained in Boating Accidents
Boating accidents can result in serious – and sometimes catastrophic – injuries or death. Some of the most common types of injuries sustained in Florida boating accidents include the following:
• Concussions and traumatic brain injuries
• Back and spinal cord injuries
• Soft tissue injuries
• Fractures and broken bones
• Permanent injuries
• Death
Tips to Prevent Injuries and Death While Boating:
Do not operate the vessel under the influence of alcohol or drugs
Do not turn down your emergency radio
Avoid excessive speed while boating
Make sure your boat is properly maintained
If you are renting a boat, read the liability waiver carefully
Know the law about life jackets and make sure everybody is wearing one
Do not overload your boat
Know what to do in case of an emergency
Make sure your safety equipment is in good working order, and
Make sure you know how to use it
Get a free vessel safety check performed by a qualified U.S. Coast Guard auxiliary vessel examiner
Watch the weather
Take a boating safety course – Here are links to a few online courses:
– https://www.boatus.org/florida/
– https://www.uscgboating.org/recreational-boaters/boating-safety-courses.php
– https://myfwc.com/boating/safety-education/courses/
– http://www.americasboatingcourse.com
If you've been the victim of a boating accident caused by another's carelessness, it's important that you don't make any rash decisions. Instead, put yourself in the best possible position to receive the justice you deserve.
Joe Zarzaur, founder of Zarzaur Law, P.A., a Pensacola Personal Injury law firm, has created this blog in an effort to educate the many citizens and visitors of Pensacola, Florida about their legal rights. Joe Zarzaur knows the ins and outs of Florida law, and offers friendly-quality legal help whether you have experienced an auto accident/car wreck, have been a victim of medical malpractice or are in need of a personal injury lawyer. For more information, visit: https://www.zarzaurlaw.com
11 E Romana Street
Pensacola, FL 32502
Telephone: 850-444-9299
Email: info@zarzaurlaw.com
Sources:
https://www.tcpalm.com/story/sports/fishing-boating/2019/05/17/there-were-59-boating-fatalities-2018-florida/3708105002/
https://www.insurancejournal.com/news/southeast/2018/06/08/491644.htm
https://www.nsc.org/home-safety/tools-resources/seasonal-safety/summer/boating