Blind spots can be tricky and dangerous because they can hinder your view of another vehicle, and prevent you from seeing children or other obstacles that are behind you when backing up. Serious, sometimes fatal accidents happen due to blind spots. According to the National Highway Traffic Safety Administration, 840,000 blind spot accidents occur annually in the United States, with 300 of these resulting in deaths.
Changing lanes is a common blind spot related accident. Blind spot related accidents often can be avoided. These collisions occur when drivers fail to check traffic patterns and driving in another car's blind spot.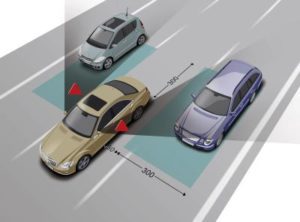 Prevention and Safety Tips to Avoid Blind Spot Collisions
·
Adjust your side and rearview mirrors to the proper position. Side mirrors should be adjusted in a way where a small part of the end of the car is visible. Rearview mirror should frame the car's rear window.
· Check all mirrors for cars AND look over shoulder for oncoming traffic prior to changing lanes or backing up. Make sure to use your signal to notify other drivers if you are changing lanes.
· Be conscious of how your line of vision changes as you travel along intersections and crosswalks, keeping in mind the large objects and obstacles that could be present. Be aware of your surroundings and what is happening around you. Be prepared for situations, such as pedestrian jaywalking if you see someone alongside the road.
· Watch traffic patterns in multiple lane highways so you do not change lanes into the same lane as another car.
· Avoid driving in another car's blind spot. They may not be able to see you and if they change lanes in front of you, it could result in an accident.
Safety and prevention techniques reduce the likelihood of having an auto accident due to a blind spot. Unfortunately, these accidents still happen and if it does happen to you or someone you love, it is important to consult an expert.  Hire a Board Certified Trial lawyer who has the knowledge and experience to help you. Joe Zarzaur is a Board Certified Trial lawyer based in Pensacola and Destin, Florida.  We, at Zarzaur Law, know accidents can be stressful and want to make the process as easy as possible for you.  Legal consultations with a lawyer at Zarzaur Law, P.A. are free. And there is no cost, no fee, unless you win. You can call us any time of day, any day of the week at (855) Hire-Joe.