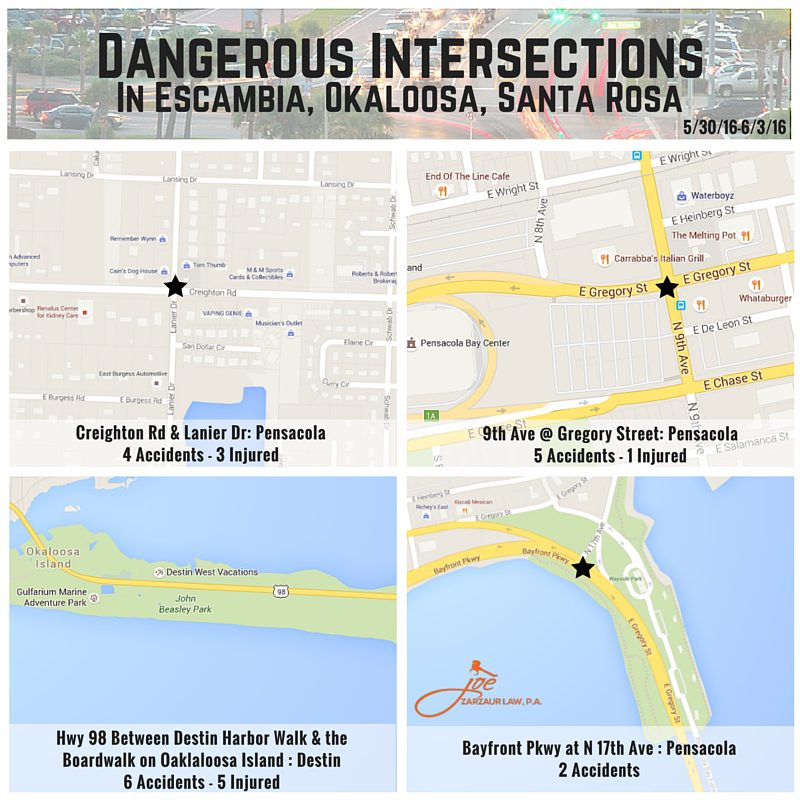 When passing an auto accident on the side of the road, many people think to themselves, "What happened?"
Every year auto accidents result in hundreds of thousands of injuries. The National Safety Council estimates 38,300 people were killed and 4.4 million injured on U.S. roads in 2015, which saw the largest one-year percentage increase in half a century.
With Florida ranking number three in careless or reckless driving accidents, it's no wonder traffic accidents are increasing in Escambia County. FIRES (Florida's integrated Report Exchange System), reports on behalf of the Florida Department of Highway Safety and Motor Vehicles. It serves as a portal into the State of Florida's repository for traffic crash reports completed by Florida law enforcement agencies.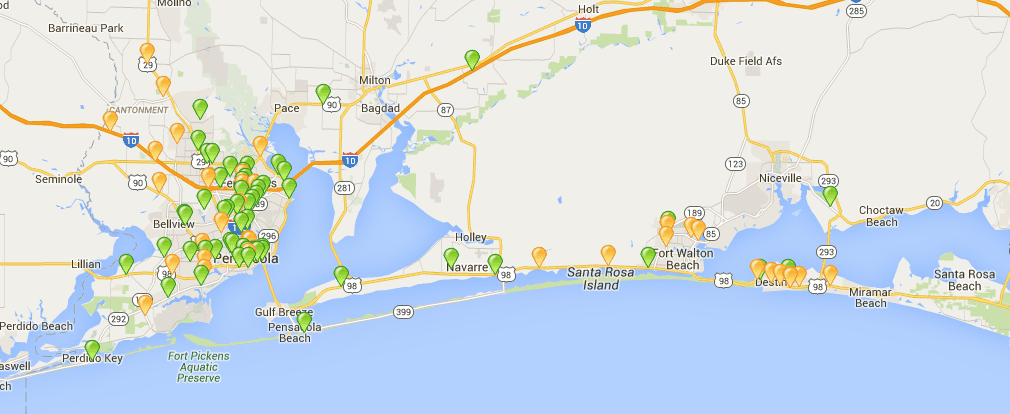 Below are the Escambia County, Santa Rosa County and Okaloosa County auto accident reports for the dates May 30 – June 5, 2016, brought to you by Pensacola personal Injury lawyer, Joe Zarzaur of Zarzaur Law and FIRES. The data includes total crash reports, crashes with injuries, total vehicles involved, total and driver injuries, and more. If you're involved in an auto accident contact Board Certified Attorney, Joe Zarzaur of Pensacola Personal Injury Law Firm, Zarzaur Law.
The findings, shown below in text, graph & map form, show statistics from last weekends auto accidents.
According to FIRES, the most dangerous intersections in Escambia County, Santa Rosa County and Okaloosa County for the week of May 30 – June 6, 2016, are as follows:
Bayfront Parkway at North 17th Avenue, Pensacola: 2 Accidents
Highway 98 between Destin Harborwalk and the Boardwalk on Okaloosa Island: 6 Accidents, 5 Injured
Creighton Road and Lanier Drive, Pensacola: 4 Accidents, 3 Injured
9th Avenue at Gregory Street, Pensacola: 5 Accidents, 1 Injured
I-10 Ramps (Both getting on and off): Multiple problems
Southside of 291 (North Davis Highway) – Between Ferry Pass & Langley Road, Pensacola: Multiple problems
Highway 98 at Garcon Point Bridge: Multiple problems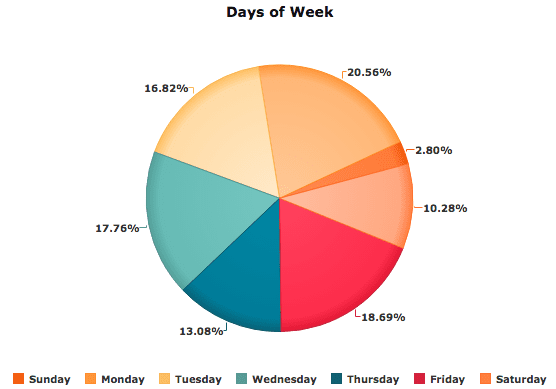 Escambia County:
6 Total Crashes
12 Total Vehicles Involved
1 Crashes with Injuries
1 Total Injuries
1 Injury Crashes
1 Driver Injuries
0 Crashes with Traffic Fatalities
Santa Rosa County:
66 Total Crashes
128 Total Vehicles Involved
23 Crashes with Injuries
41 Total Injuries
23 Injury Crashes
25 Driver Injuries
0 Crashes with Traffic Fatalities
Okaloosa County:
29 Total Crashes
50 Total Vehicles Involved
17 Crashes with Injuries
31 Total Injuries
17 Injury Crashes
16 Driver Injuries
0 Crashes with Traffic Fatalities
According to FIRES, from January 1, 2016 to present, Escambia County, Santa Rosa County and Okaloosa County have experienced 3,023 total crashes with 5,697 total vehicles involved and 1,350 of those crashes involving injuries leading to 2,477 total injuries. Of these crashes, 25 have resulted in traffic fatalities and 16 were driver fatalities.
Pensacola Personal Injury Lawyer, Joe Zarzaur, founder of Zarzaur Law has created this blog in an effort to educate the many citizens and visitors of Pensacola, Florida about their legal rights. Joe Zarzaur knows the ins and outs of Florida law, and offers friendly-quality legal help whether you have experienced an auto accident/car wreck, have been a victim of medical malpractice or are in need of a personal injury lawyer.
11 E Romana Street
Pensacola, FL 32502
Telephone: 850-444-9299
Email: info@zarzaurlaw.com
Follow us on Twitter: @zarzaurlaw
Like us on Facebook: https://www.facebook.com/zarzaurlaw
Check us out on Google+: https://plus.google.com/+ZarzaurLawPensacola