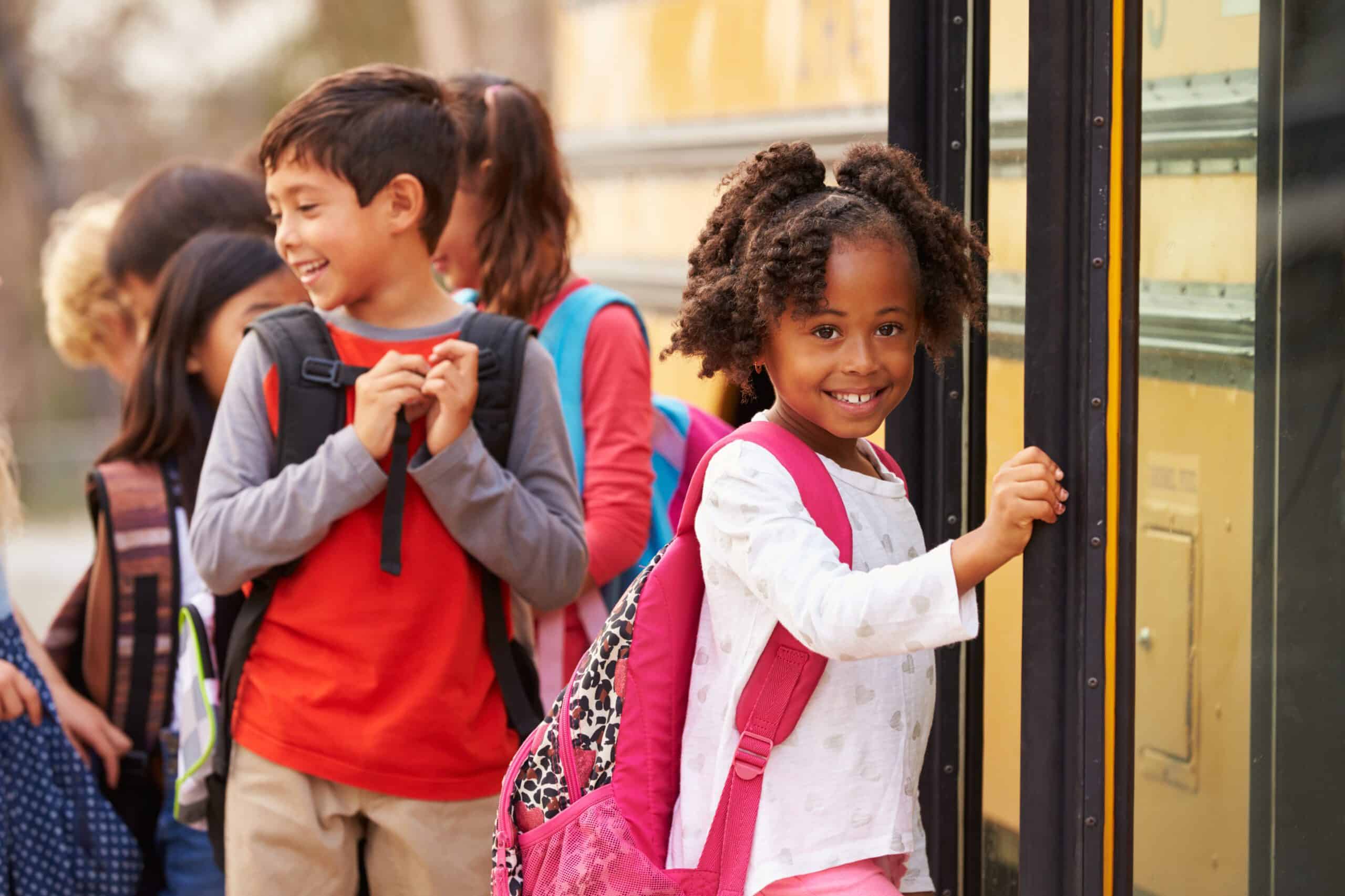 As students across Florida and in Escambia and Santa Rosa Counties head back to school over the next week, the Florida Department of Highway Safety and Motor Vehicles (FLHSMV), its division of the Florida Highway Patrol (FHP), reminds us that August is Child Safety Awareness Month. This awareness initiative reminds motorists to drive safely on Florida roads as children once again not only travel on school buses but also very close to roads and traffic on their bikes and use crosswalks.
In 2021, There Were
2,700 School Bus Crashes In Florida.
And 34 School Buses Crashed In
Escambia County
"Our morning and afternoon commutes will start to look different as the school year begins, but one thing that must remain constant is our commitment to driving safely," said FLHSMV Executive Director, Terry L. Rhodes. "This Child Safety Awareness Month, and every month, I urge all motorists to be vigilant on the roads and remind parents and caregivers to ensure children are protected when in and around cars."
IN 2021, THERE WERE
118,668 CHILDREN AGES 0 TO 17
INVOLVED IN A CRASH IN FLORIDA,
RESULTING IN 1,215 SERIOUS BODILY INJURIES
AND 167 FATALITIES.
As children travel to and from school, motorists must ensure they arrive safely by obeying school-zone speed limits, remaining attentive around child pedestrians and bicyclists, and properly stopping for school buses. In 2021, there were 2,700 school bus crashes in Florida.
"As we prepare for a new school year, FHP urges all drivers to exercise extreme caution on their daily commutes." Slow down in school zones, do not drive distracted, and stop for stopped school buses," said Colonel Gene S. Spaulding, Director of the Florida Highway Patrol. "Our children are our future, and they are depending on you to protect them."
In 2021, 33% of child passengers killed in car accidents in Florida were not wearing any type of restraint. A seat belt or child restraint is a vehicle's most important safety feature, but it only works if it is used and used correctly every time. Florida law requires the use of seat belts or child restraint devices by drivers of motor vehicles, all front-seat passengers, and all children under 18 riding in a vehicle. Florida law also requires children ages 5 and under to be secured properly in a crash-tested, federally approved child restraint device.
According to a new AAA survey
of Florida drivers,
38% admitted to speeding
in an active school zone and
32% admitted to using their hand-held cell phones
while driving in active school zones.
Back-to-School Safety Checklist
Secure their future by buckling up and selecting the appropriate seat.
Seat belts save lives and are required to be worn by all drivers, front-right passengers, and anyone under the age of 18; however, FLHSMV strongly recommends seat belt usage for all ages.
The best car seat is the one that fits your child's size, is correctly installed, fits well in your car, and is used properly every time you drive.
When installing a car seat in your vehicle, be sure to read the seat's instruction manual and the portion of your vehicle's owner's manual.
Remember to check for car seat and booster seat recalls and signs up to receive any potential alerts in the future.
Stop For School Buses And Slow Down In School Zones.
As of January 1, 2021, the penalties for failing to stop for a school bus and passing a stopped school bus on the side where children enter and exit doubled. It is imperative that all motorists properly stop for school buses so all of Florida's children can arrive at school or home safely.
Using a wireless communications device in a handheld manner while driving in a designated school crossing, school zone, or active work zone area is against the law and extremely dangerous.
Be alert and watch for children, especially near schools, bus stops, school buses, and in school parking lots. Pay extra attention to the lower speed limits in school zones. Only drive or park in authorized areas to drop off or pick up children at school.
If you're driving behind a bus, allow a greater following distance than if you were driving behind a car. It will give you more time to stop once the yellow lights start flashing. It is illegal in all 50 states to pass a school bus that is stopped to load or unload children.
Never pass a bus stopped to load or unload children from behind – or from either direction if you're on a one-way street.
If the yellow or red lights are flashing and the stop arm is extended, traffic must stop.
The first ten feet around a school bus are the most dangerous for children; stop far enough back to give them enough room to enter and exit safely.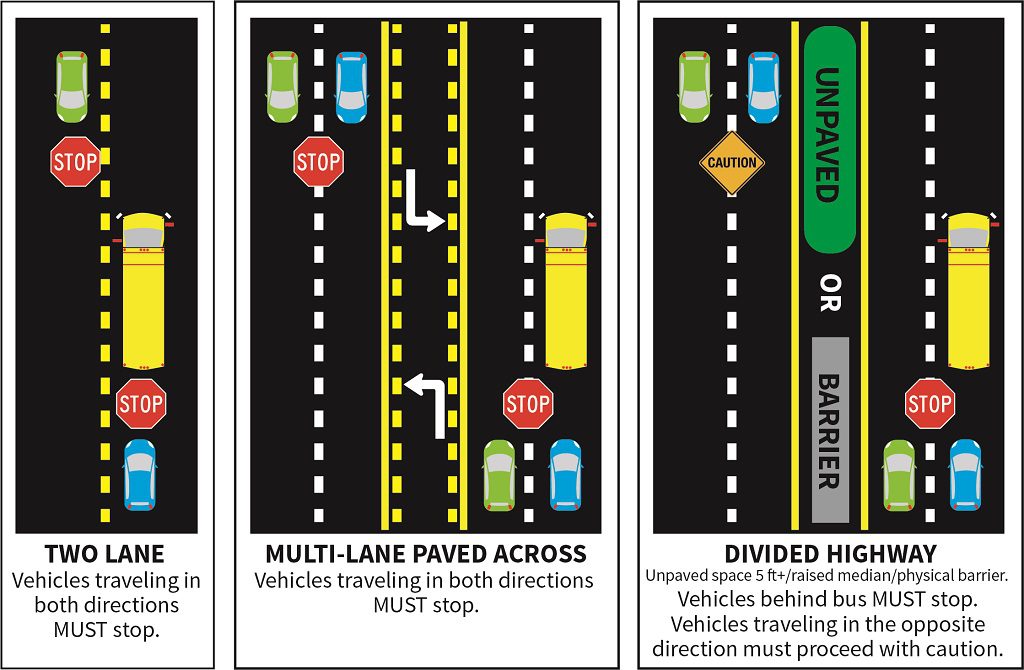 Move Safely Together—Look Out Before You Step Out.
Always walk on the sidewalk if there is one. If no sidewalks are present, walk against the direction of traffic so that you can see oncoming vehicles.
2. Cross the roadway where pedestrians are expected, at corners or in crosswalks, and watch for traffic when crossing the street.
3. Pay attention. Avoid headphones so that you can hear the traffic and pedestrians around you. Never text or look at your phone when crossing the street.
4. Plan a walking route to school or the bus stop. Choose the most direct route with the fewest street crossings and, if possible, with intersections that have crossing guards.
5. Walk the route with your child ahead of time. Tell him or her to stay away from parks, vacant lots, fields, and other places where there aren't many people around.
6. Teach your child never to engage in conversation with strangers or accept rides or gifts from strangers. Remember, a stranger is anyone you or your children don't know well or don't trust.
7. Be sure your child walks to and from school with a sibling, friend, or neighbor.
8. Teach your children to obey all traffic signals, signs, and officers whether they are walking, biking, or taking the bus to school. Remind them to be extra careful in bad weather.
9 . When transporting children, try to deliver and pick them up as close to the school as possible. Don't leave until they are in the schoolyard or building.
10. If your child bikes to school, make sure he wears a helmet that meets one of the safety standards (U.S. CPSC, Snell, ANSI, ASTM, or Canadian). Research indicates that a helmet can reduce the risk of head injury by up to 85 percent.
11. If your child rides a scooter to school, make sure she wears sturdy shoes, a helmet, kneepads and elbow pads. Children under age 12 should not ride motorized scooters, according to recent recommendations from the Consumer Product Safety Commission.
12. Teach children to arrive at the bus stop early, stay out of the street, wait for the bus to come to a complete stop before approaching the street, watch for cars and avoid the driver's blind spot.
13. Remind your children to sit at all times and to keep their heads and arms inside the bus. When exiting the bus, children should wait until the bus comes to a complete stop, exit from the front using the handrail to avoid falls, and cross the street at least 10 feet (or 10 giant steps) in front of the bus.
14. Advise your child not to bend down in front of the bus to tie shoes or pick up objects, as the driver may not notice him before the bus begins to move.
15. Be sure that your child knows his or her home phone number and address, your work number, the number of another trusted adult, and how to call 911 for emergencies.
Check For Kids And Pets.
As routines change, it's imperative to remain vigilant and make sure all children are out of the vehicle and accounted for before leaving. Put your purse, phone, or shoes in the backseat as a reminder to check.
Never leave a child or pet unattended in a vehicle. Florida temperatures are hot and will rapidly increase in minutes, even if parked in the shade or with a window cracked.
Remember – Our Children's Safety Comes First!
Although all parents warn their children about the dangers of traffic, we need to remember that children are still young and still learning. With all of the distractions around them, it's easy to imagine a child stepping off of the bus and not being able to hear or notice oncoming traffic. We are the adults; it is our duty to abide by the laws put in place, not be in a hurry, or be distracted.
For additional safety tips, resources, and data related to child safety, visit the FLHSMV Child Safety webpage.
Joe Zarzaur is a Board Certified Civil Trial Attorney whose firm is dedicated to promoting community safety since 2007. ZARZAUR LAW'S AREAS OF PRACTICE: Serious Personal Injury, Product Defect, Auto Accidents, Cycling Accidents, Motor Vehicle Accidents, Products Liability, Wrongful Death, Community Safety, Boat and Jet Ski Accidents, Slip and Fall Injuries, and more. Licensed in Alabama and Florida.
It is also important to consult with a Board Certified Trial lawyer who has the knowledge and experience to help you. We know accidents can be stressful and want to make the process as easy as possible for you. Call Zarzaur Law, P.A. today at (855) Hire-Joe for a free legal consultation or visit www.zarzaurlaw.com.
If you've been the victim of an auto accident, it's important that you don't make any rash decisions. Put yourself in the best possible position to receive the justice you deserve. It is also important to consult with a Board Certified Trial lawyer who has the knowledge and experience to help you. We know accidents can be stressful and want to make the process as easy as possible for you. Call Zarzaur Law, P.A. today at (855) Hire-Joe, or by requesting a free case review through our website.
Sources:
https://www.flhsmv.gov/2022/08/01/flhsmv-recognizes-august-as-child-safety-awareness-month-2/
https://www.flhsmv.gov/safety-center/child-safety/