My name is Oliver Chamblin, I am a 14 year old, eighth grade student from the Montessori School of Pensacola.
The middle school class is required to intern for one week at a business or in another classroom around the school. This week I have had the chance to intern at Zarzaur Law, P.A. to have a general idea of what the job of a lawyer would be like. I am interested in going into the practice of law and becoming an lawyer and this experience has helped me understand what some of the basic jobs and responsibilities I would have if I became an lawyer.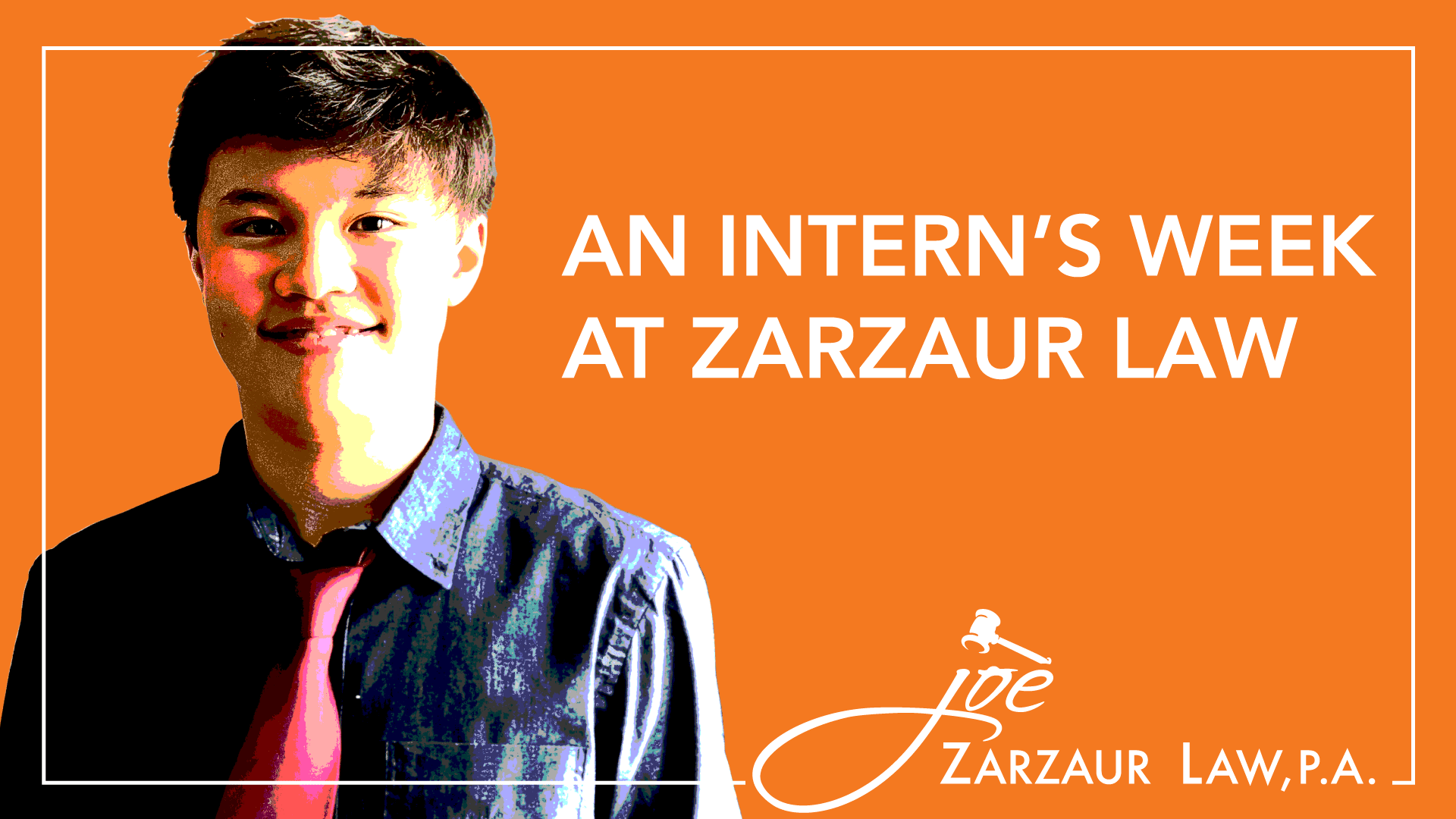 I have learned from Mr. Joe Zarzaur what a deposition and what a mediation are, I even was able to experience them in person. A deposition is trying to gather information about the case and what happened so the client can't change the facts in court. A mediation is when both parties come together to try to solve the dispute with a third party observer, the mediator, and if a resolution happens then both parties don't have to go to court. I was allowed to observe both of these which was a very good experience that I am glad I had. I learned about laws and what counts as a civil or criminal crime and what counts as negligence, I also now understand the process of litigation.
I had the chance to observe some cases in court, which is what what I was hoping to see. I learned what "docket day" is and what role the jury plays. I witnessed the prosecutor's and defendant's closing argument on a battery case. I saw the differences between civil law and criminal law and recognize both of them. I also grasp the types of paralegals and their jobs. I had the chance to interview a pre-suit paralegal and an intake specialist and followed what jobs they cover.
I realized how many steps there are to a case before a trial, and I was able to observe some of the steps in person. I was versed in the basic ideas of an interrogatory and was able to see an example of a lawsuit. I also saw what a subpoena is. Zarzaur Law bought me lunch somewhere every day I was interning there, which was very nice. It was interesting to see how a personal injury law firm works and the jobs they do to help their clients and their case. Every time I went out to lunch with someone, they would talk to me about law school or what the job is like.
I am very grateful that Zarzaur Law accepted me as an intern and that I met and shadowed some of the staff. They are great at helping settle car accident and personal injury cases because they are a great personal injury law firm.
They don't just help people who have been injured, they also give back to the community. They set up donations every month at gallery night, during their "Legal Graffiti" fund raiser event, and match all the money that comes in. A different charity is chosen every month to receive the money raised.
Mr. Joe Zarzaur and Zarzaur Law gives back to the community and works hard to make our city a safer place. I was truly impressed with how much Zarzaur Law really cares and makes sure that all their clients get the best treatment possible. I had a very knowledgeable experience at Zarzaur Law and I am happy that I was able to have this experience. I witnessed a part of what being a civil and criminal lawyer would be like, and since I am interested in going to law school and becoming an lawyer, this was a very positive and useful experience.