PENSACOLA, Fla. (Sept. 11, 2019) — The first of two beach toy borrow bins were installed on Sunday, Aug. 25. The first bin has been placed at the kids play area and beach at Flounder's Chowder House on Pensacola Beach. Zarzaur Law, P.A., a personal injury law firm based out of Pensacola, Florida sponsored the project headed up by Ocean Hour Florida and Girl Scout Troop 1104.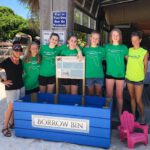 The bright blue bins were designed and built by Girl Scout Troop 1104 as a part of a Silver Award project and to help with the continued efforts by Ocean Hour to keep our beaches clean, marine life safe and reduce the plastic pollution in our oceans.
"There is a large bulk of left behind beach toys we pick up each week during our beach clean ups." Says Jenn Deubler of Ocean Hour. "We hope these borrow bins will provide a place for the toys to be used and returned for the next child and reduce the amount of discarded toys that end up in our waters."
The signage on the bin provides information about how to use the borrow bin along with the importance of conservation.
"We picked this project because we wanted to help the community by cleaning the beaches and saving the turtles." Said members of Girl Scout Troop 1104. "We hope hope all the kids like the bins and use the beach toys."
"Anytime our firm can help make our community safer, better, or more environmentally friendly, count us in." Said Joe Zarzaur, founder of Zarzaur Law, P.A.
The second beach toy borrow bin will be installed near the Our Lady of Mission Church on Pensacola Beach on Sunday, Sept. 29 at 1:00 p.m.
###
About Zarzaur Law, P.A.
Joe Zarzaur is a Board Certified Civil Trial Attorney whose firm is dedicated to promoting community safety since 2007. OUR AREAS OF PRACTICE: Serious Personal Injury, Product Defect, Auto Accidents, Cycling Accidents, Medical Malpractice, Motor Vehicle Accidents, Products Liability, Wrongful Death, Boat and Jet Ski Accidents, Slip and Fall Injuries, and more. Licensed in Alabama and Florida.
www.zarzaurlaw.com
About Ocean Hour Florida
Founded in 2015, Ocean Hour Florida is a non-profit organization dedicated to defending our beautiful natural environment and wildlife by promoting a clean, peaceful and fulfilling existence through community involvement and education. The group spends at least one hour every Saturday cleaning a local beach or waterway, as well as educating and encouraging others to do the same.
www.oceanhourfl.com