PENSACOLA, Fla. (Oct. 17, 2018) — Zarzaur Law, P.A., a personal injury law firm based out of Pensacola, Florida has partnered with Feeding the Gulf Coast, and is leading a week long effort to raise funds and donations for victims of Hurricane Michael.
"We have personally seen what a hurricane can do (Hurricane Ivan, 2004) and how it can impact a community." Joe Zarzaur, Owner of Zarzaur Law, P.A. "We wanted to do what we could to give back to our neighbors in the East"
Zarzaur Law, P.A., along with other participating Downtown Pensacola businesses — Tin Cow, Pot Roast & Pinot, Blue Morning Gallery, Hopjacks Pizza Kitchen and Taproom, Carmen's Lunch Bar, O'Rileys Irish Pub and Ideawörks, will be accepting non-perishable items and donations all week long and during this Friday's Gallery Night event.
In addition to collecting donations, Zarzaur Law, P.A. will be doing a special fund match during their monthly Legal Graffiti, fundraising event during Gallery Night this Friday, Oct. 19, 5pm – 9pm. 100% of the matching funds will go to Hurricane Michael relief efforts through Feeding The Gulf Coast.
"We are excited to have so many businesses come together to assist those affected by Hurricane Michael." Aubrey Grier, Volunteer and Food Drive Coordinator for Feeding The Gulf Coast. "We have been pushing out food like crazy in the days following the storm and we are definitely on the hunt for more food, so this will be great!"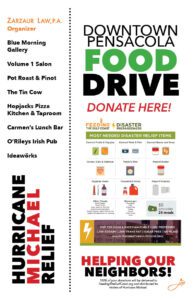 Most needed disaster relief items include:
Canned fruits & veggies
Canned meat and fish
Canned beans and soups
Cereal, oats and oatmeal
Pasta and rice
Peanut butter
Hygiene items
Household items
Paper products
Granola and protein bars
Single serving meals that do not require refrigeration or cooking
Coffee
Instant tea
Juice
Drink mixes
Donations will be accepted through Friday, Oct. 19, during Gallery Night, at the following locations:
Zarzaur Law, P.A. – 11 E Romana St.
The Tin Cow – 102 S Palafox St.
Hopjacks Pizza Kitchen and Taproom – 10 S Palafox St.
Pot Roast & Pinot – 11B Palafox Place
Blue Morning Gallery – 21 S Palafox St.
O'Rileys Irish Pub Downtown – 321 S Palafox St.
Carmen's Lunch Bar – 407 S Palafox St. B
Volume One Salon – 7 W Main St.
Ideawörks – 1110 N. Palafox St.
Joe Zarzaur is a Board Certified Civil Trial Attorney whose firm is dedicated to promoting community safety since 2007. OUR AREAS OF PRACTICE: Serious Personal Injury, Product Defect, Auto Accidents, Cycling Accidents, Motor Vehicle Accidents, Products Liability, Wrongful Death, Community Safety, Boat and Jet Ski Accidents, Slip and Fall Injuries, and more. Licensed in Alabama and Florida.
Call Zarzaur Law, P.A. today at (855) Hire-Joe for a free legal consultation or visit www.zarzaurlaw.com.