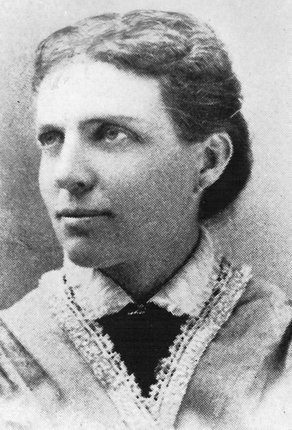 Courtesy of womenhistoryblog.com –
Arabella Mansfield (1846-1911) became America's first woman lawyer when she was admitted to the Iowa bar in 1869. She was allowed to take the bar exam and passed with high scores, despite a state law restricting applicants to white males over the age of 21. Mansfield also became one of the first female college professors and administrators in the United States.
Early Years
She was born Belle Aurelia Babb on May 23, 1846, on a family farm in Burlington, Iowa, the second child of Mary Moyer and Miles Babb. Her older brother Washington Irving Babb was Arabella's lifelong friend. While she was still young, her father Miles Babb left for California and the Gold Rush. In 1852, he became superintendent of the Bay State Mining Company, but he died when a mine caved in on him the same year.
Mary Babb moved her children to Mount Pleasant, Iowa. Belle attended local schools and graduated from Howe's Academy. In 1862 Belle enrolled at Iowa Wesleyan University in Mount Pleasant and began using the name, Arabella.
With many men leaving to fight in the Civil War, academic institutions were admitting more women students and teachers. Arabella graduated in 1866 as valedictorian (top-ranking student); her brother Washington was salutatorian (second highest) in the same class.
Arabella then taught political science, English, and history at Simpson College in Indianola, Iowa for a year, becoming one of the first female college professors. In 1868 she returned to Mount Pleasant and married her college sweetheart John Mansfield, a professor of natural history at Iowa Wesleyan College.
Breaking The Barrier – Women In Law
Arabella Mansfield then studied law for two years in her brother's law office in Mount Pleasant to prepare for the bar exam, which was the practice at the time. At the time, Iowa law limited admittance to the bar to white males over the age of twenty-one, but Mansfield was allowed to take the exam in 1869 and passed with high marks. Mansfield was admitted to the Iowa State Bar, opening the way for other women in the legal profession.
Shortly thereafter, Iowa changed its statute and became the first state in the Union to allow women to practice law, with the Court ruling that women should not be denied the right to practice law in Iowa based solely on their gender.
Career In Education
However, Mansfield never practiced law but spent her professional life teaching. She was a professor of English at Iowa Wesleyan College, from which she also received an M.A. degree 1870 and an LL.B. law degree in 1872. She continued to teach there until 1876.
Women's Suffrage Movement
Arabella Mansfield sought equal opportunities for women in all aspects of U.S. society. She was active in the women's suffrage movement, joined the executive committee of the National Woman Suffrage Association in fall 1869, and worked with Susan B. Anthony.
The following spring, she became president and chair of the first Iowa state-wide women's suffrage convention. She was the group's first secretary and campaigned for equal educational opportunities for women as well as voting rights.
In 1876 Mansfield and her husband moved to Greencastle, Indiana to join the faculty at DePauw University where they taught for the next eight years. After a two-year period devoted to caring for her husband, who had suffered a nervous breakdown and whom she ultimately had to place in an asylum, Mansfield resumed her career at DePauw in 1886, teaching at various times history, aesthetics, and music history.
First Female College Administrator
Mansfield became one of the first female college administrators in the United States, serving as Dean of the School of Art in 1893 and Dean of the School of Music in 1894. She also joined the National League of Women Lawyers in 1893, leading the way for others in the law profession.
Arabella Mansfield died on August 1, 1911 in Aurora, Illinois at age 65 – nine years before women obtained the right to vote.
Because of the courageous and intellectual strides of women like Arabella Mansfield, women today stand on a more level playing field. She was inducted into the Iowa Women's Hall of Fame in 1980. In 2002 the Iowa Organization of Women Attorneys established the Arabella Mansfield Award to recognize outstanding women lawyers in Iowa.
Joe Zarzaur is a Board Certified Civil Trial Attorney whose firm is dedicated to promoting community safety since 2007. ZARZAUR LAW'S AREAS OF PRACTICE: Serious Personal Injury, Product Defect, Auto Accidents, Cycling Accidents, Motor Vehicle Accidents, Products Liability, Wrongful Death, Community Safety, Boat and Jet Ski Accidents, Slip and Fall Injuries, and more. Licensed in Alabama and Florida.
It is also important to consult with a Board Certified Trial lawyer who has the knowledge and experience to help you. We know accidents can be stressful and want to make the process as easy as possible for you. Call Zarzaur Law, P.A. today at (855) Hire-Joe for a free legal consultation or visit www.zarzaurlaw.com.
SOURCES
The First Female Lawyer
Wikipedia: Arabella Mansfield
Arabella Mansfield – A Commanding Presence