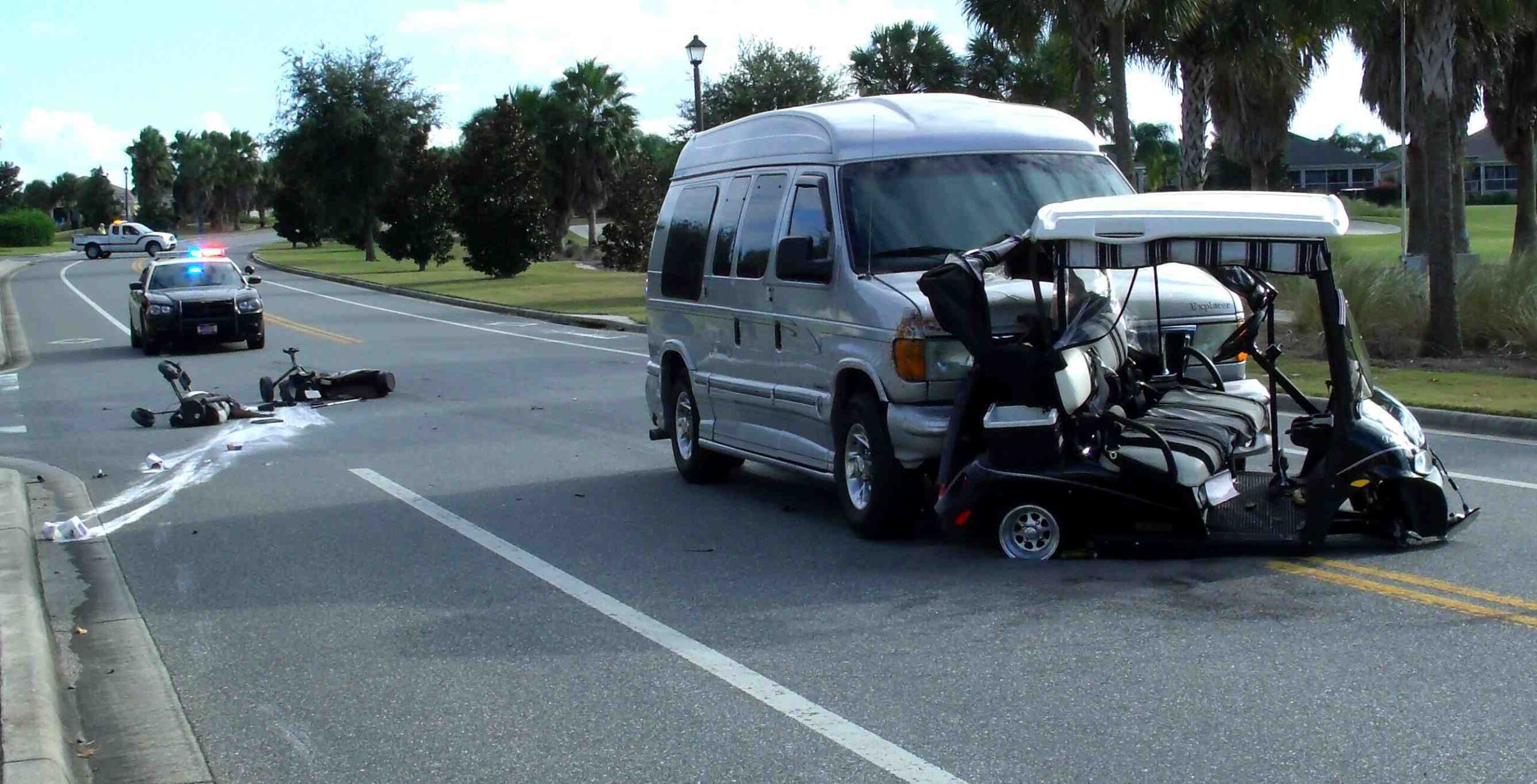 If you have visited any tourist destinations in Florida or any resort community living environment, you have seen these vehicles on the road. Several years ago, the Florida legislature passed a statute that allowed golf cart access to certain roadways. The law states that such vehicles must meet basic visibility and speed standards before they can be classified as "low-speed vehicles," but if they do, they can be used on certain public roads. Keep reading to learn more about what to do when there is a golf cart accident.
What Is An LSV?
Section 320.01(41), Florida Statutes, defines LSVs as "any four-wheeled vehicle whose top speed is greater than 20 miles per hour, but not greater than 25 miles per hour."  LSVs must be registered, titled and insured with personal injury protection (PIP) and property damage liability (PDL) insurance. Any person operating an LSV must have a valid driver license in their immediate possession.
LSVs may be operated only on streets where the posted speed limit is 35 MPH or less and must be equipped with the following safety equipment:
Headlamps;
Front and rear turn signals;
Stop lamps;
Tail lamps;
Reflex reflectors, red – one each side and one on the rear;
Exterior mirror on the driver side and an interior rear-view mirror or exterior mirror on passenger side;
Parking brake;
Windshield;
Seat belt for each designated seat; and a
Vehicle identification number (VIN).
Golf Carts
Golf carts are defined in section 320.01(22), Florida Statutes, as "a motor vehicle that is designed and manufactured for operation on a golf course for sporting or recreational purposes and that is not capable of exceeding speeds of 20 miles per hour." Golf carts may be operated on roadways that are designated for golf carts with a posted speed limit of 30 mph or less. Golf carts may also cross a portion of a county road which intersects a roadway that is approved for golf carts, or that intersects a golf course or mobile home park. In both examples, the roadway should have signs posted that golf carts share the roadway. The operation of golf carts on roads must comply with any more restrictive ordinances enacted by the local government and should be verified prior to operating these vehicles.
Golf carts are not required to be titled or registered and, therefore, are not required to be insured with PIP. Golf cart operators are not required to have a driver's license; however, to operate a golf cart on designated public roadways, a person must be 14 years or older.
Issues With Low-Speed Vehicles
Here is the issue with these low-speed vehicles: not only can they cause a golf cart accident, but they also are not safe on roads that are predominately comprised of regular vehicle traffic. If the roadway is not mostly full-sized vehicles, then it seems more appropriate to consider the limited use of these low-speed vehicles. 
However, resort towns are the worst for even regular vehicle collisions since people are not familiar with the roads or directions and are typically distracted by sightseeing or confusion.
A Dangerous Novelty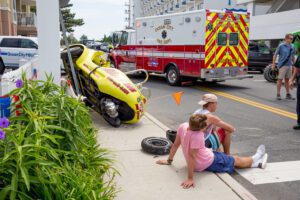 So if you know that tourist roadways are already a dangerous place to drive, even in a full-sized car, and you add to these roadways (many less visible vehicles), it could spell disaster. Then, considering these low-speed vehicles offer basically no protection from a collision with a full-sized vehicle, it should make the decision easy to reject outright. But people are on vacation, and they want to feel like they are on vacation. They want their families to have experiences that they would not be able to have at home.
Perhaps, they feel that riding a golf cart on a street that is covered with full-sized vehicles is such a novelty that it is too much to pass up. We would suggest that you also consider what is likely to happen to you and your family even if there is a low-speed collision with a full-sized vehicle.
What Happens In An Accident?
What is likely to happen is that the golf cart or scoot coupe will be launched forward and perhaps over. The scoot coupe or golf cart will likely be crushed, and your family will have little protection from the crash. These vehicles (scoot coupes, golf carts) are not subject to testing for safety purposes. The National Highway Traffic Safety Administration (NHTSA) is not dedicated to studying crash data between cars and golf carts or scoot coupes.
No Safety Features
Our country has made such great advances in vehicle safety in the last decade. These safety features include airbags, automated driving functions, blind spot warnings, and other features meant to help drivers avoid collisions or protect them once a collision occurs. Then we decide to go backward and allow the most unsafe vehicles on the road, along with cars and trucks. It almost defies logic.
Just Because It Is Legal Doesn't Mean It Is Safe
Florida's laws are controlled, in large part, by tourism interests. If the tourist lobby supports a law, it will likely get through the legislature. Just because it's legal doesn't mean that it is safe. This is a prime example of that statement.
In the event that you or a loved one is involved in a collision between a low-speed vehicle and a car or truck, you have rights that need to be protected. Your car insurance may apply in this case, and the other driver's car insurance will also likely apply. The rental agency may also share in the responsibility if the golf cart was not street legal or wasn't actually a low-speed vehicle. If you are in need of a free consultation about one of these low speed vehicle, golf cart, or scoot coup collisions, our firm is available 24/7 and on weekends at zarzaurlaw.com or 855Hirejoe.
---
---
Joe Zarzaur is a Board Certified Civil Trial Attorney whose firm is dedicated to promoting community safety since 2007. ZARZAUR LAW'S AREAS OF PRACTICE: Serious Personal Injury, Product Defect, Auto Accidents, Cycling Accidents, Motor Vehicle Accidents, Products Liability, Wrongful Death, Community Safety, Boat and Jet Ski Accidents, Slip and Fall Injuries, and more. Licensed in Alabama and Florida.
It is also important to consult with a Board Certified Trial lawyer who has the knowledge and experience to help you. We know accidents can be stressful and want to make the process as easy as possible for you. Call Zarzaur Law, P.A. today at (855) Hire-Joe for a free legal consultation or visit www.zarzaurlaw.com.
Sources:
https://www.flhsmv.gov/?s=low+speed+vehicle+accidents
https://www.flhsmv.gov/pdf/crashreports/crash_facts_2019_ada.pdf