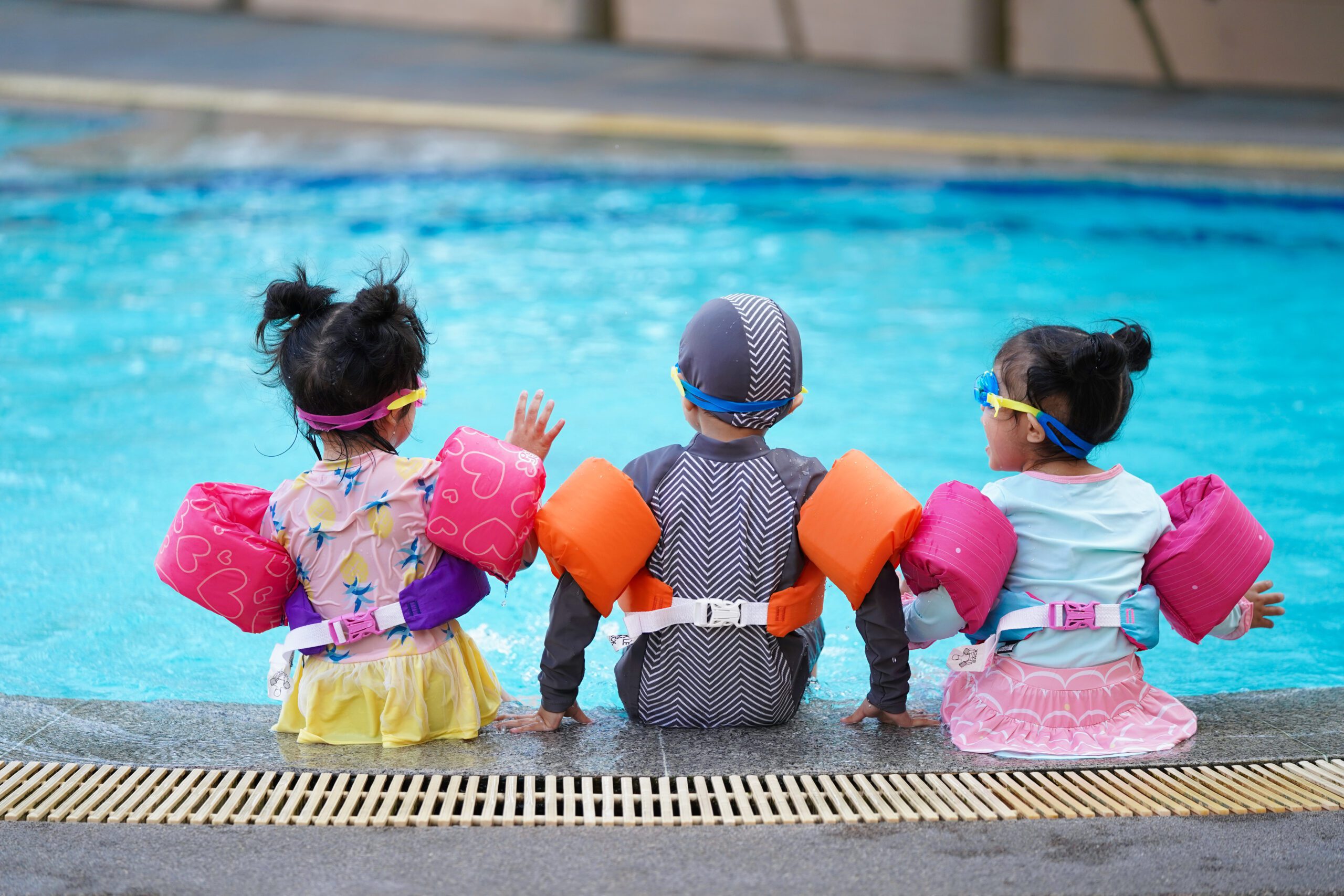 The month of May is a time to celebrate National Water Safety Month. The entire month of May has been officially dedicated as a time to bring awareness and education about water safety to the general community. This initiative is coordinated by the Pool & Hot Tub Alliance, with support from the American Red Cross, the National Recreation and Park Association, and the World Waterpark Association. Read on for more information on water safety for Florida parents
There are 10.4 million residential and 309,000 public swimming pools and an additional 7.3 million hot tubs operating in the U.S.
Over the summer, 8 out of 10 Americans are planning to swim in a pool. For children and teens between the ages of 7 and 17, swimming remains the #1 most popular recreational activity.
Child Drownings In The United States Have Reached A Ten-Year High.
Pediatric drowning rates reached a 10-year record high. National Water Safety Month is May. Water is a "silent killer" for children. Child drownings remain the leading cause of unintentional death among U.S. children ages 1 to 4, according to the CPSC. Three-quarters of those deaths involved children younger than the age of 5, and 83% of those occurred in residential pools.
Florida Set A New Low In 2021.
Florida hit a grim new record in 2021, reporting the most child drownings since at least 2009.
The Florida Department of Children and Families report shows that deaths rose from 69 in 2020 to 98 in 2021. Twenty-four of those children drowned in Hillsborough, Pinellas, Pasco, Polk, Hernando, Sarasota, and Manatee counties.
Before letting your children hit the water this summer, remember these few tips to ensure it's an enjoyable and safe experience.
Never leave a child unattended in or near water. The designated adult water watcher should not read, text, use a phone, or otherwise be distracted while watching children. This advice includes situations involving bathtubs, buckets, decorative ponds, and fountains.
If you own a pool or spa, install layers of barriers to prevent an unsupervised child from getting into the water. These measures can include door alarms, pool covers, and self-closing, self-latching devices on doors that access the pool and on gates of four-sided fences.
Learn how to perform CPR on children and adults.
Learn how to swim and teach your child how to swim. Contact your local YMCA about swimming lessons.
Keep children away from pool drains, pipes, and other openings to avoid entrapment. Your pool or spa should have drain covers that comply with federal safety standards. If you're not sure, ask your pool service provider about safer drain covers.
What About 
Beach Swimming

?
Swimming in open water is much different than swimming in a pool, but most people are not aware of the dangers, especially for children. Florida's beaches are a glittering playground made of sun and sand–and by all means, you should enjoy the water!
You can splash in the shallows, ride the waves, or just bob up and down in the surf.
But before you dip one toe in the ocean, make sure you know these simple ocean swimming safety rules to keep you safe.
Swimming in the ocean or a large body of water is different than swimming in a pool or most small lakes. You'll need to watch out for:
Riptides and undercurrents
Rocks, debris, and other hazards and obstacles.
Whether there's local marine life that can sting or bite
Boats, ships, and other watercraft that may be in the water at the same time.
There is bad weather in the area, such as lightning or thunderstorms.
What Do Beach Flag Colors Mean?
The list below outlines what the colored flags you'll see posted at the beach generally mean. Your local beach may differ slightly, though.
Ask a lifeguard or beach patrol if you aren't sure what the flag means before entering the water.
Double red flag: water closed, no public swimming
Red flag: high hazard of surf and/or currents
Yellow flag: medium hazard or moderate surf and/or currents
Purple flag: dangerous marine life such as jellyfish, stingrays, or dangerous fish
Green flag: low hazard, calm conditions
Black and white checkered flag: set up along the beach, usually as a pair, to indicate separate sections to help keep swimmers and surfers safely apart in the water
Florida Residential Pool Safety Act
Protecting these young children was the reason the Florida Legislature passed the residential pool safety act and homeowners should make certain their pools are in compliance with the Act.
Watch the YouTube Video with Joe Zarzaur  >
Joe Zarzaur is a Board Certified Civil Trial Attorney whose firm is dedicated to promoting community safety since 2007. ZARZAUR LAW'S AREAS OF PRACTICE: Serious Personal Injury, Product Defect, Auto Accidents, Cycling Accidents, Motor Vehicle Accidents, Products Liability, Wrongful Death, Community Safety, Boat and Jet Ski Accidents, Slip and Fall Injuries, and more. Licensed in Alabama and Florida.
If your child has been injured or has been a victim of a drowning due to an unsafe pool, hot tub or proper, put yourself in the best possible position to receive the justice you deserve. It is also important to consult with a Board Certified Trial lawyer who has the knowledge and experience to help you. We know accidents can be stressful and want to make the process as easy as possible for you. Call Zarzaur Law, P.A. today at (855) Hire-Joe, or by requesting a free case review through our website.
Sources:
http://www.floridahealth.gov/programs-and-services/prevention/drowning-prevention/index.html
Florida statute – http://www.leg.state.fl.us/statutes/index.cfm?App_mode=Display_Statute&URL=0500-0599/0515/0515.html
https://www.today.com/parents/morgan-miller-shares-heartbreaking-plea-anniversary-daughter-s-drowning-t221539?cid=sm_npd_td_fb_ma&fbclid=IwAR3BNhSgUz3eUJ2hz_biEVcXXGLsBXC60N4Dm4gg9SA8eJPR2hk0ihWCdTE
https://pinellas.floridahealth.gov/newsroom/2022/04/water-safety-month.html
https://www.mynews13.com/fl/orlando/news/2022/05/03/florida-health-offers-advice-for-national-water-safety-month
https://nwsm.phta.org
https://www.redcross.org/get-help/how-to-prepare-for-emergencies/types-of-emergencies/water-safety.html
https://wusfnews.wusf.usf.edu/health-news-florida/2022-01-12/florida-reports-a-rise-in-child-drownings-in-2021
https://www.visitflorida.com/travel-ideas/articles/florida-beaches-ocean-swimming-safety-tips/
Florida hit a grim new record in 2021, reporting the most child drownings since at least 2009.
https://www.cdc.gov/nchs/products/databriefs/db413.htm
https://www.wfla.com/8-on-your-side/98-children-drowned-in-florida-in-2021-a-record-number-according-to-state-data/
https://www.cdc.gov/drowning/facts/index.html
https://escambia.floridahealth.gov/programs-and-services/wellness-programs/health-messages/summer-safety/drowning-prevention/index.html
https://www.flhealthcharts.gov/ChartsReports/rdPage.aspx?rdReport=Death.DataViewer&cid=0105
https://www.flhealthcharts.gov/ChartsReports/rdPage.aspx?rdReport=Death.Dataviewer
https://www.nsc.org/home-safety/tools-resources/seasonal-safety/drowning
https://www.safekids.org/watersafety
National Water Safety Month Is Celebrated The Entire Month of May
https://zarzaurlaw.com/?s=ACCIDENTAL+CHILD+DROWNINGS+AND+THE+FLORIDA+RESIDENTIAL+POOL+SAFETY+ACT