Courtesy of DRIVEN2DRIVE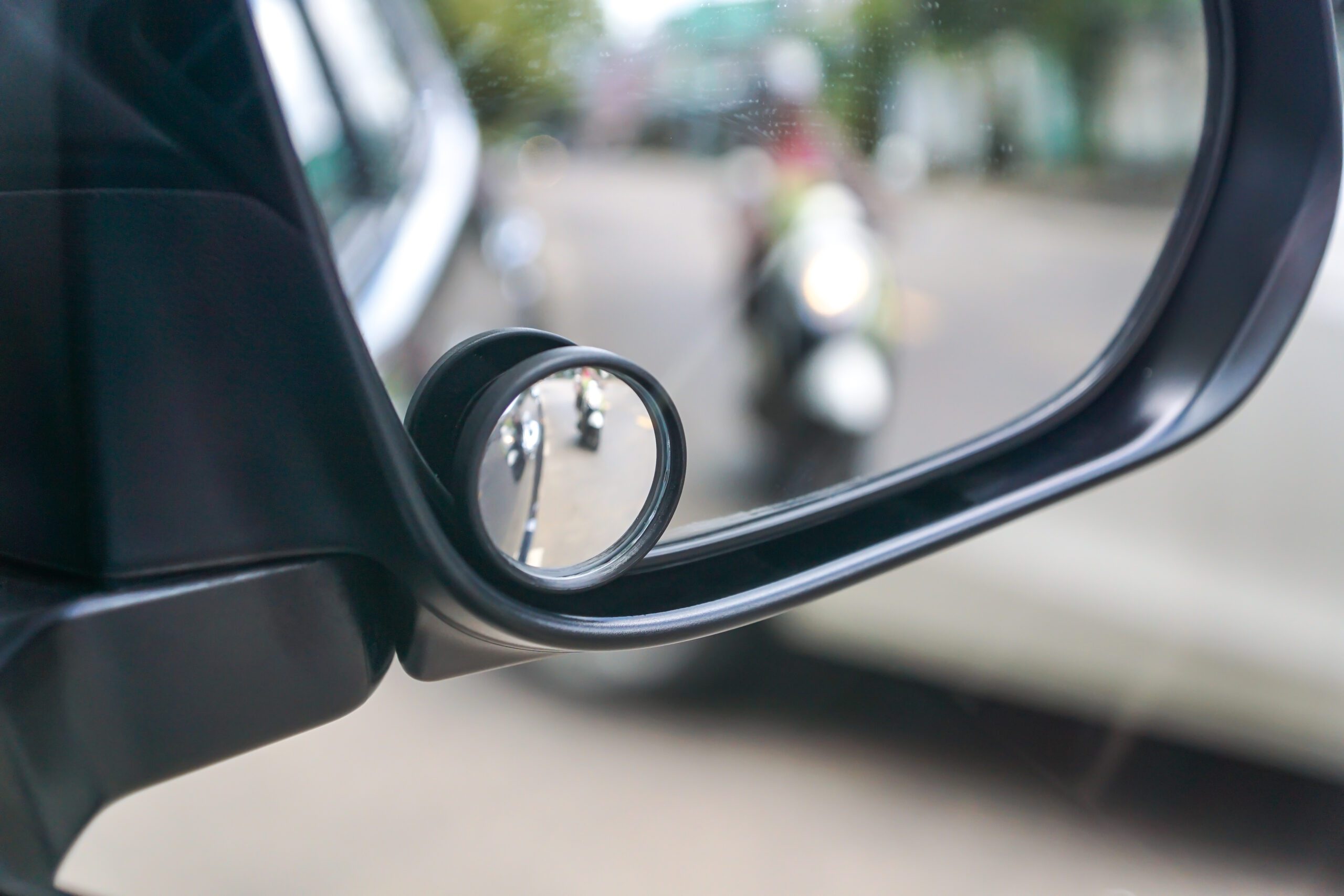 According to the National Highway Traffic Safety Administration, there are more than 800,000 accidents every year that are caused in part by blind spots.
These accidents result in more than 300 deaths every year. The sad thing is that many of these types of accidents could have been avoided if people were more aware of their blind spots.
Changing lanes is a common blind spot related accident. Blind spot related accidents often can be avoided. These collisions occur when drivers fail to check traffic patterns and driving in another car's blind spot.
Blind spots when driving are areas around your car that you cannot see when looking in your mirrors. They are so subtle that some drivers don't even realize they exist, which can often lead to accidents. However, blind spots aren't completely unavoidable if you know how to look for them. In fact, blind spot checks are an essential part of every driver's license test.
That being said, read on to learn how to locate your blind spots and check them safely.
Where Are the Blind Spots in a Car?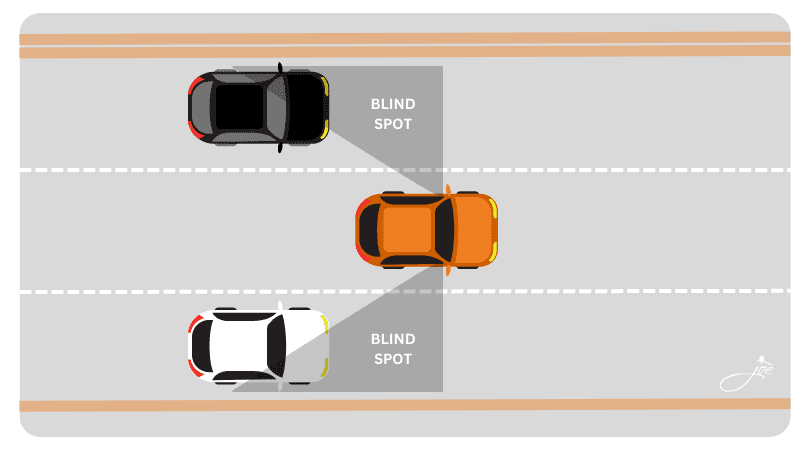 Your side mirrors are angled in such a way that you can see directly behind your car on either side, essentially giving you a cone of backward vision when coupled with your rearview. Your peripheral vision and quick side glances can allow you to see forwards at roughly a 180-degree angle that intersects your side mirrors. In between these two areas is a roughly 50-degree angle of obscured space on either side of your car that can't be seen through your side mirrors, as indicated by the image below:
The two additional areas marked in the image may be smaller than the primary blind spots, but it's still essential to understand where they are. You might not lose sight of a car in one of these small areas, but a motorbike could very easily slide in undetected.
Why Are Blind Spots Dangerous When Driving?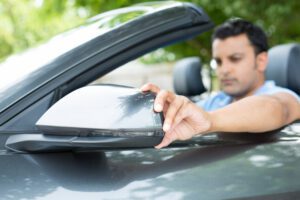 The primary reason that blind spots are so dangerous is that they obstruct your view of other motorists and vehicles, meaning that you might not notice their presence as you attempt to change lanes. If you aren't aware of other motorists coming up behind you, you might cut them off and potentially cause an accident. This is dangerous enough for other cars, but it could be potentially fatal for motorcyclists.
Another thing to consider is that blind spots are dangerous in perfect weather conditions, but the risk becomes compounded while driving in rain or driving at night.
How to Avoid the Risks of Blind Spots
Avoiding the dangers presented by your car's blind spots boils down to two factors:
Knowing how to check your blind spots
Knowing when to check your blind spots
How to Check Your Blind Spots
Checking your blind spots involves a complete shoulder check, which will be examined frequently during your road test. In short, a shoulder check involves turning your head 90 degrees to either side and looking out the two side windows with your peripheral vision. For example, turning your head to the left allows you to look directly out your own window, while also allowing your peripheral vision to pick up any movement or light cues that might be hiding in your blind spot—and the same goes for the right.
When to Check Your Blind Spots
Even though we might have mentioned the importance of checking your blind spots, checking them too often can be just as dangerous as not checking them at all. Frequent and unnecessary checking draws your focus away from what's going on in front of you, limiting the time you have to react to risky situations. This is one of the things you are taught when learning defensive driving techniques.
That being said, you should check your blind spot every time you need to move your car in that direction to make sure that nothing is hiding beyond your vision, which can be any of the following situations:
Making a turn Whether you are turning right or left, you need to first check your blind spot and side mirror about 5 seconds before you reach the turn and then again as you reach the turn.
Changing lanes This involves total lane changes, or even if you are entering a branching turning lane to ensure that there aren't any cyclists, pedestrians, or approaching cars.
Pulling away from a curb You may be turning to the left or right when pulling away from a curb, which will need an appropriate mirror and shoulder check.
Curbside parking Similar to pulling away, you may be entering the curb space to the right or to the left, and will need to perform an appropriate mirror and shoulder check.
Although unlikely, failure to check your blind spots during one of these situations may give you an automatic fail on your driving test, even if your car has blindspot sensors!
That's really all there is to it, meaning that this is something you can easily master with the right driving practice.
Important Tips
To further increase your safety on the road, remember these tips when considering your blind spots:
Keep items stored away from your windows
Don't hide in another driver's blind spot for too long if not necessary
Ask your passengers to adjust if they're blocking your blind spot
What Should You Do If You Are In A Florida Car Accident?
1. Call the police and file a report.
2. Swap information (including any insurance information they may have).
3. Gather details.
4. Take pictures/video
5. Gather the contact information of any witnesses.
6. Seek medical care immediately for any injuries, no matter how minor you think they might be.
GET MORE HELPFUL INFORMATION ON WHAT TO DO AFTER AN ACCIDENT HERE AT OUR "Car Wreck Checklist" >
Joe Zarzaur is a Board Certified Civil Trial Lawyer whose firm has been promoting community safety since 2007. AT ZARZAUR LAW, WE PRACTICE IN THE FOLLOWING AREAS: SERIOUS PERSONAL INJURY, PRODUCT DEFECT, AUTO ACCIDENTS, CYCLING ACCIDENTS, MOTOR VEHICLE ACCIDENTS, PRODUCT LIABILITY, WRONGFUL DEATH, COMMUNITY SAFETY, BOAT, AND JET SKI ACCIDENTS, AND SLIP AND FALL. Licensed in Alabama and Florida.
If you've been injured in a car accident, it's important that you don't make any rash decisions. Put yourself in the best possible position to receive the justice you deserve. It is also important to consult with a Board-Certified Trial Lawyer who has the knowledge and experience to help you. We know accidents can be stressful, and we want to make the process as easy as possible for you.
Call Zarzaur Law, P.A. today at (855) Hire-Joe for a free legal consultation or visit www.zarzaurlaw.com.
If you or a loved one is injured in a car wreck,  feel free to reach out to our firm for a free consultation at zarzaurlaw.com or 855HireJoe.
Sources:
https://www.cbsnews.com/news/suv-blind-zone-deaths-consumer-reports-safety/
https://driven2drive.com/a/blog/blind-spots-in-driving-what-they-are-and-how-to-avoid-them
https://www.drivesafeonline.org/traffic-school/how-to-eliminate-blind-spots/