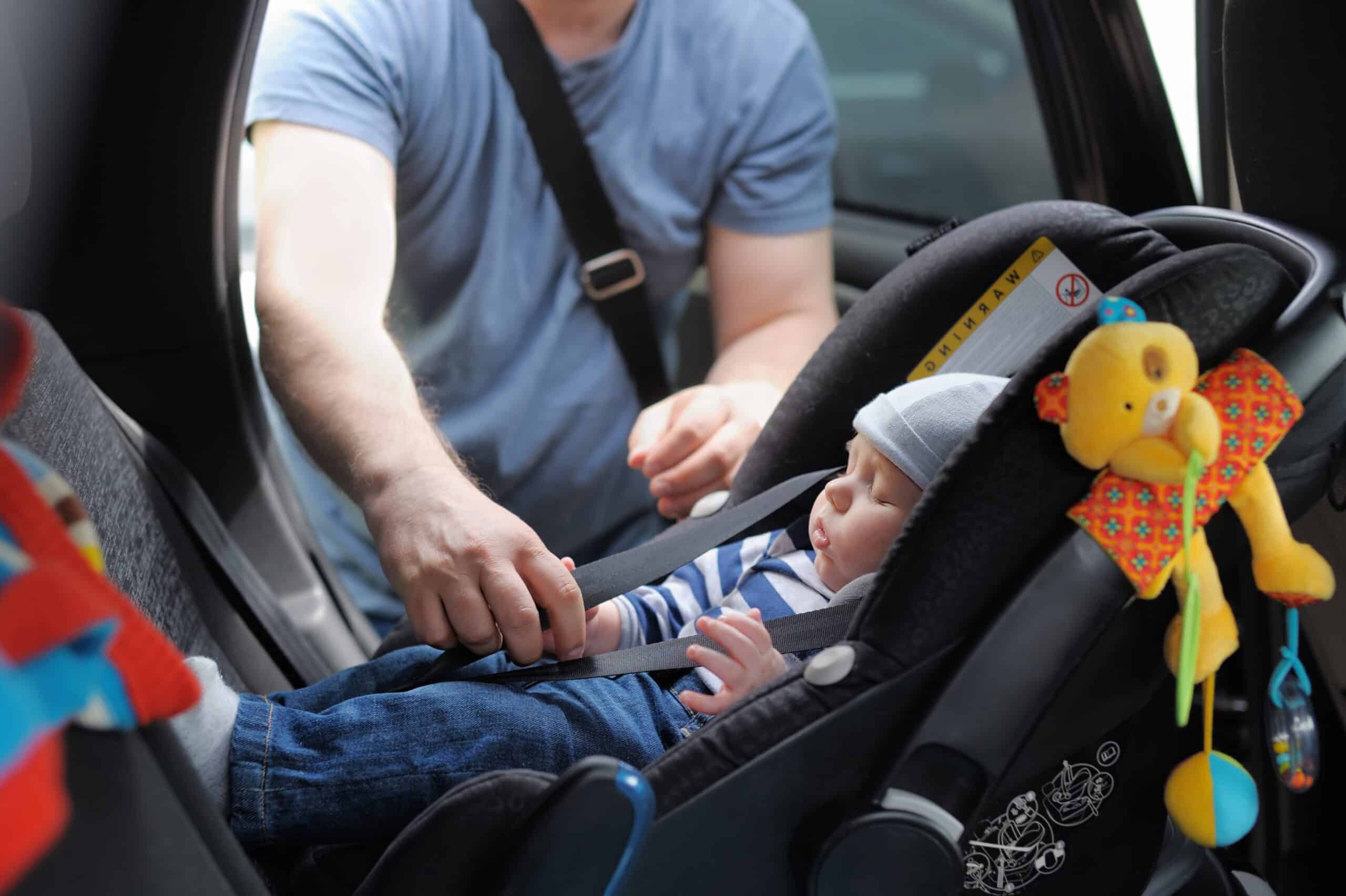 Did you know that when traveling with a baby, the American Academy of Pediatrics (AAP) recommends that you take your baby out of the car seat every two hours? Do you also know what the recommendations is for when you can start doing longer drives with your baby?
Surprisingly, many parents have not heard of the two-hour car seat rule. If you have never heard of this before, don't worry; during National Baby Safety Month, we wanted to share important information about this recommendation.
At What Age Does The Two-Hour Car Seat Rule End?
The two-hour car seat rule age is not specific, but it should be followed until the baby is old enough to sit upright and control their head and neck movement.
Sitting Devices, Such As Car Seats, Strollers, Swings, Infant Carriers, And Infant Slings, Are Not Recommended For Routine Sleep In The Hospital Or At Home, Particularly For Infants Younger Than 4 Months. – AAP
What If The Baby Falls Sleep In Its Car Seat?
Many babies fall asleep in their car seats, but as soon as you get the chance, the baby should be moved to a flat-lying position.
If your baby has been sleeping for most of your trip, it may be even more important for you to take frequent breaks.
Sleeping In The Car Seat Is Actually The Most Dangerous Time For Your Baby, As They Can Slump Down And Restrict Their Own Breathing.
Moving your baby to a flat-lying position when sleeping is better for their spine and their breathing and heart rate.
Also consider what plans you have for your baby's sleep at night throughout your trip. You should never allow your baby to sleep in their car seat in a hotel room or at home.
Only use car seats in the car when the car is moving. Other uses are not safe for the baby.
Over half of the infant deaths that occur in reclined sleeping devices happen in car seats.
Bottom line—if your question is, "At what age does the 2-hour car seat rule end?" The answer to that is more about the baby's ability to sit correctly than age.
Buy The Appropriate Car Seat.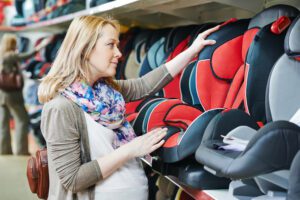 There are different types of car seats on the market. They are designed to be age, weight, and height specific.
Again, a suitable car seat is rear-facing. Read more on best choices here >
How Long Should I Keep My Child In A Rear-Facing Car Seat?
For at least two years, according to the AAP guidelines.
Important Child Safety Seat Reminders For Parents
As children grow, so do their restraint types (rear- facing, forward-facing, booster seat, or seat belt). Always use the one that fits your child's current age and size.
Use the NHTSA Car Seat Finder located here > 
Every car and every car seat or booster seat has different installation instructions, so make sure you read both the car seat instructions and the vehicle owner's manual.
Remember that children in rear-facing seats should never be placed in front of an active passenger air bag.
Use either the lower anchors and tether, or the seat belt and tether when installing forward-facing seats.
To get assistance with installation, find a certified child passenger safety technician (CPST) at a location near you using NHTSA's Inspection Station locator.
Remember to register your car seat or booster seat so you can be notified in the event of a safety recall.
Plan to use car seats or booster seats when traveling and riding in taxis or ride-share vehicles.
Find out when your child is ready to use an adult seat belt, reference the "Car Seat Recommendations for Children". Be sure to read the information for Booster Seat and Seat Belt Use.
Keep children in the back seat until at least age 13. It's the safest place to ride.
— NHTSA's Research and Program Development
Avoid Long Journeys
Parents and caregivers are advised to avoid planning long trips until their baby is ready to withstand traveling for long hours. Besides long-distance travel, traffic in your city must be factored in to keep away from being stuck in one with a newborn baby in the car.
When long journeys are unavoidable, breaks should be scheduled in between hours to give the infant child a chance to relax before continuing with the trip.
Bottom line – Infant car seats should only be used in the vehicle.
What To Do If You Are In A Car Accident While Traveling In Florida
1. Call the police and file a report
2. Swap information (including any insurance info they may have)
3. Gather details
4. Take pictures
5. Gather contact information of any witnesses
6. Seek medical care immediately for any injuries – no matter how minor you think they might be.
GET MORE HELPFUL INFORMATION ON WHAT TO DO AFTER AN ACCIDENT HERE AT OUR "Car Wreck Checklist" >
Joe Zarzaur is a Board Certified Civil Trial Attorney whose firm is dedicated to promoting community safety since 2007. ZARZAUR LAW'S AREAS OF PRACTICE: Serious Personal Injury, Product Defect, Auto Accidents, Cycling Accidents, Motor Vehicle Accidents, Products Liability, Wrongful Death, Community Safety, Boat and Jet Ski Accidents, Slip and Fall Injuries, and more. Licensed in Alabama and Florida.
If your child has been injured in a car accident, it's important that you don't make any rash decisions. Put yourself in the best possible position to receive the justice you deserve. It is also important to consult with a Board-Certified Trial Lawyer who has the knowledge and experience to help you. We know accidents can be stressful and want to make the process as easy as possible for you. Call Zarzaur Law, P.A. today at (855) Hire-Joe, or by requesting a free case review through our website.
Sources:
https://www.safekids.org/blog/5-tips-new-parents-during-baby-safety-monthhttps://momvanup.com/the-2-hour-car-seat-rule-when-does-it-end/
https://www.webmd.com/parenting/news/20190520/putting-your-child-to-sleep-in-a-car-seat-is-risky
https://www.momnewsdaily.com/family/2-hour-car-seat-rule-all-you-need-to-know/
https://www.safekids.org/blog/5-tips-new-parents-during-baby-safety-month
https://www.healthline.com/health/parenting/best-infant-car-seat#our-pickshttps://www.aap.org/en/news-room/news-releases/aap/2022/american-academy-of-pediatrics-updates-safe-sleep-recommendations-back-is-best/