The great thing about living on the Gulf Coast is our proximity to various bodies of water.  Obviously, this also means when more of us are near water we will likely make use of those areas for our enjoyment and recreation.  We will go to the beach, we will ride on personal watercraft, we will go fishing, we will go water skiing and wakeboarding.  We will use the water for our enjoyment just as we use the land.
The unfortunate fact is that wherever we are enjoying activities (whether it be land or sea) it will be an area that may result in injury.
Boating accident injuries happen often in our area and when you or a loved one is a victim of a boating accident, it is imperative that the injured person or his/her family take certain steps to ensure they get immediate medical attention and that they do not sacrifice their legal rights in the process.
Florida had 836 boating accidents in 2020, which is 113 more accidents than in 2019, a 16% increase. A total of 79 people lost their lives last year in boating accidents, 14 more than the previous year
Top Contributing Factors of Boating Accidents (from the United States Coast Guard annual report)
Operator inattention
Operator inexperience
 Improper lookout
Excessive speed
Machinery failure
Alcohol use
Weather
Navigation rules violation
Hazardous waters
 Force of wave / wake
Top Common Injuries Sustained in Boating Accidents
Boating accidents can result in serious – and sometimes catastrophic – injuries or death. Some of the most common types of injuries sustained in Florida boating accidents include the following:
• Concussions and traumatic brain injuries
• Back and spinal cord injuries
• Soft tissue injuries
• Fractures and broken bones
• Permanent injuries
• Death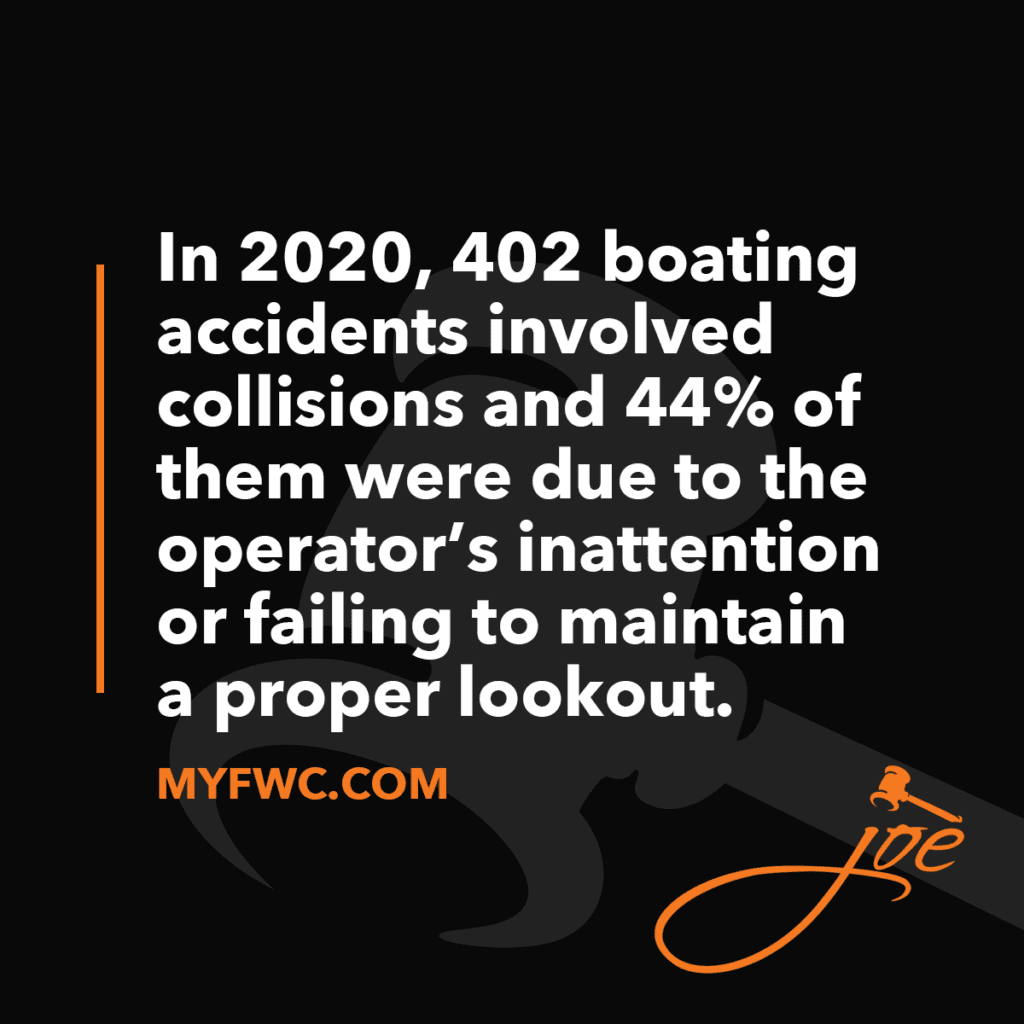 The Following Is A List of Things That Should Be Done Following An Injury From A Boating Accident:
1. Call 911
Any injury should be reported to 911 as soon as possible so that emergency help can be brought your way. When you are on the water, these calls will require a marine response and a land-based response.  It is imperative that this call be placed as soon as possible since many different agencies are involved in this response given that it has occurred on the water.
Florida Fish and Wildlife Commission Officers ("FWC") have jurisdiction in nearly all of the waters unless the accident occurs many miles offshore. The FWC will need to respond to all boating accidents, and they will rely on land-based EMS to assist them with the transportation of the injured person from the scene to the hospital. Many times, the FWC will have to organize marine transport to a dock for purpose of transporting the injured person to the hospital.
The sooner the 911 call is made the more time all of this can be coordinated.
2. Get A Report
As with car wrecks, it never makes sense to not get law enforcement to investigate the incident and have it written up in a report.  This is equally true for boating accidents.  The FWC will be the investigating agency and it will always mean that someone will need to report the boating accident.  If possible and you do not need immediate medical treatment, it may also require that you remain at the scene until the FWC officer has completed their investigation.
3. Document The Scene And Injuries
It is important to document the scene of the boating accident.  Pictures that depict the damages to the vessel can be critical evidence of the heading (direction) that each vessel was on at the time of the collision.  In boating accidents, the heading of the vessel can define which vessel is the "stand on" vessel and which vessel is the "give way" vessel.
The "stand on" vessel has the right to maintain its course and the "give way" vessel must steer clear of the "stand on" vessel.  The damage to the vessel can indicate the heading of each vessel at the time of impact and can, in and of itself, can be helpful in determining which vessel was the "stand on" vessel.
In addition to documenting the damages to the vessels, parties involved in a boating accident should also document any injuries.
Obviously, the first order of business after an injury is to make certain that all of those injured are stabilized and under the care of the right health care workers. As soon as those injuries are stabilized, someone should take pictures of the condition of the injury since it will also be relevant later in the boating accident case.
4. Record Names And Contact Information Of All Witnesses
Amazingly, after people leave the scene of a boating accident, they began to come up with reasons why the boating accident is not their fault. Parties can readily accept responsibility at the scene and then as they get further and further away from the boating accident, they begin to minimize their contribution to the cause and start explaining the boating accident on other's conduct, not just their conduct. This is one part of human nature and one part basically financial protectionism. This is why it is always a good idea to get all names and contact information for anyone reporting to have seen the event.
You can never have too many witnesses since most of the time there will only be a few that actually have a good testimony.
5. Seek Out A Lawyer with Boating Accident Experience
As we have discussed in prior blog postings, boating accidents usually trigger federal maritime law.  This body of law can be a land mine for inexperienced lawyers, and it is imperative that you or your loved one seek out experienced advice from a lawyer with maritime experience in personal injury cases.
Since all personal injury lawyers have the same "no cost no fee unless you win" payout structure, there is no reason not to hire someone who is not a specialist.
Joe Zarzaur is a Board Certified Civil Trial Attorney whose firm is dedicated to promoting community safety since 2007. ZARZAUR LAW'S AREAS OF PRACTICE: Serious Personal Injury, Product Defect, Auto Accidents, Cycling Accidents, Motor Vehicle Accidents, Products Liability, Wrongful Death, Community Safety, Boat and Jet Ski Accidents, Slip and Fall Injuries, and more. Licensed in Alabama and Florida.
If you've been the victim of an accident, it's important that you don't make any rash decisions. Put yourself in the best possible position to receive the justice you deserve. It is also important to consult with a Board Certified Trial lawyer who has the knowledge and experience to help you. We know accidents can be stressful and want to make the process as easy as possible for you. Call Zarzaur Law, P.A. today at (855) Hire-Joe for a free legal consultation or visit www.zarzaurlaw.com.
Sources:
https://www.miamiherald.com/news/local/community/florida-keys/article243438316.html
https://myfwc.com/news/all-news/boating-stats-521/
https://americanboating.org/boating_fatality.asp
https://www.cdc.gov/homeandrecreationalsafety/water-safety/waterinjuries-factsheet.html