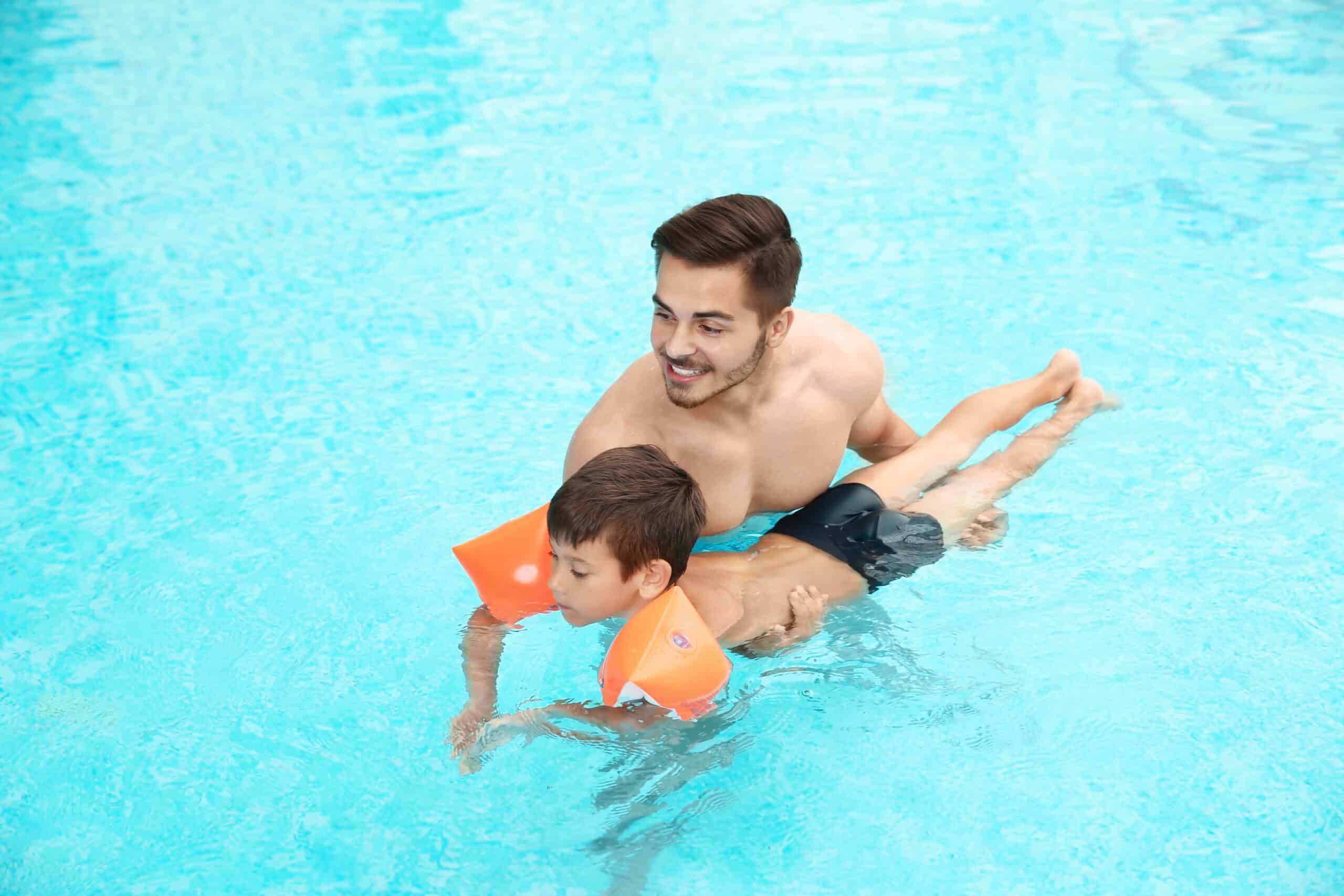 World Drowning Prevention Day is Tuesday, July 25. This observance is an important reminder for parents and caregivers to ensure their children are prepared for water-related activities all summer long.
In the last decade, drowning has caused more than 2.5 million deaths. According to the World Health Organization, the highest drowning rates are among children aged 1 to 4, followed by children aged 5 to 9.
Every year in the US, 3,572 people die from drowning. Nine hundred and forty-five of them are children. Children account for one out of four drowning deaths.
According to the Consumer Product Safety Commission (CPSC): 350 children under the age of five drown in pools each year nationwide. The majority of the deaths occur in June, July and August; most in backyard pools.
So far in 2023 there have been 50 child fatalities due to drowning in the state of Florida. myflfamilies.com
Here Are Some Top TipsFor Safe Swimming:
Designate a Water Watcher – Even with lifeguards present, parents much be on alert and supervise their children. At least one adult should keep a close eye on swimmers and parents rotate this role every 30 minutes to avoid fatigue.
Wear a life jacket that is approved by the U.S. Coast Guard, fits snug and stays under a child's chin when they lift their arms.
Implement a buddy system: a buddy can alert an adult if something is amiss.
Acquire CPR and first aid training.
Identify and reduce water hazards.
Be Ready To Recognize What Drowning Or Distress Looks Like
Parents and caretakers are often surprised to hear that drowning can look like nothing you'd notice, hear, or even expect — which is why it takes 100% visual and/or touch supervision to pick up the signs. The splashing, yelling and commotion you've seen in movies could certainly be a signal a child is in trouble, but it doesn't always happen that way.
Instead, be on the lookout for subtle and quick: a child motionless or face down in water or swimming upright but not making any progress forward; a lowered head, or a head tilted way back or with hair covering the eyes or face; a look of fear or doom in a child's eyes; or perhaps just a constant gaze toward shore or an exit/ladder. And a child that jumps or dives into the water but doesn't come up quickly could be missed without sharp visual supervision.
A swimmer of any skill level might need your help, and it can often take all of our senses on full-alert to identify a drowning in progress.
Don't Let Shallow Water Deceive You
The risk to kids isn't equal to the depth of the water when we're talking about drowning. Small children can drown in baby pools, bathtubs or even household water buckets or tide pools — anything with enough water in it to cover their mouth and nose if they can't lift themselves out easily. They need adult supervision in these places, too. And be forewarned — though child gates, locks and other safety measures are additional safety layers, if you've ever seen a kid use an iPhone you know that they're smart, and craftier than we realize. Most can still problem-solve their way around those barriers and into the water no matter the physical precautions.
Check For Water Dangers At Home And Where You Visit
Preventing unintended, unsupervised access to water is proven to be one of the most effective ways to reduce drowning deaths among young children. Start with these layers of protection in and around your home to help make your toddler's environment safer.
Fence And Secure Swimming Pools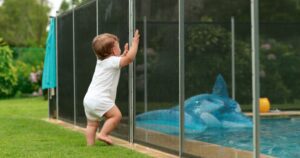 Research suggests that fencing can prevent more than half of all swimming pool drownings of young children. Swimming pools, including large, inflatable above-ground pools and other temporary pools, should be completely surrounded by a fence on all 4 sides.
The Fence Should:
be at least 4-feet high and have no opening under it or between slats that are more than 4 inches wide
completely separate the pool from the house
have a self-closing and self-latching gate that opens away from the pool, with the latch at least 54 inches from the ground
Keep the gate locked at all times and check it frequently to be sure it works. Keep toys out of the pool area when not in use so that children are not tempted to try to get through the fence during non-swim time. Also be sure to always cover and lock hot tubs, spas and whirlpools right after using them.
Remove or fence other backyard water hazards
Bird baths, fountains and ponds. Although these can be beautiful landscape features, consider holding off on installing or using them until your child is older.
Wells, irrigation or drainage ditches. Also be careful to prevent children's access to open post holes while structures like fences, decks, birdhouses and flagpoles are
Prevent Your Child From Going Outside Unnoticed
Use safety gates, door locks or doorknob covers to prevent your toddler from going outside or into your garage unnoticed. Make sure siblings and all other family members know to always close the door behind them so younger children don't follow them out.
Start Swim Lessons As Soon As Your Child Is Ready
The AAP recommends swim lessons for all children, and their parents, as another layer of water safety. Recent studies suggest that water survival skills training and swim lessons can help reduce drowning risk for all children including those 1 to 4 years.
Deciding when to start should be based on a variety of individual factors. These include how often your child may be around water, your child's emotional maturity, physical and developmental abilities and limitations, interest in learning to swim and how comfortable they are in the water. Your pediatrician is a good resource to help know if your toddler is ready.
Parent-Child Swimming Lessons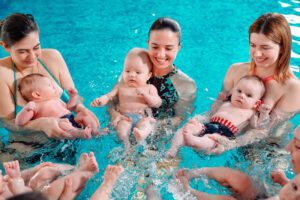 If you never learned to swim, you're not alone—and it's not too late! At least 15% of people in the U.S. say they cannot swim. This includes people from all backgrounds, but culture, race and income do play a role. For example, segregated pools and beaches kept generations of African American adults from getting quality swim lessons. And nearly 80% of children from households earning less than $50,000 lack good swimming skills, often because their parents never learned.

 Enrolling in parent-child swim lessons is a great way to spend time with your child. Plus, your child will be safer and more confident near water if you can swim together as a family.
What Is The Number One Thing You Should Teach Your Child To Do IF They Fall In The Pool?
A popular method for teaching infant swimming is what I like to call the "roll and float" method. It is a survival swimming technique popularized by Infant Swim Resource that teaches babies how to get to the surface of a pool if they fall in, roll onto their backs, and keep themselves in a floating position with their faces out of the water until help arrives.
WATCH OUR SHORT VIDEO WITH BEAR LEVIN STUDER YMCA AQUATICS DIRECTOR, BONNIE STEFFENSMEIER, ON THIS TECHNIQUE:
Joe Zarzaur is a Board Certified Civil Trial Attorney whose firm is dedicated to promoting community safety since 2007. ZARZAUR LAW'S AREAS OF PRACTICE: Serious Personal Injury, Product Defect, Auto Accidents, Cycling Accidents, Motor Vehicle Accidents, Products Liability, Wrongful Death, Community Safety, Boat and Jet Ski Accidents, Slip and Fall Injuries, and more. Licensed in Alabama and Florida.
If you or your family have been the victim of an accident it's important that you don't make any rash decisions. Put yourself in the best possible position to receive the justice you deserve. It is also important to consult with a Board Certified Trial lawyer who has the knowledge and experience to help you. We know accidents can be stressful and want to make the process as easy as possible for you. Call Zarzaur Law, P.A. today at (855) Hire-Joe, or by requesting a free case review through our website.
Offices in Pensacola, Destin, Miami, and Tallahassee.
Sources:
https://www.healthychildren.org/English/safety-prevention/at-play/Pages/Water-Safety-And-Young-Children.aspx
https://www.npr.org/sections/health-shots/2021/07/03/1012270779/you-could-save-a-child-from-drowning-this-summer-heres-how
https://portal.ct.gov/AdvocatesCorner/Life-Tips/Your-Safety/Drowning-Prevention
https://ymcanwfl.org