E-bikes and e-scooters are increasingly popular options for commuting, running errands, and recreation. Unfortunately, this rise in popularity has led to a corresponding rise in serious accidents and injuries.
At least 119 people died while riding electric scooters or e-bikes from 2017 through 2021, according to a study by the U.S. National Transportation Safety Board. So, it is important to not only know the Florida laws for e-bikes, but also best practices when it comes to safety.
E-Bikes Aren't Just Faster – They Are A Different Kind of Ride
What Are E-Bikes?
The term "e-bike" refers to two-wheeled electric-motor-assisted bicycles. E-bikes are produced with all the features of a regular bicycle with the addition of an electric motor that generates less than 750 watts.
Like many states, Florida has regulations governing where you can ride e-bikes and under what conditions.
Below, we give you a starter guide to Florida e-bike laws. This information is current as of January 2023, but it can change — so check local and state regulations before you ride!
How Does An Electric Bike Work?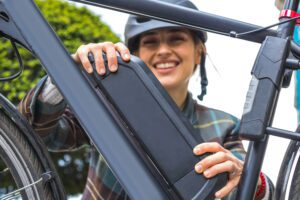 The first thing you'll notice about e-bikes is that they look a lot like normal bikes. There is a common myth that electric bicycles are like scooters, but they are actually very similar to regular bicycles, but with an electric motor.
The only significant difference in appearance is the inclusion of the electrical drive system. This includes a motor, a battery, and sometimes a display screen. The battery is what powers the motor, which offers assistance as you pedal, helping to propel the bicycle forward.
Overall, it's not that different to ride electric bike models. They have the same style of wheels, handlebars, and frame styles as a regular bike. Additionally, the mechanical components, such as the pedals and brakes, also all function in precisely the exact same manner.
Where Are You Allowed To Ride E-Bikes In Florida?
Florida allows electric bicycle riders to take their vehicles anywhere standard bikes are allowed. This includes roads and roadway shoulders (in the right lane), bike lanes, bike paths, and multiuse paths (like those allowing pedestrians and bikes).
Rules for trail riding depend on the type of trail. For example, the Florida Department of Environmental Protection permits Class 1 e-bikes in all areas where normal bicycles are permitted. However, some state parks restrict e-bike usage. Check with the state park before riding.
How Old Do You Have To Be To Ride An E-Bike In Florida?
Florida has age restrictions for e-bike use similar to those for driving a car. You must be at least 16 years of age to use an e-bike legally.
What Class Of E-Bikes Are Legal In Florida?
When discussing e-bike laws, it's important to understand what an electric bicycle is. The definitions can vary. In general, there are three main classes of e-bikes.
Here's how the classification system works:
Class 1 e-bikes, or pedelecs, don't exceed top speeds of 20 miles per hour (mph). This type of e-bike works if the cyclist is pedaling and lacks throttle assist (a mechanism that powers the bike forward even if you aren't pedaling).
Class 2 e-bikes don't exceed speeds of 20 mph. However, they have throttle assist and can move forward even if you aren't actively pedaling.
Class 3 e-bikes are capable of reaching speeds up to 28 mph. They have a pedal assist system, which helps power the bike forward while you pedal, but no throttle assist. These bikes usually come with a speedometer.
Florida allows all classes of e-bikes, including Class 3 e-bikes — provided they don't exceed speeds of 28 mph. The bike also can't have an electric motor power with a wattage exceeding 750.
Do You Need A Helmet When Riding An E-Bike In Florida?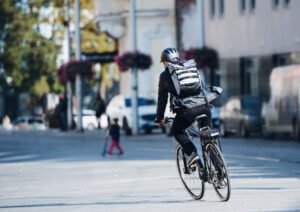 Florida law doesn't require e-cyclists to wear helmets. However, it's worth wearing one, even if the law doesn't demand it. A helmet can keep you safe in bicycle accidents, minimizing the risk of a traumatic brain injury (TBI).
Discover the value of helmets and learn about helmet laws in different states.
Do You Need A License To Ride An E-Bike In Florida?
Florida doesn't require you to have a driver's license to ride an e-bike. An e-bike also doesn't have a registration requirement as a motor vehicle does. That means no trips to the DMV, saving you time and headaches.
Do You Need Insurance To Ride An E-Bike In Florida?
While you need insurance if you drive a car or motorcycle in the state of Florida, this is not required for e-bike riders. While you need insurance if you drive a car or motorcycle in the state of Florida, this is not required for e-bike riders, however protecting yourself in case you are in an accident is important and our firm highly recommends adding Uninsured / Underinsured Motorist Coverage to your automobile policy.
What is UM Coverage And Why Should You Have It?
This is obviously a concerning fact when you consider that most people have the minimum amount of insurance coverage and it seems that those drivers are the ones that cause most of the car wrecks in Florida. This again means that you should always purchase as much uninsured or underinsured motorist coverage as you can afford.  This coverage is also known as "UM" or "UIM" coverage.
The reason UM coverage is so important is that it functions just like the injury coverage bought by the at-fault driver. So, if you are in a wreck and the at-fault driver is like most in Florida and has either no coverage or a small amount of coverage and your injuries are serious, then UM coverage will provide coverage for the other driver's negligence.
Local Ordinances For E-Bikes In Florida
The above guide touches on some of the broader e-bike laws in Florida, from licensing requirements to helmet regulations. However, municipality-specific ordinances may differ from statewide rules.
For example, e-bikes are banned in certain locations, such as Sanibel Island. There have also been discussions about banning e-bikes in Fort Myers Beach. Other areas, like Pinellas Beach communities, have banned e-bikes on the sand.
Additionally, state and local government ordinances can change. That's why we recommend looking up your area's e-bike laws before you start cycling. Your local police station or DMV are good starting points.
What You Should Know Before Riding Your E-Bike In Florida
Once you've looked up your local ordinances and figured out where you can legally ride your e-bike, you're probably ready to go! But before you pedal off, we have a few more tips for e-bike cycling in Florida:
Check out the right bike trails. A few bike paths in Florida are known for being e-bike friendly. Check out the Alafia River State Park Trail (8.5 miles, accessible from Lithia), Jonathan Dickinson State Park Trail (9 miles, accessible from Jupiter), Oleta River State Park Trail (17 miles, accessible from North Miami Beach), or Fort Clinch State Park Trail (5.4 miles, accessible from Fernandina Beach).
Dress for the weather. Florida's weather can be notoriously hot, humid, and sunny. Dress accordingly! Make sure you have a hat and sunglasses to block the rays and maintain visibility. Dress in breathable, water-wicking fabrics that get sweat away from your body. Finally, always have plenty of water on hand when you ride. Learn more about dressing for the weather when cycling.
Prioritize safe cycling. Again, even though it's not required, we strongly recommend wearing a bike helmet. According to the Florida Department of Transportation (FDOT), about 40% of bike fatalities in Florida are TBI-related. Also, avoid cycling while under the influence of drugs or alcohol, and try to ride your e-bike only during daylight hours. Over half of serious traffic accidents in Florida occur during dusk or dark.
Respect the Florida wildlife. One of the great things about Florida is its natural beauty. There's plenty of gorgeous wildlife you can explore while e-cycling. However, that wildlife can be dangerous. Florida's gators are infamous for taking lives every year. Steer clear of wild animals and educate yourself about what to do in a confrontation.
Joe Zarzaur is a Board Certified Civil Trial Lawyer whose firm is dedicated to promoting community safety since 2007. ZARZAUR LAW'S AREAS OF PRACTICE: Serious Personal Injury, Product Defect, Auto Accidents, Cycling Accidents, Motor Vehicle Accidents, Products Liability, Wrongful Death, Community Safety, Boat and Jet Ski Accidents, Slip and Fall Injuries, and more. Licensed in Alabama and Florida.
If you've been the victim of an e-bicycle accident involving a vehicle, it's important that you don't make any rash decisions. Put yourself in the best possible position to receive the justice you deserve. It is also important to consult with a Board Certified Trial lawyer who has the knowledge and experience to help you. We know accidents can be stressful and want to make the process as easy as possible for you. Call Zarzaur Law, P.A. today at (855) Hire-Joe for a free legal consultation or visit www.zarzaurlaw.com.
Sources:
https://helmets.org/mandator.htm
https://myfwc.com/wildlifehabitats/wildlife/alligator/
https://www.flhsmv.gov/safety-center/child-safety/bicycle-pedestrian-safety/
https://www.floridastateparks.org/guidelines-bike-use
https://wsd-pfb-sparkinfluence.s3.amazonaws.com/uploads/2020/05/E-Bike-Law-Handouts_FL_2020.pdf