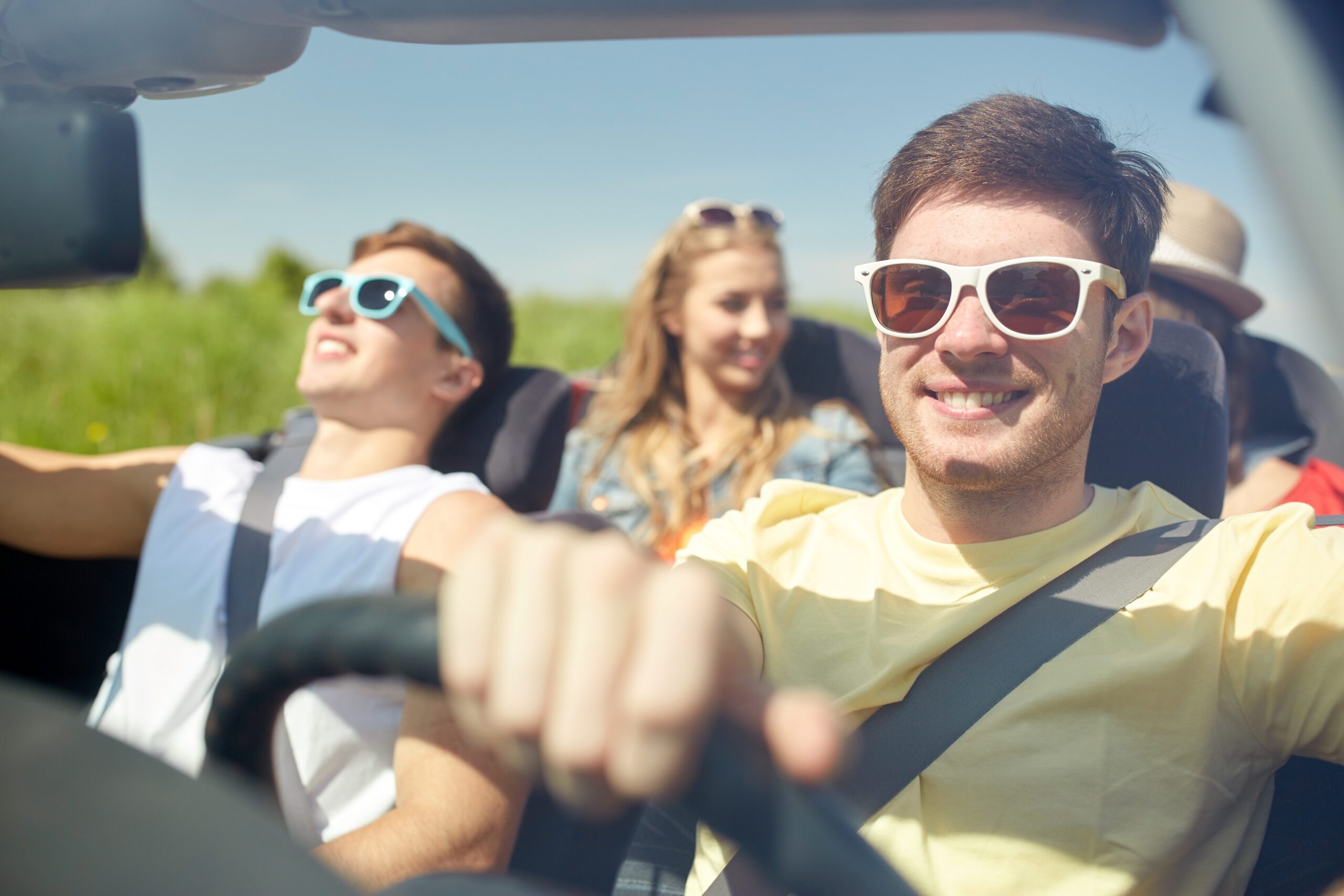 From FDOT.gov
For more information on FDOT Teen Driver Safety and related programs and grants, visit the Safety Office Teen Driver Safety page. Visit the Florida Teen Safe Driving Coalitions'  100 Deadliest Days for Teen Driver's Page for more.
The "100 Deadliest Days" is the period between Memorial Day and Labor Day when fatal teen crashes increase dramatically. Nationwide over 7,000 people died in teen-related crashes from 2010–2019 during this summer period.
Teens drivers have a higher rate of fatal crashes, due to immaturity, lack of skills, and lack of experience. Teenagers speed, they make mistakes, they wear their safety belts less often, and they get distracted easily – especially if their friends are in the car.
Florida teens (ages 15-19) make up approximately 5% of Florida's licensed drivers. However, crashes with teen drivers typically make up 11% of all crashes in Florida. In 2020, there were 39,150 crashes with teen drivers, resulting in 97 teen-driver fatalities statewide.
Common Causes of Teenage Car Crashes
Teen driving statistics show that a number of factors contribute to the increased likelihood of a crash — not just one or two. By understanding the common causes, parents can talk to their teens about how each situation might be avoided.
Distracted driving. Distracted driving includes any behavior that takes a driver's eyes off the road, such as eating, drinking, texting, applying makeup or smoking. About 9% of teen drivers ages 15-19 report driving distracted.
Texting and driving. Texting is a form of distracted driving, but deserves highlighting. Not only do most states have laws banning texting while driving, 38% of teens have admitted to texting while driving. (Journal of Adolescent Health)
Teen drivers are more likely than other age groups to speed and drive too closely to the car in front of them. In 2019, 31% of male drivers and 17% of female drivers were involved in fatal crashes as a result of speeding. (IIHS)
Drunk driving. Teens are shown to have a higher chance of a crash due to alcohol, versus other age groups. In 2019, 15% of fatal crashes among drivers aged 15-19 involved alcohol use. (IIHS)
Inexperience is a significant factor for teen drivers, with many lacking the confidence and knowledge to handle certain driving situations. Newly licensed drivers (typically at age 16) have the least experience and the highest crash rate among teens. The crash rate per mile driven is 1.5 times as high for 16-year-olds compared to 18- and 19- year-olds. (IIHS)
Seat belts. Seat belt use is the lowest among teen drivers compared to all other age groups. Of all the fatal crashes recorded in 2019, almost half of teen drivers aged 16-19 were found not restrained. (IIHS)
Nighttime driving. The CDC notes driving at night is not only riskier for drivers of all ages, but especially teen drivers, which could be due to limited visibility, tiredness or impairment. Data shows in 2019, 40% of fatal crashes among teens aged 13–19 occurred between 9 p.m. and 6 a.m. (IIHS)
Parents Are The Best Line Of Defense To Ensure A Safe Ride And Have More Influence On Their Teens Than They May Think.
What Can You Do?
Talk to your teen about the rules and responsibilities involved in driving. Share some stories and statistics related to teen drivers and distracted driving. Remind your teen often that driving is a skill that requires the driver's full attention. Texts and phone calls can wait until arriving at his or her destination.
Familiarize yourself with Florida's graduated driver licensing law, and enforce its guidelines for your teen. View Florida's laws on distracted driving, create your own rules if necessary. Restricting the number of passengers your teen can have, or the hours your teen can drive, is a very effective way to minimize distraction for your teen driver. Talk about the consequences of distracted driving and make yourself and your teen aware of your state's penalties for talking or texting on a phone while driving.
Set consequences for distracted driving. If your teen breaks a distraction rule you've set, consider suspending your teen's driving privileges, further limiting the hours during which they can drive, or limiting the places where they can drive. Parents could also consider limiting a teen's access to their cell phone—a punishment that in today's world could be seen by teens as a serious consequence.
Set the example by keeping your eyes on the road and your hands on the wheel while driving. Be consistent between the message you tell your teen and your own driving behaviors. Novice teen drivers most often learn from watching their parents.
Teenage Driver Facts
Nationally, teen drivers were involved in approximately 955,913 crashes resulting in 4,000 fatalities and 359,268 serious injuries in 2018.
Florida has more than 400,000 registered teen drivers, age 15 to 19.
In Florida, teen drivers were involved in 59,301 crashes resulting in 290 fatalities and 2,256 serious injuries in 2018.
Teens were two-and-a-half times more likely to engage in potentially risky behavior when driving with a teenage peer versus driving alone.
The likelihood increased to three times when traveling with multiple passengers.
Safety belts were not worn in one-third of the deaths and serious injuries involving these teen drivers.
More crashes involving teen drivers occurred on Friday than on any other day of the week.
Contrary to the perception that non-Florida residents are frequently involved in Florida crashes, only 3% of fatalities, serious injuries, and crashes involving a teen driver in Florida occurred with a non-Florida resident.
What To Do If You Are In A Car Accident While Traveling In Florida
1. Call the police and file a report
2. Swap information (including any insurance info they may have)
3. Gather details
4. Take pictures
5. Gather contact information of any witnesses
6. Seek medical care immediately for any injuries – no matter how minor you think they might be.
Get more helpful information on what to do after an accident here at our "Car Wreck Checklist" >
Joe Zarzaur is a Board Certified Civil Trial Attorney whose firm is dedicated to promoting community safety since 2007. ZARZAUR LAW'S AREAS OF PRACTICE: Serious Personal Injury, Product Defect, Auto Accidents, Cycling Accidents, Motor Vehicle Accidents, Products Liability, Wrongful Death, Community Safety, Boat and Jet Ski Accidents, Slip and Fall Injuries, and more. Licensed in Alabama and Florida.
It is also important to consult with a Board Certified Trial lawyer who has the knowledge and experience to help you. We know accidents can be stressful and want to make the process as easy as possible for you. Call Zarzaur Law, P.A. today at (855) Hire-Joe for a free legal consultation or visit www.zarzaurlaw.com.
If you've been the victim of an accident, it's important that you don't make any rash decisions. Put yourself in the best possible position to receive the justice you deserve. It is also important to consult with a Board Certified Trial lawyer who has the knowledge and experience to help you. We know accidents can be stressful and want to make the process as easy as possible for you. Call Zarzaur Law, P.A. today at (855) Hire-Joe, or by requesting a free case review through our website.
Sources:
https://www.fdot.gov/agencyresources/deadliestdays
National safety council Injury facts
https://www.flhsmv.gov/2021/10/18/florida-recognizes-national-teen-drivers-safety-week-aims-to-reduce-teen-crashes/