After car accidents, slip and falls are the most common injuries we see at Zarzaur Law, P.A. However, while most of our clients are at least familiar with the rules of the road, many people are unaware of the rules governing a slip and fall. Of course, the question is, when can I recover? As is true with most legal questions, it depends on the circumstances.
Falls account for over 8 million hospital emergency room visits, representing the leading cause of visits (21.3%). Slips and falls account for over 1 million visits, or 12% of total falls.
What if The Slip and Fall Were Caused by a Slippery Substance on the Floor?
Florida has hard and fast rules governing slip and falls caused by "transitory substances" that can appear and disappear quickly, like spilled liquid on the floor. It is not enough to prove simply that the slip and fall were caused by the substance—rather, we have to show that the substance had been in the area for a long enough period of time that the premises owner knew or should have known about it. We can do that in several ways—prior complaints from patrons, admissions from employees of the premises owner, or even just circumstantial evidence like track marks or shoe prints that show that the substance had been there for a while.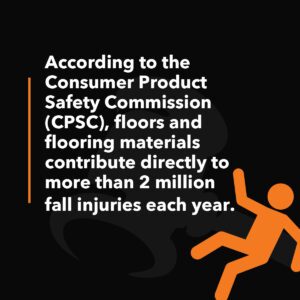 What if the Slip and Fall were Caused by a Permanent Condition?
Other slip and falls are caused by more permanent conditions. We have seen injuries caused by all sorts of conditions, from hidden cracks in sidewalks to slippery algae bloom near the entrance to a building. Because these conditions do not typically appear and disappear quickly, it is not necessary to present independent proof that the condition had been there for a long time.
In this situation, the plaintiff must simply show that the premises owner failed to reasonably inspect the premises and/or to warn their patrons of the danger. The only potential pitfall to recovery is if the defense successfully argues that the danger is so "open and obvious" that the plaintiff should have been aware of it themselves.
---
Fractures are the most serious consequences of falls and occur in 5% of all people who fall.
Who Should You Hire if You Have Suffered Injuries in a Slip and Fall?
If you've suffered injuries from a slip and fall, it is important that you hire an lawyer right away. The at-fault party is sure to be aggressive in hiring their own lawyer and trying to get you to agree to small settlements or to make statements that hurt your case. It's important in this situation to fight fire with fire and hire your own lawyer.
We also remind potential clients that they shouldn't just hire any lawyer. Not all lawyers are equal in their training and qualifications. The Florida Bar does not typically allow lawyers to hold themselves out as "experts." However, the Bar does allow lawyers who work on personal injury cases to become specialists in a civil trial. Only one percent of Florida lawyers have this certification. Two out of three of the lawyers on staff at Zarzaur Law, P.A. are specialists in a civil trial.
So, when potential clients ask us about whether or when to hire a lawyer after an accident, we remind them that only a board-certified civil trial lawyer is a specialist in this area of the law. Since all injury lawyers have the same "no fee no cost unless you win" payout structure, there is no reason to hire someone who is not a specialist.
If you have questions about a personal injury or slip and fall case, please feel free to contact us on the web at zarzaurlaw.com or call us at 855HIREJOE.
Joe Zarzaur is a Board Certified Civil Trial Attorney whose firm is dedicated to promoting community safety since 2007. ZARZAUR LAW'S AREAS OF PRACTICE: Serious Personal Injury, Product Defect, Auto Accidents, Cycling Accidents, Motor Vehicle Accidents, Products Liability, Wrongful Death, Community Safety, Boat and Jet Ski Accidents, Slip and Fall Injuries, and more. Licensed in Alabama and Florida.
Sources:
https://www.nsc.org/work-safety/safety-topics/slips-trips-and-falls
https://onsafety.cpsc.gov/blog/category/safety-blogs/