At least six children have been crushed to death by toppling Ikea chests, prompting the voluntary recall of about 29 million chests and dressers sold by the popular retailer, the Consumer Product Safety Commission says. Pensacola product Liability Lawyer, Joe Zarzaur explains the products recalled include dressers from Ikea's lower-cost Malm line, which has been plagued with consumer reports regarding injuries and deaths.
Ikea and the CPSC told ABC that at least 36 children have been injured by Ikea chests and dressers, which are prone to tip over when they aren't anchored to the wall. The deaths — all children under the age of 4 — date back to 1989 and are as recent as this February, the CPSC said.
The company is offering a refund or repair kit for affected dressers, including the MALM and other styles, the CPSC said. Further details were not immediately available. Furniture manufactured between 2002 and 2016 will entitle customers to a full refund; consumers can receive a partial store credit for items manufactured before 2002.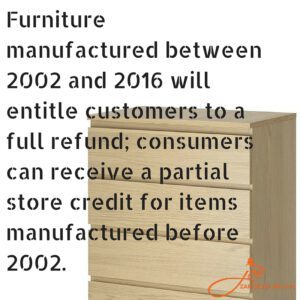 Upon request, the company will send a crew to install the wall anchor for customers who don't want to do it themselves, the CPSC said. In the meantime, the CPSC is encouraging consumers to store the dresser where children won't have access to it. At least four of the deaths were the result of unanchored chests.
In a statement regarding the voluntary recall, Ikea said that "a child in the US dies every two weeks from furniture, appliances, or TVs tipping over," stressing that it instituted a repair kit program last year "to communicate the importance of wall attachment, which resulted in the distribution of 300,000 kits to consumers who had not used their original hardware."
Joe Zarzaur, founder of Zarzaur Law and Pensacola product liability lawyer, has created this  blog in an effort to educate the many citizens and visitors of Pensacola, Florida about their legal rights. Board Certified Lawyer Joe Zarzaur knows the ins and outs of Florida law, and offers friendly-quality legal help whether you have experienced a product malfunction, auto accident/car wreck, have been a victim of medical malpractice or are in need of a personal injury lawyer.
"Since then, we have been in close contact with the CPSC to evaluate the success of the repair program and the impact it is having on consumers' actions. We are announcing this recall today given the recent tragic death of a third child," the statement said, referring to the number of children killed by MALM dressers. Three other children have been killed by other-style IKEA chests.
"It is clear that there are still unsecured products in customers' homes, and we believe that taking further action is the right thing to do," Ikea continued in the statement. "We will continue to work collaboratively with the CPSC on tip-over prevention, development of the ASTM standard, and innovations that will enhance product safety and further reduce the risk of tip-overs."

Some childhood injuries – bumps, cuts, and bruises – are a part of growing up. But if your child was hurt, you deserve answers. In cases of a serious accident resulting in substantial medical care or lasting impairment, you may need a Pensacola product liability lawyer or child accident lawyer to help get the financial compensation your family needs.
Zarzaur Law Firm can investigate the accident that caused your child's injury. If it was a preventable accident, we can help you see to it that the responsible party is held liable under Florida personal injury or wrongful death laws. We can help you deal with the financial consequences of your child's accident and provide further compassion and support as you deal with the emotional aspects of your child's case.