PENSACOLA, Fla. (Mar. 6, 2019) — Zarzaur Law, P.A., a personal injury law firm based out of Pensacola, Florida, in partnership with local artists Veronique Zayas and Somi Choi, will begin the painting of the new mural that is a part of the "Call for a Wall" project. Zayas and Choi sent out a "Call for a Wall" in hopes of collaborating with a local Downtown Pensacola business that had an outside wall that could provide the canvas for this mural. Zarzaur Law offered up the North facing wall on the outside of its building at 100 South Palafox, located at the corner of Romana and Palafox Streets in Downtown Pensacola.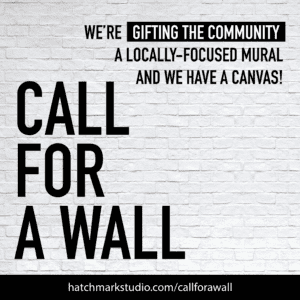 Watch the video of the announcement of the project from 2018.
Painting of this mural on The Zarzaur Building will commence on Friday, March 15, at 9:30pm at the conclusion of Zarzaur Law's "Legal Graffiti" fundraiser during the March Gallery Night event. The artists will be painting throughout the weekend with the final mural ready for photos, selfies and documentation on Monday, March 18.
"Anything that will help Pensacola is always something the firm wants to be a part of, and the fact that it involves beautiful art is a great bonus." said Joe Zarzaur, owner and partner at Zarzaur Law, P.A.
Veronique Zayas of HatchMark Studio, Somi Choi of idgroup and Zarzaur Law, P.A. wanted to contribute to the growing excitement around murals and public art in the Pensacola community.  Veronique Zayas and Somi Choi are the artists and idea generators.
"Imagine driving down Palafox and being greeted with a large-scale, bold and bright Pensacola-focused saying," said Veronique Zayas, "Something that is shared repeatedly across Instagram and other social channels – that local residents and tourists can snap a shot in front of."
This locally focused mural will be a positive "point of interest" and a destination within Downtown Pensacola for both visitors and locals alike. It is planned to be on display for up to 12 months.