The trucking industry in the US is consistently on the rise, even though newer and faster means of transport are being invented by the day. Truck transport is considered to be one of the most suitable ways to get goods across the United States, with about 70% of all products actually reaching their destination via a type of truck.
Regardless, this industry has gained great notoriety over the years, especially in the last couple of decades; with a plethora of careless drivers of such large trucks, accidents are bound to happen. In fact, it is estimated that by 2030 it will become the fifth largest cause of death in the USA.
People Hurt by Big Trucks.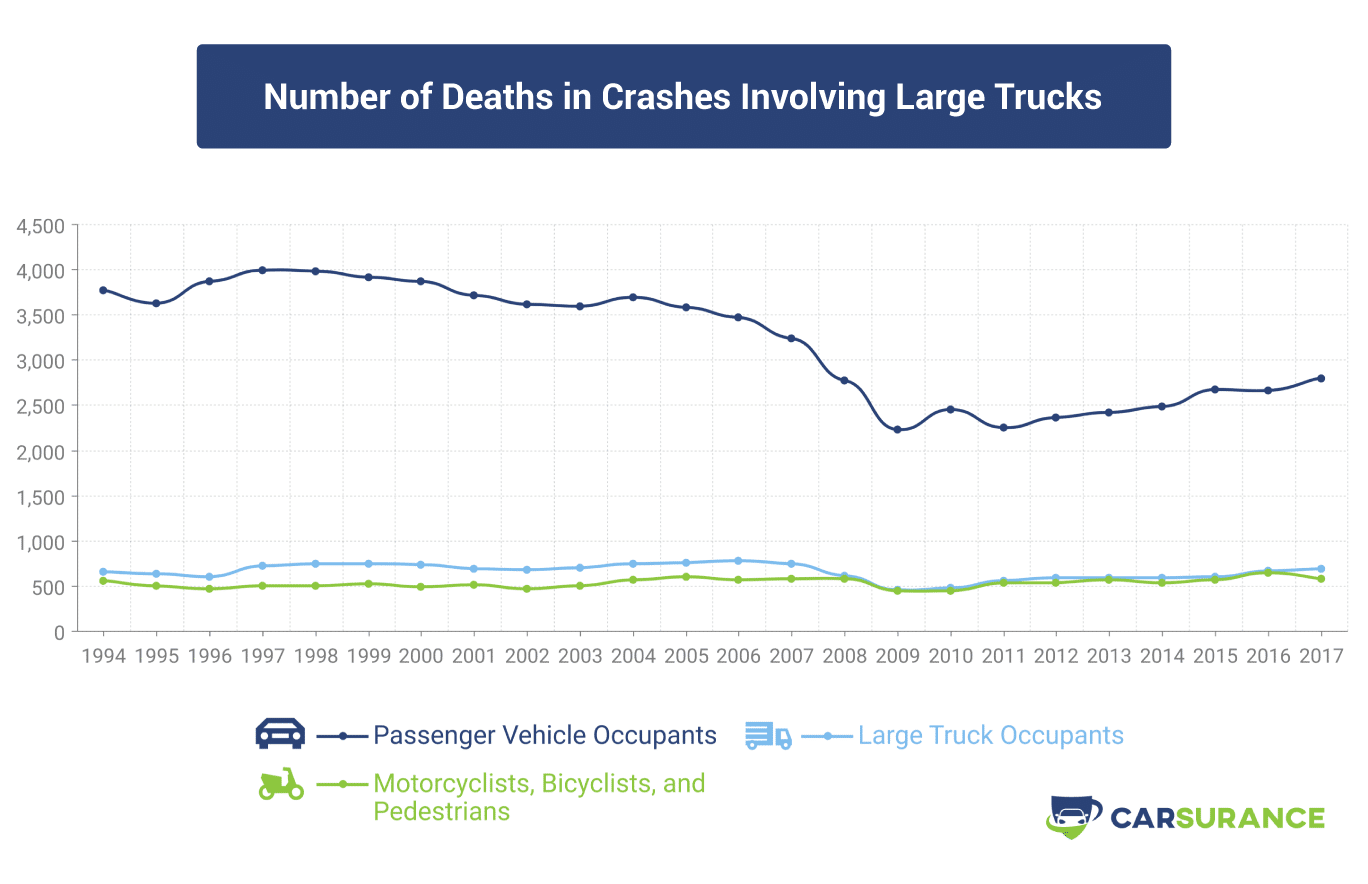 How is it Different from Car Crash?
Weight – Big rigs weigh thousands of pounds more than a car and provide bigger bang and impact upon collision.
Five Must-Know Facts About Truck Accidents.
– A 52% increase in these accidents has been noted since 2009.
– 74% of all fatal passenger vehicle cases include a large truck.
– Tire defects account for around 30% (the most common cause) of all truck-related accidents.
– Most of these accidents occur during the day — between noon and 3 PM, up to 19%.
– 68% of all truck fatalities are passenger vehicle occupants.
To put these trends better into perspective, an FMCSA study has showcased that the number of truck crashes leading to fatalities has increased by 40% between 2009 and 2017.
Because of this statistic, local government bodies in the United States have once again begun working on policies meant to help curb these rates. Currently, it is too early to determine whether the efforts are positively influencing the incidence of big truck crashes.
Source: FMCSA
How is Handling Big Truck Cases Different from Car Accident Cases?
1. The amount of loss. There is a separate legal framework for trucks (Federal Motor Carrier Safety Act) which outlines procedures for drivers and owners of big rigs. In the state of Florida, drivers must have a commercial motor vehicle license to drive big rigs.
2. Sophistication of equipment. DVR cameras, satellites which tracks the speed and movement of the rig, Where driver is going and has been. Getting the data downloaded in truck crash case is extremely helpful and it is important to hire lawyer from day one. Truck accidents have very complex and extensive data. The lawyer will let the trucking company know via a preservation letter and request the full list of data. This data is legally needed in case or potential case. Don't let the trucking company recored over it.
3. If you are in an accident that involves a big truck, it is important to hire an lawyer with experience in big truck cases.
4. No matter what kind of vehicle accident occurs – make sure to follow the car wreck checklist >
Trends also indicate an increase in the prevalence of wrecks trucks and related accidents within the past few years. These accidents are bound to happen in the future as well, but smarter policies and verification mechanisms have the potential of drastically reducing occurrence rates.
Joe Zarzaur is a Board Certified Civil Trial Attorney whose firm is dedicated to promoting community safety since 2007. OUR AREAS OF PRACTICE: Serious Personal Injury, Product Defect, Auto Accidents, Cycling Accidents, Motor Vehicle Accidents, Products Liability, Wrongful Death, Community Safety, Boat and Jet Ski Accidents, Slip and Fall Injuries, and more. Licensed in Alabama and Florida.
If you or a loved one has been involved in an accident, it is important to consult with a Board Certified Trial lawyer who has the knowledge and experience to help you. We know accidents can be stressful and want to make the process as easy as possible for you. Call Zarzaur Law, P.A. today at (855) Hire-Joe for a free legal consultation or visit www.zarzaurlaw.com.
Sources:
https://policyadvice.net/car-insurance/insights/truck-accident-statistics/
https://www-fars.nhtsa.dot.gov/Main/index.aspx
https://www.fmcsa.dot.gov/safety/data-and-statistics/large-truck-and-bus-crash-facts-2017