When lawyers talk about "impaired drivers," usually they are referring to drivers who are under the influence of alcohol or other drugs. Everyone knows that these substances can have a drastic effect on one's ability to drive and react to other drivers. What a lot of people don't understand is that a good night's sleep is just as important to your driving abilities as staying sober.
---
SLEEPY DRIVER CAUSE NEARLY 100,000 CRASHES PER YEAR, WITH 70,000 RESULTING IN INJURIES AND 1,500 INVOLVING FATALITIES.
---
A "sleepy driver" is not just someone who stayed up until 3:00am and got up at 6:00am—getting even less than six hours of sleep doubles your risk of causing a serious car crash. People who sleep less than four hours are a staggering 15 times more likely to cause a car crash.
---
STUDIES SHOW THAT MISSING SLEEP COMPLETELY IMPAIRS A DRIVER THE SAME AMOUNT AS IF THEY HAD A BLOOD ALCOHOL CONTENT OF .10%.
---
Experts estimate that over one third of Americans sleep less than the recommended seven hours per night. Polls find that the vast majority of Americans admit to driving drowsy in the past year. Even more terrifying, 1 in every 25 Americans report falling asleep behind the wheel in the past year.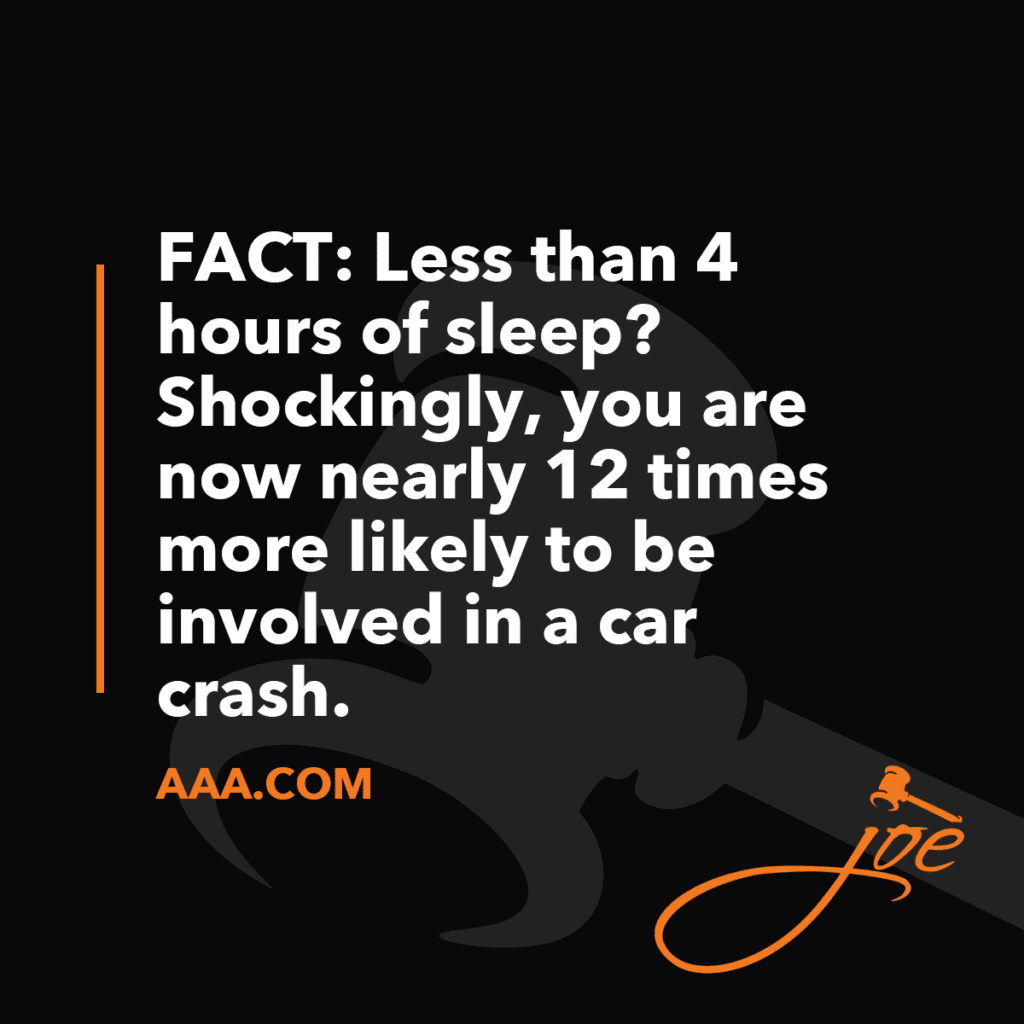 Sometimes, lawyers focus only on the crash and the minutes leading up to it. However, it is clear that lack of sleep can be an important factor in determining liability for a car crash. If you are involved in a car wreck, it is important that you hire a lawyer who understands that drugs and alcohol are not the only things that can make a driver impaired.
The Centers for Disease Control and Prevention says that a staggering 35% of U.S. drivers sleep less than the recommended seven hours daily.
If you or someone you know has been injured in a crash caused by a drowsy driver, the first thing you should do is call an experienced personal injury lawyer. While there are many personal injury lawyers, not all of them have equal training and qualifications. The Florida Bar does not typically allow lawyers to call themselves "experts" in a particular field. However, the Bar does allow some lawyers who have extensive experience in personal injury to take a test to become Board Certified Civil Trial Specialists. Although only 1% of Florida lawyers are board-certified in a civil trial, two out of the three lawyers at Zarzaur Law hold this certification.
Since all personal injury lawyers have the same "no cost no fee unless you win" payout structure, there is no reason not to hire someone who is not a specialist.
Joe Zarzaur is a Board Certified Civil Trial Attorney whose firm is dedicated to promoting community safety since 2007. ZARZAUR LAW'S AREAS OF PRACTICE: Serious Personal Injury, Product Defect, Auto Accidents, Cycling Accidents, Motor Vehicle Accidents, Products Liability, Wrongful Death, Community Safety, Boat and Jet Ski Accidents, Slip and Fall Injuries, and more. Licensed in Alabama and Florida.
If you've been the victim of an accident due to a driver who was sleepy or fell asleep at the wheel, it's important that you don't make any rash decisions. Put yourself in the best possible position to receive the justice you deserve. It is also important to consult with a Board Certified Trial lawyer who has the knowledge and experience to help you. We know accidents can be stressful and want to make the process as easy as possible for you. Call Zarzaur Law, P.A. today at (855) Hire-Joe for a free legal consultation or visit www.zarzaurlaw.com.
Sources:
https://www.sciencedaily.com/releases/2018/09/180918082041.htm
https://www.nhtsa.gov/risky-driving/drowsy-driving
https://www.sleepfoundation.org/drowsy-driving
https://academic.oup.com/sleep/article/41/10/zsy144/5067408
https://www.webmd.com/sleep-disorders/news/20181107/sleepy-drivers-involved-in-100000-crashes-a-year
https://newsroom.aaa.com/2016/12/missing-1-2-hours-sleep-doubles-crash-risk/