Legal Graffiti Fundraiser For Emerald Coast Legal Aid

LEGAL GRAFFITI is back once again on Friday, May 20 from 5:00 to 9:00 p.m. during Gallery Night Pensacola. This month we will be raising awareness and money for Emerald Coast Legal Aid!
Come join us and enjoy FREE games, activities, music, and more at Legal Graffiti… And just remember, the more you donate to spray paint, the more we can match dollar for dollar and give to Emerald Coast Legal Aid!
About Emerald Coast Legal Aid
Emerald Coast Legal Aid is a 501(c)(3) non-profit organization based in Pensacola, FL. that offers a wide range of FREE legal services for those in our community that cannot afford attorneys.
Services by local legal professionals that are a part of this non-profit law firm include:
Domestic Violence
Family Law
Foreclosure Help
Elder Law
About Zarzaur Law's "Legal Graffiti" Fundraiser Events
"Legal Graffiti" is an event hosted at Zarzaur Law during each Gallery Night in downtown Pensacola. "Legal Graffiti" is an opportunity for anyone to make a donation and then create artwork on the (recycled billboard vinyl-covered) side of the Zarzaur Law office building using spray paint. The event raises money for non-profits & charities within the area. Donations are matched by the firm and given to the charity of choice. In the past six years of hosting the "Legal Graffiti" event, the firm has donated more than $100,000 to local charities. We are proud and honored to continue to give back to the community where we live, work and play.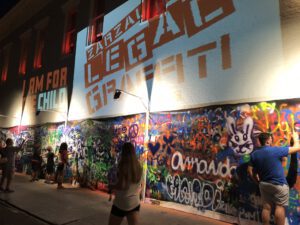 Our "Legal Graffiti" fundraiser recipients include:
Favor House
Gulf Coast Kid's House
ARC Gateway
The Birthday Party
Project Mentee
American Cancer Society
Big Brothers Big Sisters of NWF
Manna Food Pantries
Pathways for Change
Studer Family Children's Hospital at Sacred Heart
Autism Pensacola
Rally Pensacola
Guardian ad Litem
Opening Doors NWFL
Alzheimer's Association
United Way, Escambia County
It is also important to consult with a Board Certified Trial lawyer who has the knowledge and experience to help you. We know accidents can be stressful and want to make the process as easy as possible for you. Call Zarzaur Law, P.A. today at (855) Hire-Joe for a free legal consultation or visit www.zarzaurlaw.com.