Zarzaur Law's "Legal Graffiti" event raises record amount.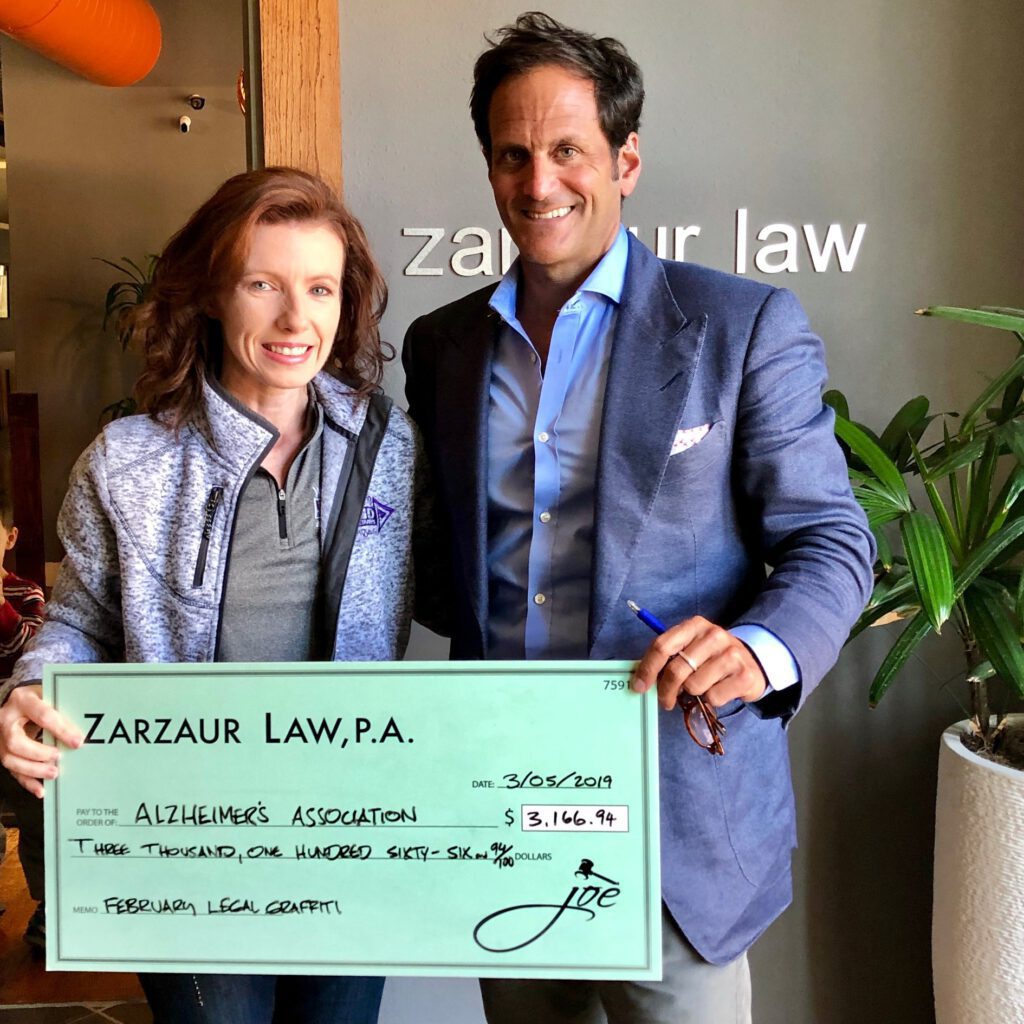 Zarzaur Law's monthly "Legal Graffiti" event raised a record amount in the month of February for Alzheimers Association of Northwest Florida.
A new record for a very worthy cause!
"We are so honored to be able to give back so generously every month to non-profits who do so much for our community – and in February we reached a new record because of YOUR donations, Pensacola. Thank you. Together, we are making a difference in our wonderful city!" said Joe Zarzaur.
The March event also raised the highest amount the firm has given to Gulf Coast Kid's House to date.
Join us Friday, April 19 from 5:00pm to 9:00pm for our Legal-Graffiti fundraiser event during Gallery Night Pensacola, benefitting Autism Pensacola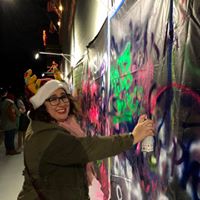 Each and every month Zarzaur Law, P.A. is proud to raise money for hard-working charities who do so much for our community! Make plans to join us, donate and support Autism Pensacola on April 19.
This family friendly event, during each Gallery Night on the third Friday of the month, includes games, music and of course….spray paint!
About Autism Pensacola
Autism Pensacola is a Florida 501(c)3 non-profit organization serving the families of Escambia and Santa Rosa counties. Since 2002, we've served individuals and families affected by autism as the leading connector and resource for autism support, advocacy, education and networking opportunities in the Pensacola Bay Area.
Through active engagement with our community, Autism Pensacola aims to:
• Educate the general public about autism
• Serve as a support group and network for parents and professionals
• Provide information to parents and professionals regarding the diagnosis, education and treatment of persons with autism
• Advocate for, and obtain, better services for the citizens of the Pensacola area who are affected by autism
• Provide social opportunities for people with autism through camps, activities and enriching programs
Learn more at autismpensacola.org or call 850-434-7171
About Legal Graffiti
"Legal Graffiti" is an event hosted at Zarzaur Law during each Gallery Night in downtown Pensacola. "Legal Graffiti" is an opportunity for anyone to make a donation and then create artwork on the recycled billboard vinyl covered side of the Zarzaur Law office building using spray paint. The event raises money for non-profits & charities within the area. Donations are matched by the firm and given to the charity of choice. Recipients include ARC Gateway, American Cancer Society, Big Brothers Big Sisters of NWFL, Manna Food Pantries, Pathways for Change, Autism Pensacola, Emerald Coast Legal Aid, Guardian Ad Litem, Favor House, Favor House and Gulfcoast Kid's House just to name a few.
In the past six years of hosting the "Legal Graffiti" event, the firm has donated more than $100,000 to local charities.