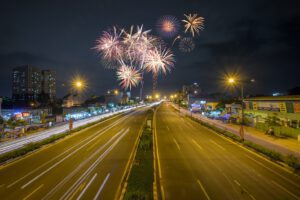 An analysis by the Insurance Institute for Highway Safety has found that July 4 has been the deadliest day on the road in recent years.
The institute looked at accident statistics from 2004 to 2008 and found that on average, 148 people died in motor vehicle crashes on July 4, more than on any other day.
A typical day has an average of 114 traffic deaths.
July 4 was followed by Aug. 13 and July 15 (both averaging 143 fatalities) and New Year's Day (140 traffic deaths).
So why is July 4 so deadly?
The Insurance Institute suggests that more people are on the road, driving longer distances. Alcohol plays a role too. Independence Day has the second highest rate of alcohol-related crashes — 41 percent — eclipsed only by New Year's Day at 49 percent.
On a typical day, 31 percent of traffic deaths are alcohol related.
This year it was a particularly busy one on the roads.
AAA is projected that the number of Americans traveling last weekend would increase 17.1 percent from 2015, with approximately 34.9 million people taking a trip at least 50 miles away from home.
Like most other holidays, the vast majority of people — 90 percent — are expected to travel by car. The average price of a gallon of regular unleaded gas is $2.76, according to the Energy Information Administration. That's up 12 cents from the same time last year.
AAA expects it will come to the aid of 520,000 stranded motorists during the holiday weekend. Batteries can be especially affected by heat. AAA anticipates it will replace 30,000 auto batteries on the roadside, and jump start an additional 60,000 during the holiday weekend.
The average distance traveled by Americans this Fourth of July weekend is forecast to be approximately the same as last year, 617 miles. This year's spending is expected to be $644, down $50 from last year.
But let's face it. The real hassle for most highway travelers is traffic.
IBM recently released a "Commuter Pain Study" that found 65 percent of drivers said traffic causes them health problems, such as stress, anger and reduced sleep.
Their top frustrations? Stop-start traffic (42 percent), rude and aggressive drivers (32 percent) and unreliable journey time (26 percent). The 8,192 motorists in 20 cities around the globe said that driving at low speeds was less of a frustration than was stop-start traffic.
I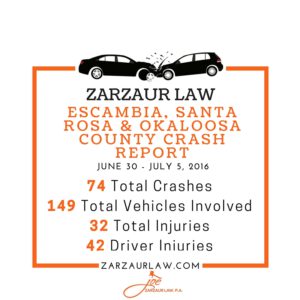 f you got into an accident this past holiday weekend – call Joe Zarzaur, an expert at accidents involving Florida Drivers.
Pensacola Personal Injury Lawyer, Joe Zarzaur, founder of Zarzaur Law has created this blog in an effort to educate the many citizens and visitors of Pensacola, Florida about their legal rights. Joe Zarzaur knows the ins and outs of Florida law, and offers friendly-quality legal help whether you have experienced an auto accident/car wreck, have been a victim of medical malpractice or are in need of a personal injury lawyer.