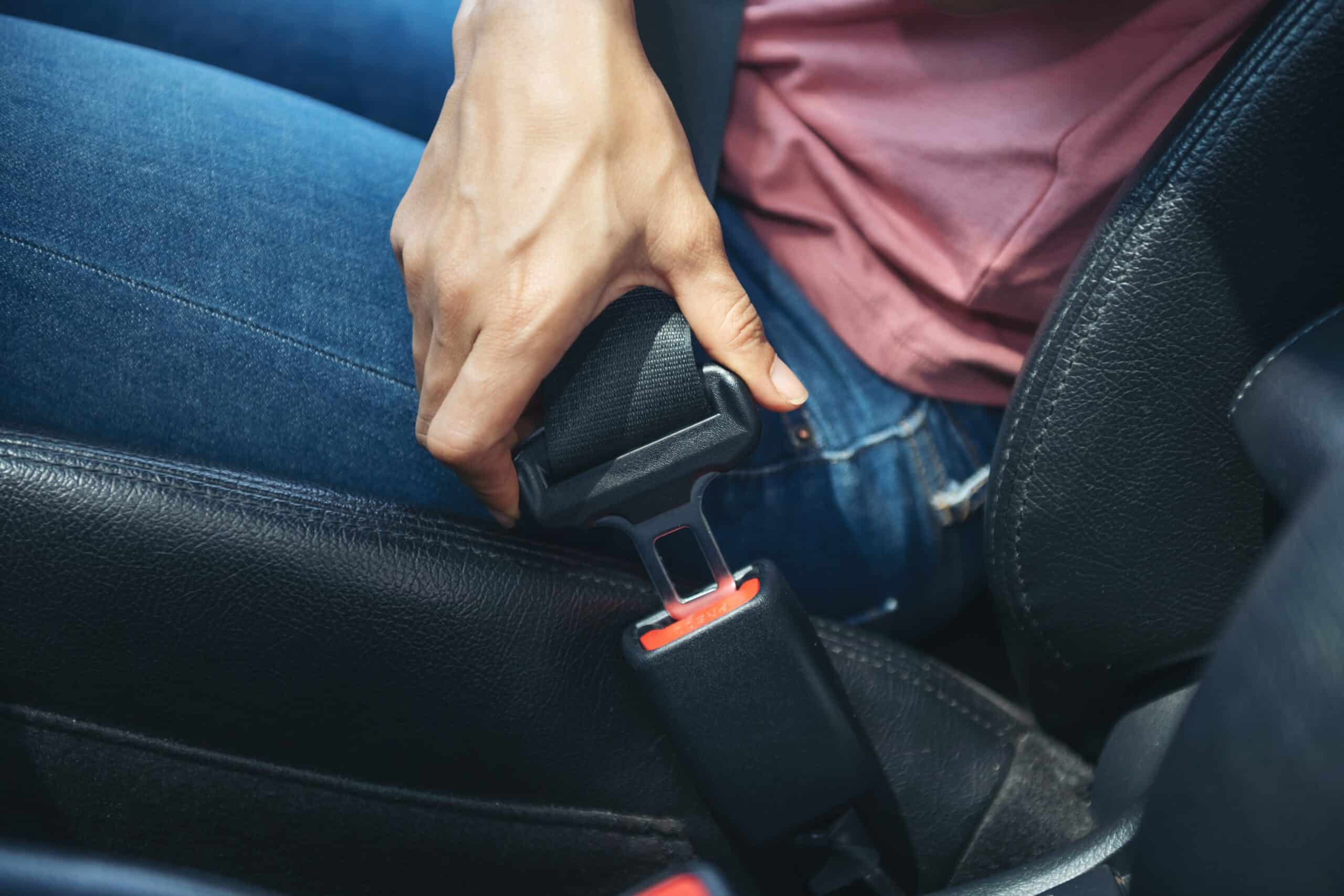 Nearly half of all vehicle passengers killed on U.S. roads in 2021 were not wearing a seat belt—the highest number in 10 years, according to the National Highway Traffic Safety Administration (NHTSA)
In 2021, 26,325 passenger vehicle occupants were killed.
About 50% of those killed were not buckled (based on known seat belt use).
Seat belts saved an estimated 14,955 lives and could have saved an additional 2,549 people if they had been wearing seat belts, in 2017 alone.
Failure to Wear A Seatbelt Can Effect Your Settlement Amount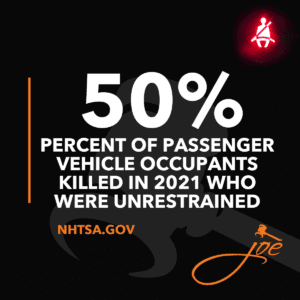 Even if the wreck you experience is not your fault, your failure to wear a seat belt can still greatly harm your case. Under Florida law, a person's failure to wear their seatbelt is evidence of their negligence. At trial, a defendant accused of automobile negligence is entitled to argue to the jury that the plaintiff was also negligent. This idea is called "comparative negligence." Essentially, the defendant admits that they were somewhat at fault, but argues that the plaintiff contributed to their own injuries.
The practical effect of the comparative negligence doctrine is that the jury will be able to assign percentages of fault when they come up with a verdict.
Failure to wear a seatbelt is by far one of the most common ways that a defendant tries to raise comparative negligence. By the same token, wearing a seatbelt is one of the easiest ways to prevent serious injuries. It takes little to no time, and the protective benefits far outweigh any discomfort or time wasted. It is a completely unforced error to subject yourself to potentially no recovery on your car wreck case based on your failure to wear a seatbelt.
Modified Comparative Negligence
Car accident victims are awarded proportional damages unless the patient is found to be more than half responsible for the injury.
HB 837 transitions Florida from a pure comparative negligence system to a modified comparative negligence system. Read The Bill – https://www.flsenate.gov/Session/Bill/2023/837
Modified Comparative Negligence in Florida
On March 24, 2023, Florida Governor Ron DeSantis signed into law one of the most significant tort reform bills in Florida history, HB 837.  This new law makes sweeping changes to long-standing Florida civil tort law in numerous areas related to negligence, insurance bad faith and related rules of evidence, among others
Modified Comparative Negligence: Plaintiff will not recover if they're found to be either equally responsible or more responsible for the resulting injury. In other words, in order to recover damages, the plaintiff must not be more than 50% at fault for the resulting injury.
DAMAGES APPORTIONMENT. Fla. Stat. § 786.81.
Florida's damages apportionment standard changes from a pure comparative negligence system to a modified comparative negligence system. Parties to negligence actions (but not in actions for damages for personal injury or wrongful death arising out of medical negligence) found to be more than 50% at fault for their harm do not recover damages. For example, in an accident causing a plaintiff $100,000 in damages:
If the defendant is fully at fault, the plaintiff recovers all $100,000.
If the defendant is 51% at fault and the plaintiff is 49% at fault, the plaintiff recovers 51% of his damages— $51,000.
If the defendant and plaintiff are each 50% at fault, the plaintiff recovers 50% of his damages— $50,000.
If the plaintiff is more than 50% at fault, the plaintiff does not recover damages.
STATUTE OF LIMITATIONS. Fla. Stat. § 95.11 (4)(a).
The statute of limitations for negligence actions is two years (reduced from four years). Note that this reduced statute of limitations applies to actions accruing after the effective date of this act.
The consequences of not wearing, or improperly wearing, a seat belt are clear:
TRAFFIC SAFETY FACTS
1. Buckling up helps keep you safe and secure inside your vehicle, whereas not buckling up can result in being totally ejected from the vehicle in a crash, which is almost always deadly.
2. Air bags are not enough to protect you; in fact, the force of an air bag can seriously injure or even kill you if you're not buckled up.
3. Improperly wearing a seat belt, such as putting the strap below your arm, puts you and your children at risk in a crash.
The benefits of buckling up are equally clear:
If you buckle up in the front seat of a passenger car, you can reduce your risk of:
Fatal injury by 45% (Kahane, 2015)
Moderate to critical injury by 50%
If you buckle up in a light truck, you can reduce your risk of:
Fatal injury by 60% (Kahane, 2015)
Moderate to critical injury by 65% (NHTSA, 1984
The Top 5 Things You Should Know About Buckling Up 
1. Buckling up is the single most effective thing you can do to protect yourself in a crash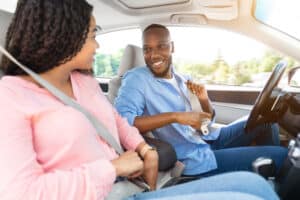 Seat belts are the best defense against impaired, aggressive, and distracted drivers. Being buckled up during a crash helps keep you safe and secure inside your vehicle; being completely ejected from a vehicle is almost always deadly.
2. Air bags are designed to work with seat belts, not replace them 
If you don't wear your seat belt, you could be thrown into a rapidly opening frontal air bag. Such force could injure or even kill you. Learn about air bag safety.
3. Guidelines to buckle up safely
The lap belt and shoulder belt are secured across the pelvis and rib cage, which are better able to withstand crash forces than other parts of your body.
Place the shoulder belt across the middle of your chest and away from your neck.
The lap belt rests across your hips, not your stomach.
NEVER put the shoulder belt behind your back or under an arm.
4. Fit matters
Before you buy a new car, check to see that its seat belts are a good fit for you.
Ask your dealer about seat belt adjusters, which can help you get the best fit.
If you need a roomier belt, contact your vehicle manufacturer to obtain seat belt extenders.
If you drive an older or classic car with lap belts only, check with your vehicle manufacturer about how to retrofit your car with today's safer lap/shoulder belts.
5. Seat belt safety for children and pregnant women
Find out when your child is ready to use an adult seat belt and learn about seat belt safety when you're pregnant.
More seatbelt safety for tweens, teens and backseat passengers here > 
What Should You Do If You Are In A Florida Car Accident?
1. Call the police and file a report.
2. Swap information (including any insurance information they may have).
3. Gather details.
4. Take pictures/video
5. Gather the contact information of any witnesses.
6. Seek medical care immediately for any injuries, no matter how minor you think they might be.
GET MORE HELPFUL INFORMATION ON WHAT TO DO AFTER AN ACCIDENT HERE AT OUR "CAR WRECK CHECKLIST" >
While there are many personal injury lawyers, not all of them have equal training and qualifications. Lawyers are usually prohibited by the Florida Bar from calling themselves "experts" in a particular field. However, the Bar does allow some lawyers who have extensive experience and peer recognition in personal injury to take a test to become Board Certified Civil Trial Specialists. Although only 1% of Florida lawyers are board-certified in a civil trial, two out of the three lawyers at Zarzaur Law hold this certification.
Since all personal injury lawyers have the same "no cost no fee unless you win" payout structure, there is no reason not to hire someone who is not a specialist.
Joe Zarzaur is a Board Certified Civil Trial Attorney whose firm has been dedicated to promoting community safety since 2007. ZARZAUR LAW'S AREAS OF PRACTICE: Serious Personal Injury, Product Defect, Auto Accidents, Cycling Accidents, Motor Vehicle Accidents, Products Liability, Wrongful Death, Community Safety, Boat and Jet Ski Accidents, Slip and Fall Injuries, and more. Licensed in Alabama and Florida.
If you've been injured in a car accident, it's important that you don't make any rash decisions. Put yourself in the best possible position to receive the justice you deserve. It is also important to consult a Board-Certified Trial Lawyer with the knowledge and experience to help you. We know accidents can be stressful, and we want to make the process as easy as possible for you.
Call Zarzaur Law, P.A. today at (855) Hire-Joe for a free legal consultation or visit www.zarzaurlaw.com.
Sources:
https://www.flhsmv.gov/safety-center/vehicle-safety/buckle-up-florida-its-the-law/
https://www.nhtsa.gov/risky-driving/seat-belts#:~:text=Being%20buckled%20up%20during%20a,vehicle%20is%20almost%20always%20deadly.&text=If%20you%20don%27t%20wear,injure%20or%20even%20kill%20you.
https://abcnews.go.com/Politics/half-passengers-killed-2021-car-crashes-wearing-seatbelts/story?id=99368975