Relative speed and a distorted sense of safety are some of the reasons why golf cart accidents are on the rise. The emerging problem is attributed to the fact that golf carts are no longer used only on the golf course, but have become a means of transportation within gated and residential neighborhoods, hospitals, university campuses, malls, airports and more. Places like these usually concentrate a considerable number of people circulating on the perimeter of the facilities. Golf carts represent a desirable transportation for short distances because of their low levels of motor emissions and the cost advantages they represent when compared to a traditional car. Although the use of golf carts is regulated by state laws, there is no federal regulation that limits the operation of these vehicles.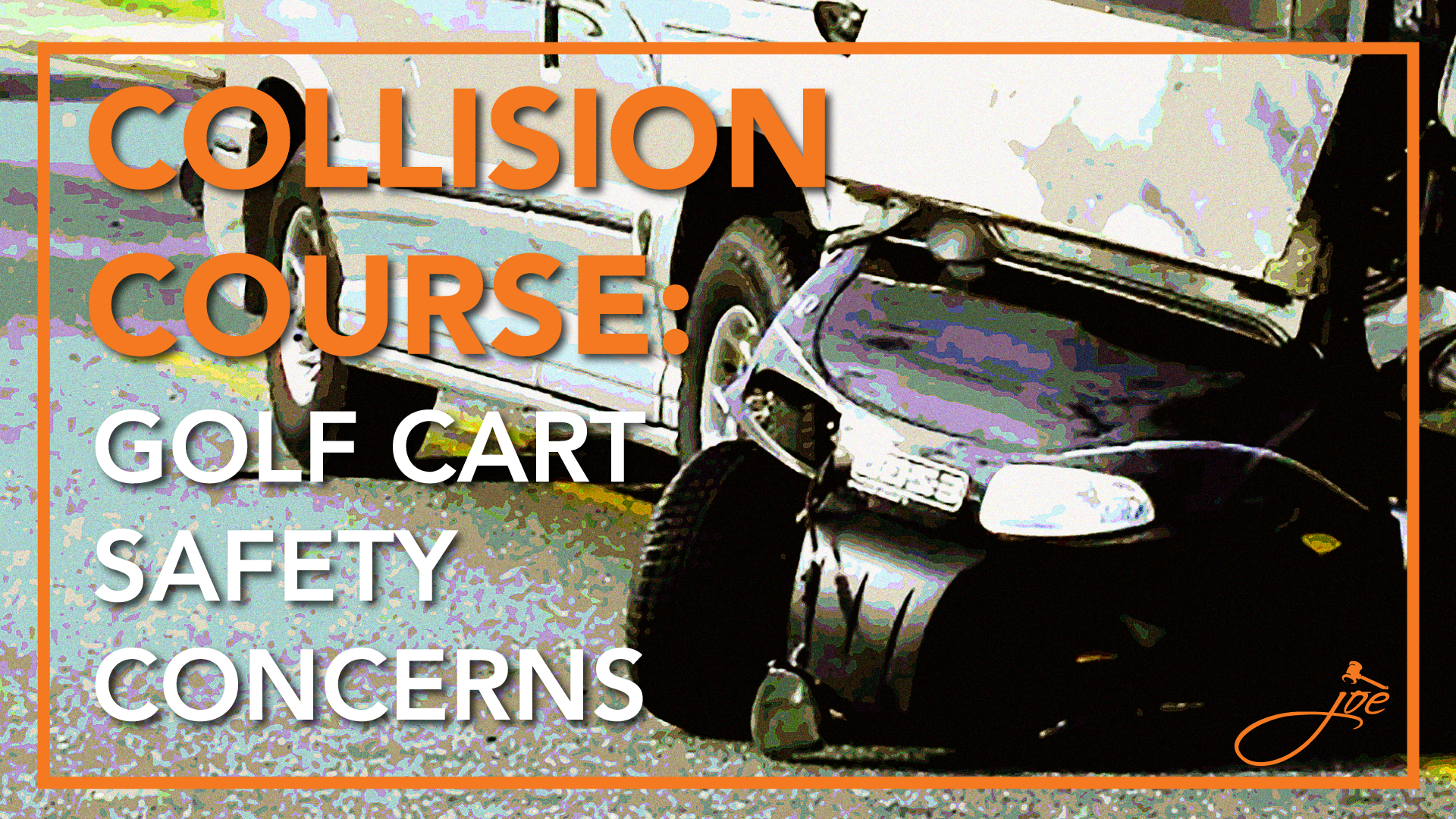 Accidents related to golf carts occur frequently in Florida, however there is no up-to-date statistics on the number of physical injuries and fatal losses caused by the use of these vehicles in the United States. A study published by the Journal of Trauma Injury, Infection and Critical Care in 2008 revealed that the age group with the highest incidence of golf cart accidents are adolescents within the 10 to 19 age range and adults over 80 years old. It is important to mention that Florida Statute 316.212 (7), prohibit the operation of a golf cart by individuals under 14 years old.
The study "Golf cart-related Injuries in the U.S." (Watson et al., 2008) revealed that almost half of the injuries related to golf carts were due to falling out of golf carts or due to overturns. Golf cart safety features have improved over the years, but they are still insufficient in preventing passenger injuries. Golf carts moving at speeds as low as 11 mph could quickly force a passenger out of the vehicle if not operated properly. The rear seats of a golf cart are mainly associated with high passenger ejection rates. Often, golf carts do not have four-wheel brakes, causing the driver to lose control of the vehicle.
Damages caused by golf carts go beyond falls and injuries. Florida news reports, monthly golf carts accidents caused by drivers under the influence of alcohol, collisions between golf carts and regular motor vehicles and even pedestrians being run over by golf carts has increased steadily over the years. Many of these accidents have resulted in fatal injuries and even death.
All drivers face risks, but effective risk prevention helps reduce accidents and injuries.
The following are safety measures you can take to prevent golf carts accidents:

• Drive the golf cart only along permitted roads.
• Lower the speed in every turn and avoid having to turn sharply.
• A golf cart can only be operated during the hours between sunrise and sunset.
• If you are going to drive a golf cart during the night, be sure that the cart is additionally equipped with headlights, directional lights and a windshield.
• Be sure the golf cart comes with efficient brakes, safe tires, a rearview mirror and red reflector warning devices on the front and rear.
• Ordinance restricts golf carts to a maximum speed of 15 miles per hour.
• Do not drink alcohol or ride in a golf cart with anyone who has been drinking alcohol while driving a golf cart
Who's at fault?
When it comes to golf carts accidents, determining who's at fault is more complicated. Remember that golf carts travel through golf courses, crossroads and places different from those on which a regular car travels. If you are dealing with a golf cart accident, check first that everyone involved is safe and call an ambulance if someone is injured. Remember to take pictures of the crash scene as well as collect witnesses data if any, and call the police.
Pensacola Personal Injury Attorney, Joe Zarzaur works in all areas of personal injury including golf cart accidents, motor vehicle accidents, truck accidents, pedestrian accidents, motorcycle and boating accidents, medical malpractice, slip and fall and wrongful death.
We know accidents are stressful and want to make the process as easy as possible for you. Call Zarzaur Law, P.A. today at (855) Hire-Joe for a free legal consultation. Offices in Pensacola and Destin.
Sources
McGwin, G., Zoghby, J. T., Griffin, R. & Rue, L. (2008) Incidence of golf cart-related injury in the United States. The Journal of TRAUMA Injury, Infection, and Critical Care 64 :1562–1566.
Watson, D. S., Mehan, T., Smith, G. & McKenzie, L. (2008) Golf cart-related Injuries in the U.S.. American Journal of Preventive Medicine 35(1) 55-59.
State Uniform Traffic Control, 2017 Fla. § 316.212.7 (2017) Retrieved from http://www.leg.state.fl.us/Statutes/index.cfm?App_mode=Display_Statute&URL=0300-0399/0316/Sections/0316.212.html
Mohn, T. (2017, March 4) The (Mostly) Safe Golf Cart. The New York Times. Retrieved from https://www.nytimes.com/2017/03/04/business/retirement/the-mostly-safe-golf-cart.html