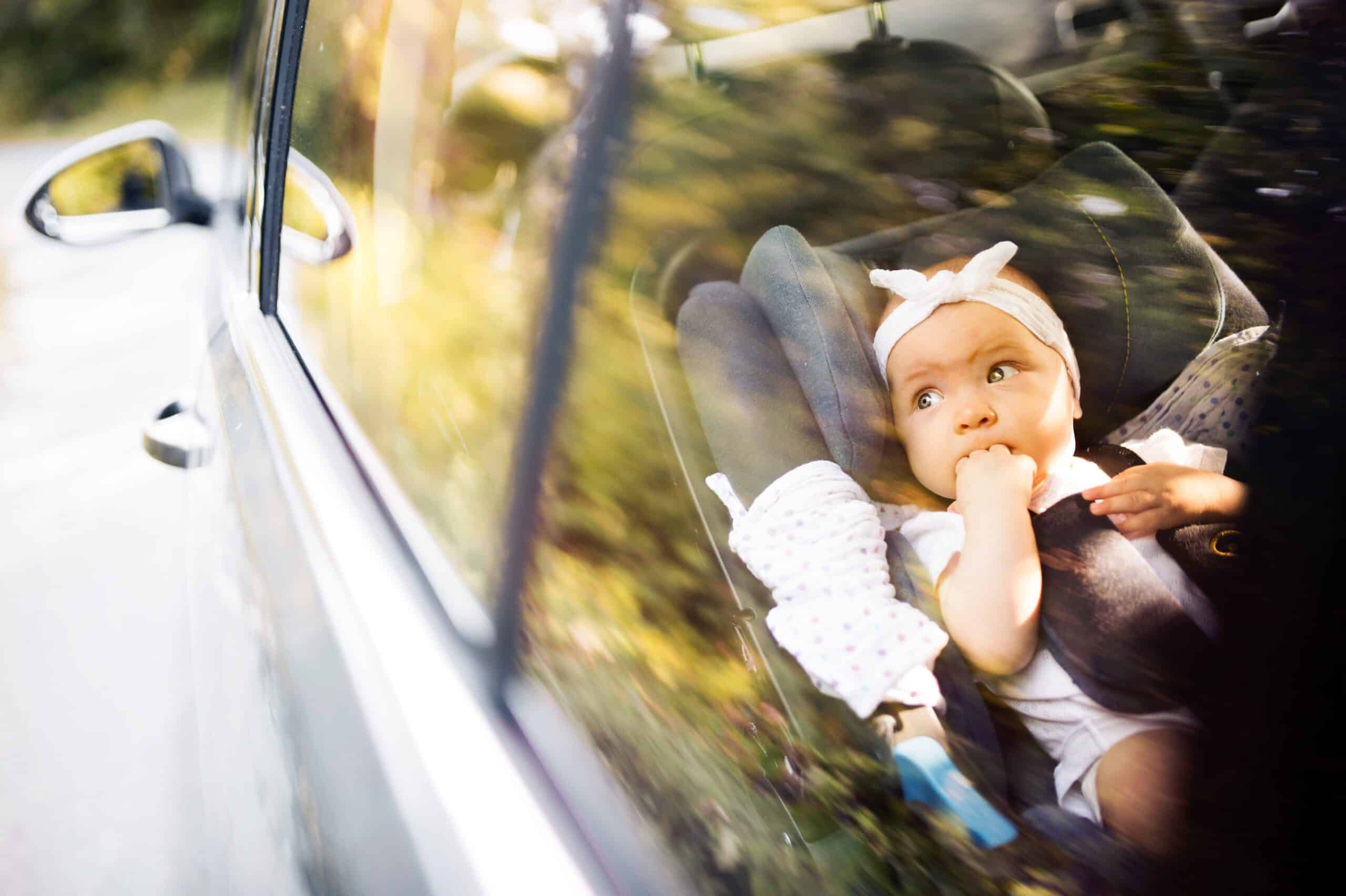 It's never safe to leave a child unattended in a vehicle. Even with the windows cracked or the vehicle parked in the shade, the interior temperatures within the car can reach dangerous levels in a short period of time.
Researchers at Arizona State University and the University of California at San Diego School of Medicine evaluated cabin air temperature and surface temperature in identical vehicles placed in the shade and the sun. Their study estimates that even in a shaded vehicle, a 2-year-old child's core temperature could reach a dangerous—and potentially deadly—104° F in a little less than 2 hours.
Florida totaled 96 hot car deaths among victims 14 years old or younger from 1998 to 2020, according to NoHeatStroke.org, a nonprofit organization that seeks to track every child hot-car death in America. Per capita, that's 27.37 hot car deaths per 1 million kids age 14 and younger, the statistics show.
Young children are at a heightened risk of dying of heat stroke, and not only due to their inability to escape a hot car. A child's body temperature rises three to five times faster than that of an adult, according to the National Highway Traffic Safety Administration (NHTSA). Heatstroke begins when the core body temperature reaches about 104 degrees, and children can die when it reaches 107.
The organization, Kids and Car Safety, reports an average of 38 hot car deaths per year — or one every nine days.
Understand The Facts
A child's body temperature rises three to five times faster than an adult's. When a child is left in a hot vehicle, that child's temperature can rise quickly — and they could die within minutes.
Heatstroke begins when the core body temperature reaches about 104 degrees.
A child can die when their body temperature reaches 107 degrees.
In 2021, 23 children died of vehicular heatstroke.
In 2018 and 2019, we saw a record number of hot car deaths —  53 children died each year — the most in at least 20 years, according to NoHeatstroke.org.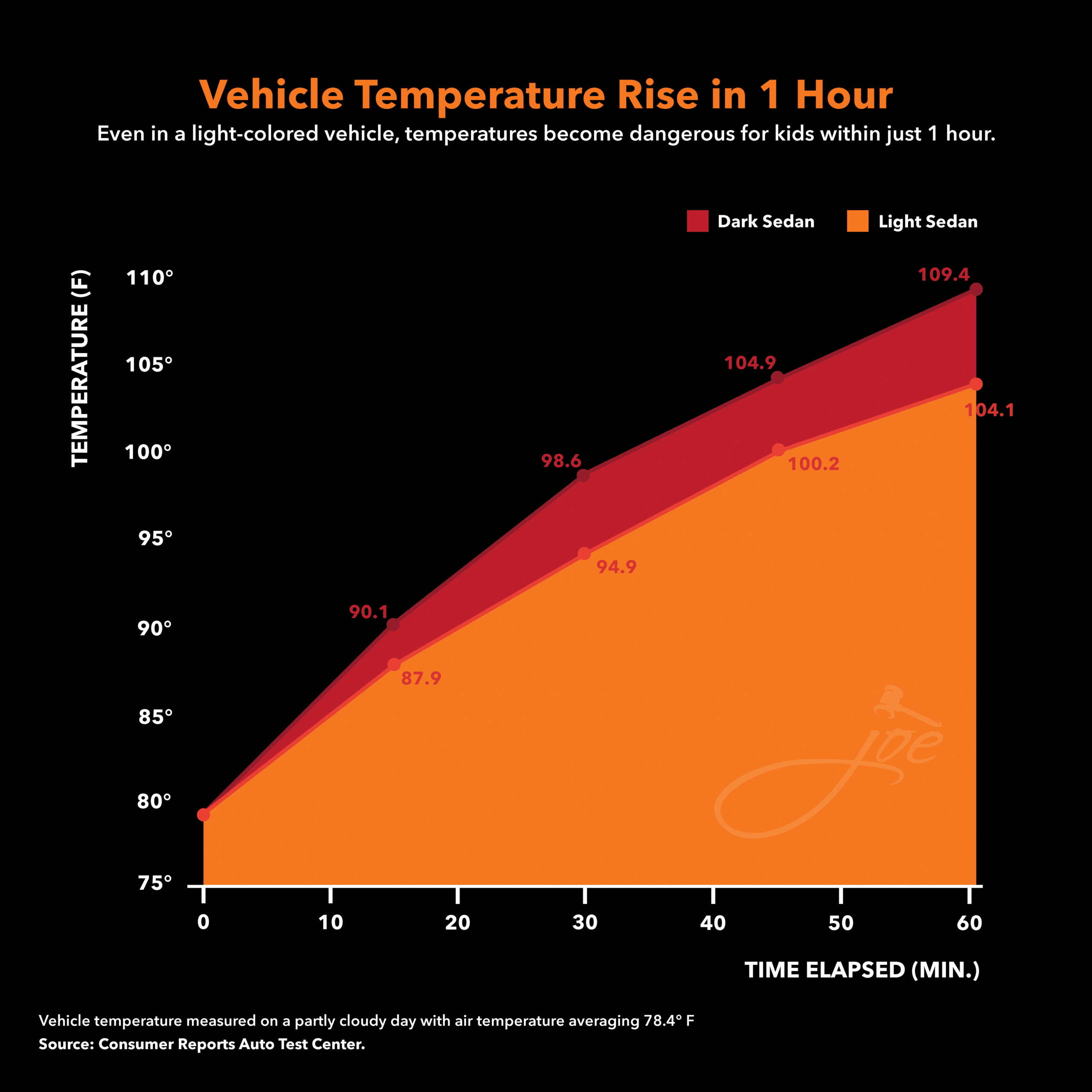 Causes Of Vehicular Heat Stroke
from NHTSA –
Most heatstroke cases stem from a caregiver forgetting about a child in the back seat.
Independent access by a child to a vehicle
A child is intentionally left in the car by a caregiver.
What Is Heatstroke?
The most severe form of heat illness is heatstroke. Heatstroke is a life-threatening medical emergency.
In heatstroke, the body cannot regulate its own temperature. Body temperature can rise to 106 °F (41.1 °C) or higher, causing brain damage or even death if not treated promptly. Quick medical care is needed to bring the body temperature under control.
Kids are at risk for heatstroke if they overdress or do intense physical activity in hot weather without drinking enough liquids.
Heatstroke can also happen when a child is left in, or gets trapped in, a car on a hot day. When the outside temperature is 93°F (33.9°C), the temperature inside a car can reach 125°F (51.7°C) in just 20 minutes, quickly raising body temperature to dangerous levels.
What Are The Symptoms Of Heatstroke?
Call for emergency medical help if your child has been out in extreme temperatures or another hot environment and shows one or more of these symptoms of heatstroke:
rapid breathing and heartbeat
temperature of 104°F (40°C) or higher
While waiting for help:
Get your child indoors or into the shade.
Undress your child and sponge or douse him or her with cool water.
Do not give fluids unless your child is awake, alert, and acting normally.
OPENING WINDOWS OR PARKING IN THE SHADE WILL NOT PREVENT HEAT STROKE.

Studies show that even cars parked in a shady area can generate dangerous interior heat.
Recent Child Hot Car Deaths In Florida 
July 2022: A 3-year-old boy has died after being left inside a hot car in a Florida school parking lot.
2021: A woman from Pensacola was sentenced to 25 years in a hot car in 2021 for the death of her 2-year-old child.(Aggravated manslaughter and child neglect)-child left in back of car in car seat
June 2020: Makia Wallace's 1-year-old son Jace died after he was left in a car for seven hours by a caregiver in Orange County, FL.
In 2021, a bill was signed to implement better safety features inside new vehicles in order to help prevent hot car-related deaths. (Kids and Car Safety)
What Should You Do If You See A Child Alone In A Car?
Make sure the child is responsive. If not, call 911 immediately.
If the child appears to be okay, attempt to locate the parents.
If the child appears to be in distress, attempt to get in the car, even if it means breaking a window.
Most states have "Good Samaritan" laws that protect people from lawsuits in attempts to rescue people.
Everyone Can Help Prevent Hot Car Deaths.
Parents and Caregivers
1. Never leave a child unattended in a vehicle, even if the windows are partially open, the engine is running, and the air conditioning is turned on.
2. Make it a habit to check the inside and outside of your vehicle before locking the door and walking away. Train yourself to Park, Look, Lock, or always ask yourself, "Where's Baby?"
3. Ask your childcare provider to call you if your child doesn't show up for care as expected.
4. Place a personal item like a purse or briefcase in the back seat, as another reminder to look before you lock it. Write a note or place a stuffed animal in the passenger's seat to remind you that a child is in the back seat.
5. Store car keys out of a child's reach and teach children that a vehicle is not a play area.
Links To Apps That Remind You Not To Leave A Child In The Back Of A Car.
https://www.safewise.com/car-seat-alarm/
https://www.kars4kids.org/safety-app/
https://www.noheatstroke.org
Joe Zarzaur is a Board Certified Civil Trial Attorney whose firm is dedicated to promoting community safety since 2007. ZARZAUR LAW'S AREAS OF PRACTICE: Serious Personal Injury, Product Defect, Auto Accidents, Cycling Accidents, Motor Vehicle Accidents, Products Liability, Wrongful Death, Community Safety, Boat and Jet Ski Accidents, Slip and Fall Injuries, and more. Licensed in Alabama and Florida.
If you or your family have been the victim of an accident it's important that you don't make any rash decisions. Put yourself in the best possible position to receive the justice you deserve. It is also important to consult with a Board Certified Trial lawyer who has the knowledge and experience to help you. We know accidents can be stressful and want to make the process as easy as possible for you. Call Zarzaur Law, P.A. today at (855) Hire-Joe, or by requesting a free case review through our website.
Offices in Pensacola, Destin, Miami, and Tallahassee.
Sources:
https://www.nhtsa.gov/campaign/heatstroke
https://weartv.com/news/local/death-investigation-after-66-year-old-man-dies-at-pensacola-developmental-center
https://www.cdc.gov/disasters/extremeheat/faq.html
https://www.emergencyphysicians.org/article/health–safety-tips/heat-stroke-and-hot-cars
https://www.consumerreports.org/car-safety/hot-car-fatalities-year-round-threat-to-children-pets-heat-stroke-a2015990109/
https://orange.floridahealth.gov/newsroom/2022/06/Heat-Stroke-Heat-Exhaustion.html
https://www.foxweather.com/learn/when-minutes-matter-children-experience-heatstroke-symptoms-in-a-hot-car-within-minutes
https://nypost.com/2022/06/17/devastating-statistics-reveal-the-high-rate-of-infant-deaths-in-hot-cars/
https://patch.com/florida/miami/hot-car-deaths-numbers-florida-how-prevent-the
https://www.foxweather.com/weather-news/florida-hot-car-death
https://www.nhtsa.gov/campaign/heatstroke
https://kidshealth.org/en/parents/heat.html