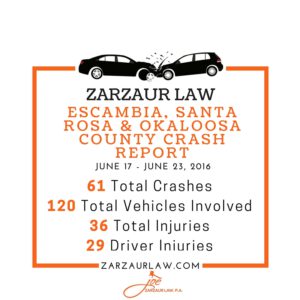 Florida drivers earned the designation of "the worst" drivers in the U.S., according to a recent study from CheapCarInsurance. Surprise.
The car insurance comparison site surveyed 2,000 drivers across the U.S. and ranked the four most populous states to figure out where the rudest and worst drivers dominate the roads.
Florida had the worst drivers, with 13.9 percent of respondents calling the drivers terrible and 38 percent calling drivers fairly bad. New York drivers were rated the best, with 51.3 percent of respondents calling drivers average.
Florida also earned the designation of one of the rudest, with 15.8 percent of respondents saying drivers were very rude and aggressive. New York drivers, although they were rated the best, were also deemed the rudest, with 15.7 percent of respondents saying drivers were very rude and aggressive and 37.4 percent saying drivers were fairly rude and aggressive.
So there it is, a barometer for driving in Florida. Bad and rude seem to go hand-in-hand, although it's not clear whether drivers are rude because it's tough out there on Sunshine State streets and highways, or whether drivers are just plain bad and impolite. Perhaps that's part of the reason car insurance in Florida is among the priciest in the nation.
If you happen to have a run in with a bad Florida Driver – call Joe Zarzaur, an expert at accidents involving Florida Drivers. Pensacola Personal Injury Lawyer, Joe Zarzaur, founder of Pensacola Law Firm: Zarzaur Law has created this blog in an effort to educate the many citizens and visitors of Pensacola, Florida about their legal rights. Joe Zarzaur knows the ins and outs of Florida law, and offers friendly-quality legal help whether you have experienced an auto accident/car wreck, have been a victim of medical malpractice or are in need of a personal injury lawyer.
Joe Zarzaur is a Board Certified Civil Trial Attorney whose firm is dedicated to promoting community safety since 2007. OUR AREAS OF PRACTICE: Serious Personal Injury, Product Defect, Auto Accidents, Cycling Accidents, Motor Vehicle Accidents, Products Liability, Wrongful Death, Community Safety, Boat and Jet Ski Accidents, Slip and Fall Injuries, and more. Licensed in Alabama and Florida.
If you or a loved one has been involved in a car accident and are suffering from delayed symptoms, it is important to consult with a Board Certified Trial lawyer who has the knowledge and experience to help you. We know accidents can be stressful and want to make the process as easy as possible for you. Call Zarzaur Law, P.A. today at (855) Hire-Joe for a free legal consultation or visit www.zarzaurlaw.com.