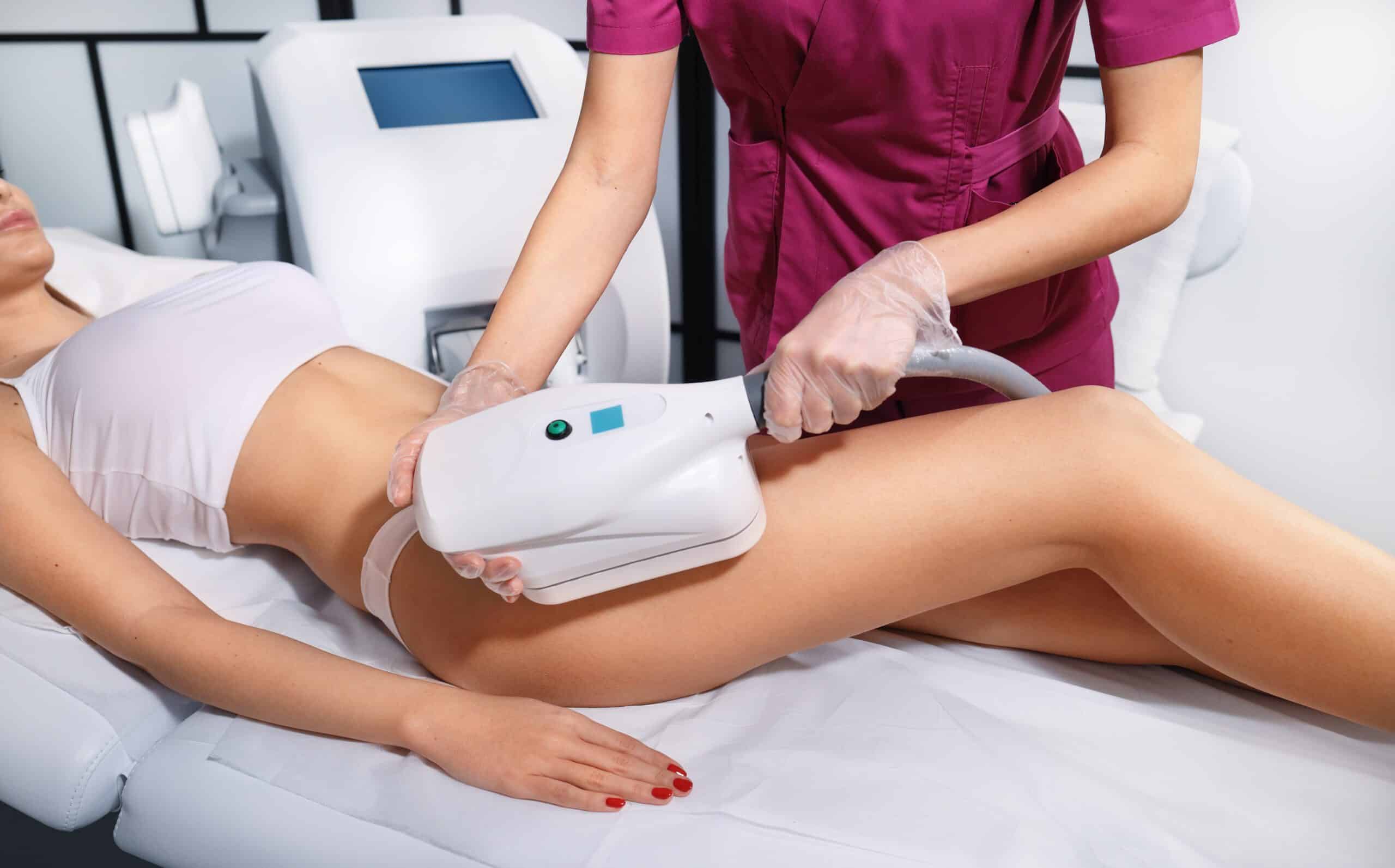 Coolsculpting is the most popular noninvasive fat reduction treatment that reduces diet- and exercise-resistant fat cells without surgery. Many people choose coolsculpting over liposuction because it is so safe and effective compared to invasive surgery with a long recovery time. 
Since CoolSculpting was cleared by the FDA in 2010, non-invasive body contouring has grown into a $992 million business. 
So when supermodel Linda Evangelista, one of the most photographed women of the 1990s, announced via Instagram that the treatment left her "brutally disfigured," it came as a shock.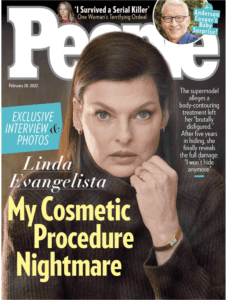 Evangelista said she had developed an adverse reaction known as PAH, or paradoxical adipose hyperplasia. "To my followers who have wondered why I have not been working while my peers' careers have been thriving, the reason is that I was brutally disfigured by Zeltiq's CoolSculpting procedure, which did the opposite of what it promised," Evangelista wrote.
PAH is often described as the "stick of butter effect"—an unnatural bulge that takes on the rectangular shape of the CoolSculpting applicator. Others experience irregular shapes, lumpy deposits of tissue in the treated area, or other side effects that they might mistake for gaining weight.
But like every medical procedure, cosmetic or not, there's a risk of adverse effects. CoolSculpting's marketing and safety materials say that PAH is a risk but that it's rare and correctable with "surgical intervention, such as liposuction."
What Is CoolSculpting?
CoolSculpting is the brand name for a fat-freezing method that aims to get rid of stubborn fat in certain parts of your body. The method is called cryolipolysis. The FDA approved it in 2010.
Scientists came up with the idea for cryolipolysis by studying what happens to fat during frostbite. Fat freezes at a higher temperature than skin. The cryolipolysis device cools your fat to a temperature that destroys it while leaving your skin and other tissues unharmed.
cryolipolysis. This is the medical term for the process by which CoolSculpting® destroys the fat cells in the treatment area. It damages them by reducing their temperature.
CoolSculpting Procedure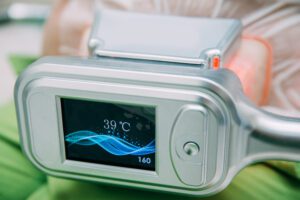 Cryolipolysis isn't surgery and doesn't use needles. The device holds the part of your body your doctor wants to target between two paddles. The paddles cool quickly, and your doctor leaves them in place for about 35 minutes to 1 hour and 15 minutes. During that time, the process destroys about 20%-25% of the fat cells in the area that's targeted.
The final results may not show up for a few months, but you may start to see some changes within a few weeks. Your immune system clears out the dead fat cells slowly over this time.
Who Is It For?
Cryolipolysis isn't a way to  lose weight. Your doctor might suggest it if you've tried diet and exercise and haven't been able to get rid of certain fat bulges.
You should also avoid cryolipolysis if you have:
Loose skin
Poor skin tone
Cryoglobulinemia (a condition where abnormal proteins in your blood thicken in cold temperatures)
Cold urticaria (a skin condition that causes hives on your skin when it gets cold)
Paroxysmal cold hemoglobinuria (a type of anemia that destroys your red blood cells when you're in cold temperatures)
Raynaud's phenomenon
CoolSculpting Risks
You can get cryolipolysis done at your doctor's office, and you don't need to schedule recovery time afterward. It's OK to drive yourself home from the appointment.
There are a few side effects. During the process, you may feel a pulling or tugging on your skin and an intense cold. Afterward, you may feel sore, like you've been exercising. You may also swell a little.
Rarely, cryolipolysis can cause mild or moderate pain afterward. You're also at a slight risk of nerve pain.
Sometimes your skin can look less smooth afterward. Less than 1% of people who get it done have a complication called paradoxical fat hyperplasia. When this happens, the number of fat cells in the area of treatment increases.
Paradoxical Adipose Hyperplasia
A rare complication of CoolSculpting that gets its name from the unexpected, paradoxical result: overgrowth (hyperplasia) of fatty (adipose) tissue. This complication, which can appear 8 to 24 weeks post-procedure, occurs when the treated area becomes hardened and visibly enlarged.
How Do You Fix Paradoxical Adipose Hyperplasia?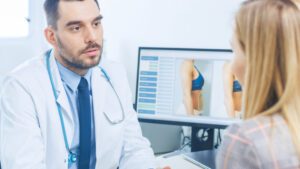 Power-assisted liposuction is the preferred method of treatment, but in some cases, abdominoplasty may be necessary. Secondary treatments might be needed for recurrence or a persistent bulge.
In July (2022), the manufacturer of CoolSculpting decided to voluntarily recall five of its CoolSculpting applicators (CoolMax, CoolCore, CoolFit, CoolCurve+, and the Cool Curve) because the devices were linked to an increased risk of developing a deforming condition called Paradoxical Adipose Hyperplasia.
Tips and Takeaways Before Choosing Cool Sculpting:
1. Shop for a skilled provider.
2. Don't let low prices fool you.
3. Make sure the provider has the latest technology and equipment.
4. Make sure you are a good candidate.
5. MOST IMP: Choose a medical professional
Joe Zarzaur is a Board Certified Civil Trial Attorney whose firm is dedicated to promoting community safety since 2007. ZARZAUR LAW'S AREAS OF PRACTICE: Serious Personal Injury, Product Defect, Auto Accidents, Cycling Accidents, Motor Vehicle Accidents, Products Liability, Wrongful Death, Community Safety, Boat and Jet Ski Accidents, Slip and Fall Injuries, and more. Licensed in Alabama and Florida.
If you've been injured due the carelessness of another, it's important that you don't make any rash decisions. Put yourself in the best possible position to receive the justice you deserve. It is also important to consult a Board-Certified Trial Lawyer with the knowledge and experience to help you. We know accidents can be stressful and want to make the process as easy as possible for you. Call Zarzaur Law, P.A. today at (855) Hire-Joe, or by requesting a FREE case review through our website.
Sources:
https://jddonline.com/articles/a-systematic-review-of-paradoxical-adipose-hyperplasia-pah-post-cryolipolysis-S1545961617P0062X/
https://jddonline.com/articles/non-surgical-fat-reduction-and-topical-modulation-of-adipose-tissue-physiology-S1545961619P0375X/
https://www.accessdata.fda.gov/scripts/cdrh/cfdocs/cfres/res.cfm?id=194253