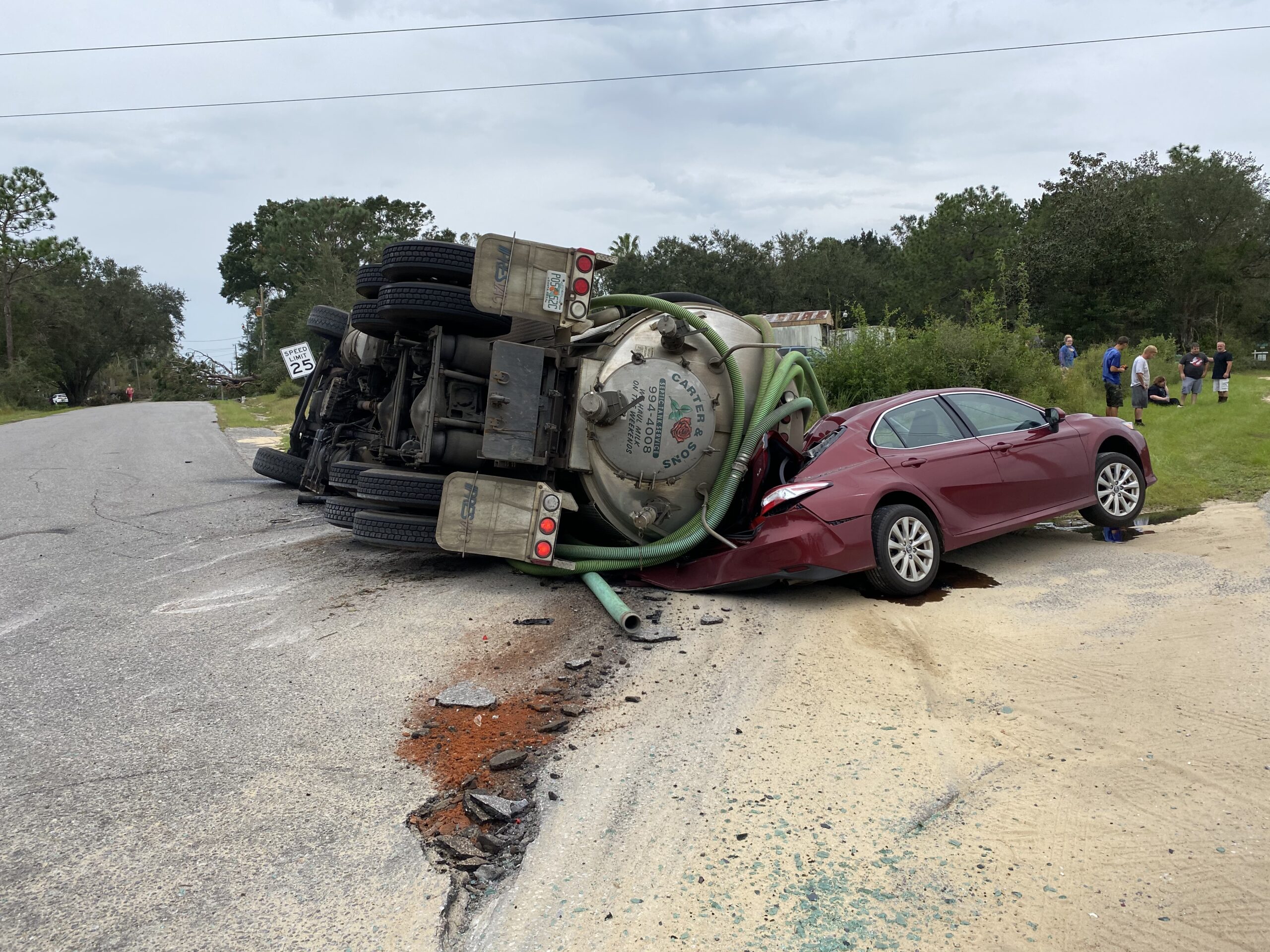 Hurricane Sally struck the Gulf Coast on September 9, 2020. Not only was there the stress of post-hurricane clean up, but at the time, the COVID pandemic was still lingering and making an already bad situation worse. For one Florida couple, this was made even more devastating when they were struck and then almost crushed by a Sewer Mac dump truck that not only hit them from behind, but fell sideways on top of their vehicle. They contacted Zarzaur Law, P.A. for help with their car accident injury case.
This is their story.
Devastating Crash
So we were in a car accident in Pensacola, Florida during Hurricane Sally. A tanker truck fell on top of us. We thought we were dead that day, so it was a really bad accident. We've never been in that situation before, and we didn't know what to do. The accident happened over the weekend, and we contacted Zarzaur Law, and we got a call from Joe that Monday.
Immediate Response
We emailed with Joe Zarzaur on Sunday evening, and then we talked to him on Monday, and it was really good because we didn't know what to do, we didn't know what to expect, or what the process was. We've never sued anybody before, and we didn't even know if we were suing somebody. We wanted to know what our next steps were.
Treatment Questions Answered
We knew I was injured and we needed protection, and we just wanted to make sure that we were protected. We've heard horror stories, so the nice thing about it was that their office walked us through everything. I suffered from PTSD through the process, and I remember our paralegal Jessica having to listen to me cry on the phone, but there were no doctors available at that time because of the hurricane.
So they actually helped us find a doctor to go to and to get things taken care of. So that was really helpful in the whole scheme of everything with it. But the thing I like most is our, our immediate phone call with Joe and knowing "You've come to the right place and that we're going to handle all the steps for you." As far as contacting physicians and saying "This doctor is going to see you and where you should go." So we felt very at ease almost instantly. They're professionals, and they know what they're doing.
Joe took his time on the phone with us, so we didn't feel rushed. We felt valued and we knew we were in the right place. We had so many attorneys trying to contact us after it hit the news and all that. So we were glad we chose Joe Zarzaur and Zarzaur Law.
We wouldn't change anything. As we went through the process, they helped us. Once we got through the doctor's part and got all the medical things done, we went on to the next steps. They walked that through with us as well.
We Knew Joe Would Fight For Us.
We knew, okay, we were injured more than we had thought, and I remember talking to Joe and saying, "Listen, I just need someone who's got our best interests at heart and will protect us." I remember talking with him on the phone about that, and next thing I know, we've got people connected with us. Joe even gave us his own cell phone number to call if we felt we really needed it and all that. So through the whole step, all the way to the end, once we got into the settlement part of it and everything, we didn't have to do anything.  Joe's team told us exactly what to expect at each interval.
We were very well informed. The team was amazing. The entire team, everyone we came across was professional and good.
Then the outcome was better than what we had hoped for. Yes, we felt like we were being taken care of.
Michael and Amber C.
What To Do If You Are In A Car Accident While Traveling In Florida
1. Call the police and file a report
2. Swap information (including any insurance info they may have)
3. Gather details
4. Take pictures
5. Gather contact information of any witnesses
6. Seek medical care immediately for any injuries – no matter how minor you think they might be.
GET MORE HELPFUL INFORMATION ON WHAT TO DO AFTER AN ACCIDENT HERE AT OUR "Car Wreck Checklist" >
Joe Zarzaur is a Board Certified Civil Trial Attorney whose firm is dedicated to promoting community safety since 2007. ZARZAUR LAW'S AREAS OF PRACTICE: Serious Personal Injury, Product Defect, Auto Accidents, Cycling Accidents, Motor Vehicle Accidents, Products Liability, Wrongful Death, Community Safety, Boat and Jet Ski Accidents, Slip and Fall Injuries, and more. Licensed in Alabama and Florida.
If you've been injured in a car accident, it's important that you don't make any rash decisions. Put yourself in the best possible position to receive the justice you deserve. It is also important to consult with a Board-Certified Trial Lawyer who has the knowledge and experience to help you. We know accidents can be stressful and want to make the process as easy as possible for you. Call Zarzaur Law, P.A. today at (855) Hire-Joe, or by requesting a free case review through our website.