Do you know who causes the most auto accidents in the United States?
Would you guess it's men or women? Maybe you'd guess It's people who live in the beautiful beaches of Pensacola or in the Pacific Northwest?
Who Causes Car Accidents?
A new study by the AAA Foundation for Traffic Safety suggests another factor. Age. And not even the youngest drivers, as most would suspect.
The report released Wednesday revealed that nearly 90 percent of young millennials ages 19-24 admitted to engaging in at least one risky behavior while behind the wheel in the past month, earning them the top spot in the study. While millennials fared the worst, large percentages of the other age groups studied also admitted to dangerous driving practices.
Looking at Auto Accident Facts
For example, 79 percent of drivers ages 25-39 admitted to texting while driving.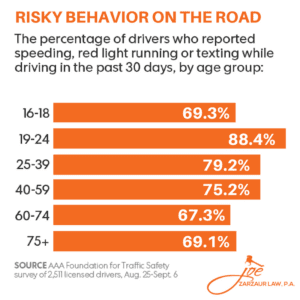 That number only drops to 75 percent for drivers ages 40-59.
But 88 percent of millennials in the 19-24 age group acknowledged that within the past 30 days they had sped, ran a red light or texted while driving.
Compared with the other age groups, the study found that millennials were:
More than twice as likely to speed in a school zone.
1.4 times as likely to have driven 10 mph over the speed limit on a residential street.
Nearly twice as likely to have typed — or sent — a text message or email while driving.
Nearly half drove through a red light, compared to 36 percent of all drivers.
"Alarmingly, some of the drivers ages 19-24 believe that their dangerous driving behavior is acceptable," Dr. David Yang, the foundation's executive director, said in the study. "It's critical that these drivers understand the potentially deadly consequences of engaging in these types of behaviors and that they change their behavior and attitudes in order to reverse the growing number of fatalities on U.S. roads."
U.S. traffic deaths rose to more than 35,000 in 2015 — a 7 percent increase from 2014 and the largest single-year increase in the past 50 years, according to the study. If you or a loved one are involved in an auto accident or traffic related death, call Pensacola Car Wreck Lawyer, Joe Zarzaur of Zarzaur Law, P.A.