Guaranteeing a patient's health and safety during surgical procedures requires mandatory care measures that must be considered before, during, and after the operation. In the past, surgical procedures were performed in hospitals, with more than enough staff and equipment to aid patients regardless the type of surgery required. Among the many operations, there are those that need post-operative care without the need for hospitalization, allowing patients to return home a few hours after the surgery. This type of procedure is known as ambulatory surgery.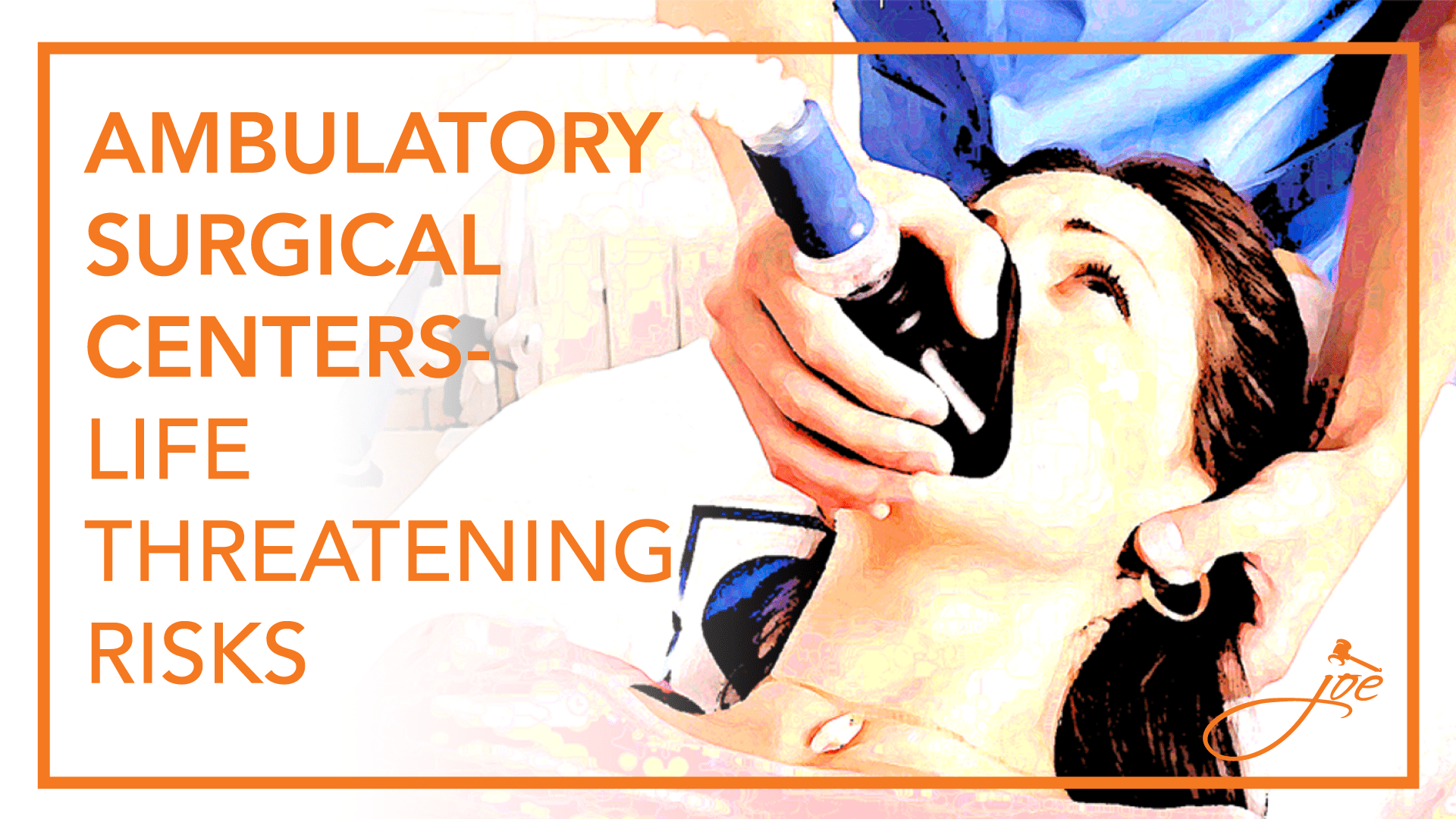 The growing population, new medical discoveries, and increased demand for medical attention has resulted in the lack of enough operating rooms in hospitals. This fact led physicians to open their own Ambulatory Surgical Centers (ASC) in order to offer non-invasive surgeries to patients who do not need an overnight stay. This cost-effective solution for outpatients met federal regulations and approved. Currently, many surgical specialties can be treated on an outpatient basis. Health programs as Medicare began to certify the centers that meet the requirements to provide care to their insured. As of today, there are 5,480 ASCs that have been certified by Medicare (Rechtoris, 2017).
As the number of surgery centers has increased throughout the years, so have the risks. According to an investigation by USA Today in conjunction with Kayser Health News, "Florida has counted at least 335 life-threatening or fatal medical 'adverse events' since 2013 at ambulatory surgery centers." Yearly, 911 receives thousands of calls per year from these surgery centers requiring help for patients with both minor and fatal complications. The exact number of people who have died in these centers during a surgical procedure is unknown since there is no official report.
Four factors you need to consider
If you or a family member is planning an outpatient surgery at a surgery center, it is vital that you consider the following aspects.
1. Health Risks involved – Health disorders can represent risk factors resulting in complications or death after surgery. Among them: overweight, obstructive pulmonary disease, and hypertension. Make sure that your current health condition does not represent a risk for the surgery that is to be performed.
2. Emergency crash carts – Emergency equipment is mandatory in any operating room as well as qualified staff that knows how to operate this equipment during a life-threatening situation. Make sure your surgery center has an emergency crash cart.
3. Anesthesia – Health conditions such as obesity, sleep apnea, and respiratory problems can affect patients during surgeries because of the anesthesia. Previous evaluations serve to find if the patients present those conditions. If so, they might need a hospital instead of a surgery center. Remember that all procedures that involve general anesthesia should be performed with an anesthesiologist present.
4. Infections – The Centers for Medicare & Medicaid Services (CMS) conducted an infection control audit in a total of 68 ASCs to assess compliance with recommended practices in 2010. The results, which were published in the Journal of the American Medical Association (JAMA), suggested that infection control practices in these ASCs were deficient and not specific for the given state.
According to medical reporter Sandra G. Boodman, studies have found that approximately 1% of patients in surgery centers develop severe complications that require transfer to a hospital during or immediately after a procedure.
There is no way to predict that you will be one of these patients. Inform yourself and ask all the necessary questions to your doctor before undergoing an outpatient procedure in a surgery center.
Joe Zarzaur is a Board Certified Civil Trial Attorney whose firm is dedicated to promoting community safety since 2007. OUR AREAS OF PRACTICE: Serious Personal Injury, Product Defect, Auto Accidents, Cycling Accidents, Medical Malpractice, Products Liability, Wrongful Death, Boat and Jet Ski Accidents, Slip and Fall Injuries, and more. Licensed in Alabama and Florida.
If you or a loved one has been seriously injured during a procedure at an Ambulatory Surgery Center, it is important to consult with a Board Certified Trial lawyer who has the knowledge and experience to help you. We know accidents and injuries can be devastating and want to make the process as easy as possible for you. Call Zarzaur Law, P.A. today at (855) Hire-Joe for a free legal consultation or visit www.zarzaurlaw.com.
Sources:
Gluck, F. & Jewett, C (2010) .Florida surgery centers not always prepared to handle life-threatening medical emergencies. USA Today and Kaiser Health News. Retrieved from https://www.usatoday.com/story/news/investigations/2018/03/02/florida-surgery-centers-not-always-prepared-handle-life-threatening-medical-emergencies/1084132001/
Koenig, L., Doherty, J., Dreyfus, J. & Xanthopoulos, J. (2009). An analysis of recent growth of ambulatory surgical centers: Final report. KNG Health Consulting
Rechtoris, M. (2017, February 21). 51 things to know about the ASC industry | 2017. Becker's ASC Review. Retrieved from https://www.beckersasc.com/asc-turnarounds-ideas-to-improve-performance/50-things-to-know-about-the-asc-industry-2017.html
Boodman, S. (2014) Popularity of Outpatient Surgery Centers Leads to Questions About Safety. Medpage Today. Retrieved from https://www.medpagetoday.com/publichealthpolicy/publichealth/49213
Jewett C. & Alesia, M. (2018, March) As Surgery Centers Boom, Patients Are Paying With Their Lives. Kayser Health News. Retrieved from https://khn.org/news/medicare-certified-surgery-centers-are-expanding-but-deaths-question-safety/