Did you know car insurance follows the car, NOT the driver?
If you decide to lend out your car, your car insurance acts as the primary coverage and the driver's insurance (if they have any) acts as the secondary or excess insurance. If your car gets in an accident, you will have to be the one to file a claim with your insurance, pay the deductible and most likely expect a rate increase.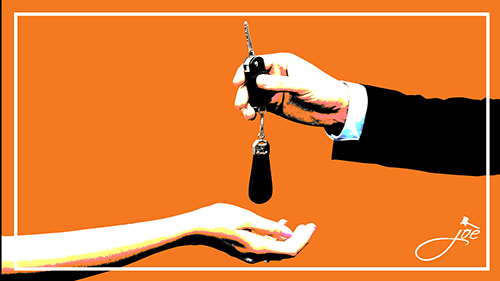 For example, let's say you let your friend, David, borrow your car to go to the store for you. On the way, David causes a 4 car pile-up that goes beyond your insurance coverage, you can still be sued by the other people involved in the accident for medical and property damage costs. Even though you were not the one driving, the car is in your name, with your insurance.
Permissive v. Non-permissive Usage
Permissive
Giving consent to someone else to drive your car is usually no problem. There is an omnibus clause in your insurance policy stating any driver, family member who lives with you, and/or dependent children at school will be covered under your insurance if they have permission to use the vehicle. Your insurance will usually cover the driver if they have permission to use the vehicle. Again, contact your insurance provider for complete policy details and to discuss further for accuracy.
Non-permissive
If a driver does not have your permission to use the car, you will likely not be responsible for third party damages. However, you may still be liable for the damages to your own car. For example, imagine your car was stolen and was involved in an accident with a Mercedes. You would not be responsible for damages to the Mercedes, but would have to go through your insurance to fix the damages sustained by your own vehicle.
Additionally, if your friend borrows your car without permission and causes an accident, their insurance will be primary and yours secondary. However, if your friend does not have insurance then unfortunately, you are out of luck and will be liable for damages.
Keep in mind, unless you explicitly deny permission to a friend, or family member somehow, most insurance companies will assume permission was granted. It would be hard to prove otherwise, even if you did not verbally grant permission or give them the keys.
Excluding Driver on Policy
If you exclude a driver on your policy to not cover them on purpose, you will save on your premium. You likely chose to exclude these people because they are higher risk for causing an accident-whether it be their age, bad driving record etc.
Since Florida is a no-fault state, you will not be held liable for personal injury, but you and the excluded driver may be responsible for personal liability.
Using an Employee Vehicle on the Job
What if you borrow or use a company vehicle? An employer can be held liable for an employee vehicle being involved in an accident by an employee if the employee was driving for employment purposes or within the "course and scope of employment". Moreover, an employer can be held liable for giving an employee use of their car if they know the employee is a reckless, incompetent and/or unlicensed driver.
For an employer to be held liable by the use of the car by an employee, it must be shown that an employer-employee relationship exists.
Having a Family Member Use Your Car
This usually only involves letting a minor child borrow the car. The head of the household or guardian will be liable for a minor's reckless or negligent driving if they give permission for the minor to utilize the vehicle. In Florida, liability extends to the a parent or guardian who signed a minor's application for their driver license. This is why it is imperative that parents and guardians of minors only allow these minors to borrow the car if they seem fit as a driver. Any bad habits, or bad driving tendencies known to the parents or guardian could lead to full liability of any accident the minor causes.
Things to keep in mind:
Contact your insurance company to make sure you understand the policy for lending out your car to other drivers.
Make sure if you do lend out your car that it is to someone with a valid driver's license, and someone whom you trust with your car. If you know the person is reckless or unsafe on the road as a driver, think twice before letting them borrow your car.
Make sure your vehicle registration and insurance information are in your glove box.
Safety and prevention techniques reduce the likelihood of having an auto accident. If you have questions about the liability in lending your car to someone who got in an accident, it is important to consult with a Board Certified Trial lawyer who has the knowledge and experience to help you.
We know accidents can be stressful and want to make the process as easy as possible for you. Call Zarzaur Law, P.A. today at (855) Hire-Joe for a free legal consultation.
Sources:
https://www.dmv.org/insurance/when-another-driver-has-an-accident-in-your-car.php
https://www.lawyers.com/legal-info/personal-injury/auto-accidents/liability-law-and-loaning-your-car.html
https://pocketsense.com/happens-let-someone-drive-car-car-insurance-gets-wreck-18544.html